Speakers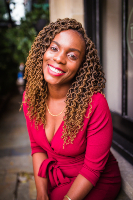 Jamie-Lee Abtar is the Executive Director of BAME Women in Travel CIC a social enterprise dedicated to assisting Black, Asian and Minority Ethnic (BAME) women in the travel, tourism and hospitality industry to fulfil their economic and individual potential through customised training and mentoring services aimed at fostering entrepreneurship and employability, while also encouraging travel brands to step up and commit to racial and social justice and equality in the industry through our corporate partnership.
Outside of this work Jamie-Lee is a Marketing, Media Communication and Brand Partnership Consultancy at 22:19 Media were she has worked with travel brands and destinations including the Caribbean Tourism Organization, Barbados Tourism Marketing Inc., St Lucia Tourist Board, Sri Lanka Training Program, Party Hard Travel, The Lanterns Collection, Oceans Hotel Group and Sackville Travel to attract new diverse travel audiences through compelling marketing, PR and advertising campaigns.
Jamie-Lee enjoys leading and curating insightful conversations on global travel and tourism trends, racial diversity, cultural marketing, the African Caribbean diaspora, personal branding and navigating the career ladder at conferences virtually and around the world. Notably her work has been featured in Forbes, I News, Phocuswire and TTG were she is a regular contributor.
Jamie-Lee is a cohort of the TTG's 30 under 30 Future Travel Leaders and a proud ambassador for the Institute of Travel and Tourism Future You Program which inspires future generations of students to consider the travel industry as a lucrative and viable option for a future career.
Eulanda Shead Osagiede is the co-founder of Hey! Dip Your Toes In, an award-winning blog that promotes creative digital content with a focus on global travel and food culture.
She has helped travel and food culture brands like Coca-Cola, IBM, Virgin Voyages, Etihad Airways, and tourism brands around the globe to tell their stories and create compelling digital content.
Notably, her work has been featured in Forbes, Lonely Planet, House of Coco magazine, Culture Trip, Matador Network, Voyager, CULTURS, Blogosphere magazine, and others.
With her authoritative voice on global travel, food tourism, and influencer marketing, Eulanda has been sought out as a workshop facilitator, brand ambassador, and guest speaker at events around the world like The Photography Show, WTM London, Traverse, Borderless Live, TBEX, and TEDx in Morocco.
Uwern Jong is the Experientialist-in-Chief of luxury and experiential travel journal rooted in diversity, discovery and discernment, OutThere magazine. He was the 2020 Winner of "Editor of the Year" at the Campaign Publishing Awards and led the title to win "Publication of the Year" the 2018 Travel Media Awards. Through OutThere, Uwern also delivers bespoke content creation and creative branding, primarily working with destinations and luxury travel brands. His clients include the Tourism Authority of Thailand, VisitSweden, Visit Stockholm and Illinois Office of Tourism to name a few, as well as the Ritz-Carlton and Belmond; specialising in both luxury and inclusive LGBT+ and diversity-driven content for the modern traveller. He is the Founder of the global LGBT+ Travel Symposium series, helping and training travel brands to be more inclusive in their outreach and Co-Founder of Stockholm LGBT, a members-based destination marketing platform. He is proud to be serving on his second term as a Board Director for IGLTA (the International LGBTQ+ Travel Association). www.OutThere.travel @outtheremag @uwer
Bex Shapiro is the Senior Editorial Manager at Intrepid Travel, the world's largest adventure travel company and industry leader in responsible tourism. In this role she partners with content creators aligned with Intrepid's passion for travel as a force for good. When she's not managing blog and social content at work, the Vancouver-based Brit is all about getting outdoors, eating well, content consultancy and freelance writing. She has been published in The Guardian, VICE, ELLE, and The Huffington Post.
Alex Temblador is a freelance travel writer and an award-winning author of Secrets of the Casa Rosada and the upcoming, Half Outlaw. She is a Mixed Latinx writer based in Dallas, Texas, and is best known for her work on diversity and inclusion in the travel, arts, and design spaces. Discover Alex's work in outlets like Conde Nast Traveler, Travel + Leisure, TravelPulse, The Daily Beast, Architectural Digest, Lonely Planet, among many others.