France is preparing to showcase the quality and diversity of its golf heritage and golf courses over the next eighteen months, when it will stage the 20th edition of golf travel's premier event, IGTM, and the 2018 Ryder Cup.
In partnership with Atout France, we take a look at some key facts about the golf industry in France and their aim to establish France as a world class golf tourism destination.
France currently has 599 golf courses in total, 200 of which welcome tourists and 111 offer accommodation on site.
Currently, the top countries where visitors come from to take a golf holiday in France are: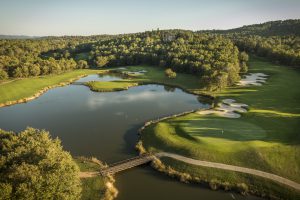 1 – UK/Ireland
2 – Belgium
3 – Switzerland
4 – Austria
5 – Scandinavia 
6 – Germany
7 – Spain
8 – Italy
9 – USA / Canada
10 – Japan / China / Korea
However, compared to some of its neighbours, France is still not considered a golf tourism destination. Atout France, the French Government's Tourist Board, is preparing for this to change and for more people to discover what makes a golf holiday in France so unique.
According to Atout France, a golf holiday in France not only offers the opportunity to play some of the world's best courses but to also discover the variety of its different regions, which offer everything from mountains to beaches, gastronomy to culture.
Some key regions include:
Paris and Île-de-France 
With more than 75 courses on offer and 11% of France's museums, this is one of the leading areas to test your golf skills while also learning about France's history and culture.
Pays Basque
The perfect area for those golfers who wish to experience some of the best food in the world. With more than 48 golf courses in the region and over 40 Michelin starred restaurants, golfers can enjoy a taste of everything from traditional French dishes to more unusual cuisines.
Provence Alpes Cote d'Azur 
More than 50 golf courses, some of which were designed by world famous course architects, are in this region. Mountains, beaches, forests and beautiful national parks also await anyone wishing to immerse themselves in nature during their golf holiday.
With so much on offer it's not surprising that France was chosen to host the biggest team golf competition in the world. The 2018 Ryder Cup will take place at Le Golf National in Saint-Quentin-en-Yvelines, on the outskirts of Paris. The fifth most broadcast sports event in the world, it will take place in France for the first time and is a unique opportunity to display France as a world class golf destination. With nearly 300,000 spectators in attendance throughout the event and 500,000 people viewing it around the world each day, it will surely give golf in France unparalleled visibility.
In collaboration with the French Golf Federation, Atout France is seizing this opportunity to better position France in the golf tourism sector with a strategic marketing campaign aimed at local and international markets. This has included a hosted dinner at Hazletine during the 2016 Ryder Cup for 150 key industry figures to discover a taste of France and two FAM trips for specialist tour operators from Europe, North America and Australia during the Rendez-vous en France trade show in collaboration with the regional tourist boards of Normandy and Ile-de-France.
The stage, however, will truly be set when Cannes hosts the 20th edition of the world's premier golf travel event, IGTM, welcoming over 400 golf tour operators from around the world to experience golf in France. With a world-famous venue, the Palais des Festivals, and ten distinctive golf courses within 7km-39km away, Cannes will not only provide attendees with an exceptional event experience but also the opportunity to play golf in this beautiful region. France's pavilion during the event will have 50+ golf tourism suppliers to fully showcase what the country has to offer and Atout France will host the closing networking party to officially start the countdown to the 2018 Ryder Cup.
With all these opportunities France is ready to showcase itself as a truly world class golf tourism destination.
Source: Atout France
Fore more information regarding IGTM visit igtm.wtm.com