A £40 million Discover England fund has been distributed to ensure England stays competitive in the global tourism industry. Debbie Ward finds out what the grant recipients will bring to the market.
The final phase of a three-year Discover England project, designed to ensure England's tourism industry stays competitive on the world stage, is underway. Launched in 2015, the government-backed fund is worth £40 million and is administered by VisitEngland.
The funding allocation process was staged over three years. In year one, £6.5 million was available for small-scale pilot projects, with activities delivered by March 2017. In year two, £11.5 million was available for small-scale pilot projects, with activities to be delivered by March 2018. Applications have now closed for the third stage – £22 million for large-scale collaborative projects to be delivered between 2017 and 2019.
Eight large collaborative projects have now been announced, with successful applicants chosen for their ability to develop world-class bookable English tourism products that respond to international customer demand. A thematic approach and regional collaboration were also key drivers of successful grant bids. And the projects will address the perennial challenge of pushing interest beyond London, which currently accounts for 54% of international visitor spend.
New relationships are already being forged between attractions and regions. Engagement with trade partners will also be vital, says Lyndsey Swift, VisitEngland's head of England planning and delivery. "That's where the sustainability will come from. The trade are a key conduit in these projects – embedded in [the grant] criteria is a need to work with distributors."
The fund is also proving "a catalyst to make the private sector react more quickly to develop more offers for international visitors," she says.
One of the first multi-destination tie-ups to be announced was England's Historic Cities. It presents stories and characters in 15 of England's great cities to US visitors as one themed product, supported by rail-linked itineraries
and a hub suggesting places to eat, trips and tours.
From parks to coasts
Another grant recipient, Make Great Memories in England's National Parks, led by the Peak District National Park Authority, will push a branded collection of outdoor experiences, targeting the Australian and German markets.
Regional beneficiaries spread far and wide. England's Coast is a project using interactive video technology to allow holidaymakers to create personalised itineraries along the north east, south, south-west and east coasts. The Waterways of England will focus on the areas around Birmingham and the Midlands, with a programme of product development and awareness-building around canal and river-centred holidays. Manchester is being pushed as an international gateway to the north, while bookable products across Liverpool, Manchester, Leeds, Hull and Newcastle will be grouped into Cultural Collections aimed at packaging art, music, literature, theatre and dance for Nordic, German and Dutch visitors.
Marketing Peak District and Derbyshire will be promoting 3- to 14-night Great Walking Trails, while Visit Wiltshire is marketing the 125 miles between London and Bristol as a new touring route: 'the Great West Way'.
Growth and spend of overseas markets will be among criteria used to measure success, along with the take up of products by the trade. Innovations from the Discover England projects may also inform future developments, says Swift. "The products are quite varied… it's about trialling new approaches. For example, augmented reality is being used, extending the appeal of the heritage offer to a younger market."
Engaging younger visitors
One such project, now poised for delivery, is England's Historic Cities. Taking a story and character-based approach, it uses an app to help bring attractions to life. In Durham Cathedral, for example, trigger points reveal Harry Potter film panoramas and a rare glimpse into the enigmatic and scholarly lives of Benedictine monks.
A trial period has already shown positive results: "We know we've had around 8,000 downloads which we're quite pleased with because our budget was a lot lower and hardly any money was put into promotion," says Melanie Sensicle, chair of England's Historic Cities and project director for The Collection. "A travel agent in the US, who was one of our partners in round one, is planning to bring a group to the UK in 2019 on the back of it, taking in 10 cities."
The full app and new touring routes will now be marketed by the Historic Cities consortium, through relationships with the trade in the States and also with UK-based inbound operators.
The 12-destination Historic Cities team is targeting 22,500 added visitors by 2020 and 125,000 by 2024, with a resulting visitor spend in the millions of pounds. Sensicle says it would not have been possible without the grant, the cities involved having far smaller budgets than the likes of London and Manchester.
Other grant beneficiaries poised to launch this year – as year two pilot projects – include Connections, led by Destination Plymouth. This will leverage the ancestral links between the UK and US and create immersive, bookable experiences leading up to 2020's 400th anniversary of the Mayflower sailing.
Culture Coasting meanwhile, led by Visit Kent, will target tourists from Northern France and the Netherlands with bookable arts trails along the south-east coast, incorporating geocaching and studio tours.
Discover England grant recipients have been encouraged to create two-day itineraries for the domestic market as well as journeys of up to 14 days for international guests. Thanks to these grants, both overseas and home-grown visitors stand to benefit from new attraction enhancements and touring routes for years to come.
Future-proof your business
Embrace 'conversational commerce', selling through platforms such as WhatsApp here and WeChat in Asia – especially important in emerging markets like India and China.
Note the rise of visual travel 'wish lists' on social media, particularly in emerging markets. Echo this in inspirational, bookable campaigns or work with social influencers.
Collaborate to create added value, with linked attractions, experiences and transport tickets that maximise a stay in one area.
To meet the rise in impulsive and 'live like a local' travel, make sure authentic experiences can be booked in destination by mobile.
Use GPS technology, such as the GEO-Tourist app, to entice travellers with relevant suggestions and promotions that are linked to their location.
Source: Visit England report
The Future Travel Journey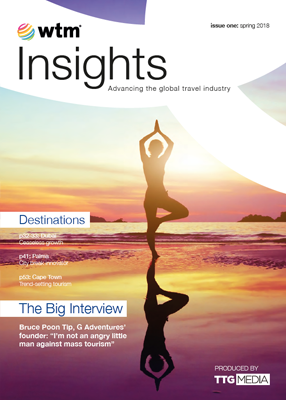 This article is from the latest edition of WTM Insights, the new quarterly magazine on global travel trends, analysis and updates from TTG Media and WTM.
Find out more about WTM Insights.