Charting a path towards success with food and beverage tourism.
Many times, charting a course for success with food tourism can appear to be a daunting task, not just for individual businesses but even for destination marketing organizations and governments. The first challenge is understanding what food and beverage tourism is. Where does agritourism fit in, if at all? What about gourmet experiences? Are beverages included? And perhaps most importantly, are we talking "food tourism" or "food and tourism"? Once area stakeholders understand the scope and benefits of food and beverage tourism, they are ready to begin developing their recipe for success.
Alignment
Writing a recipe for success first requires the conceptual buy-in of area stakeholders. Details can be worked out as time progresses, but the area's stakeholders (food, beverage, travel and hospitality professionals, as well as area government, residents and media), need to understand and believe in the benefits of developing and promoting food and beverage as area attractions. If alignment does not yet exist organically, an area public relations campaign should be organized to help influence opinion. Sometimes people just need some light to be shed on the opportunity.
Next, the area needs to ensure that its goals are aligned with regional, national and even international industry partners. If a plan for food and beverage tourism were implemented, how well would the area's plans dovetail into supporting frameworks at the regional, national and international levels? For example, is there a national or regional marketing platform that appeals to foodies? Do regional funding mechanisms exist to support promoting a food/beverage product to travellers? How well would your plans fit into existing frameworks? Or if no frameworks exist, what will you do to liaise with regional, national and international groups to support your success? Naturally, an area's stakeholders must find alignment with both the vision and mission.
Confidence
The next requirement is confidence. Your industry partners like trade associations and governments need to have the confidence in your area and the area's food and beverage resources. Simply put, if they don't believe in your area's success, it likely won't happen. Business owners themselves also need the confidence to succeed. Some already have the necessary confidence while others need a periodic boost. And the residents themselves need to be able to confidently and genuinely promote the area and its food and beverage. If a piece of the puzzle is not in place, the puzzle will not be solved and an ingredient will always be out of place and hindering greater success.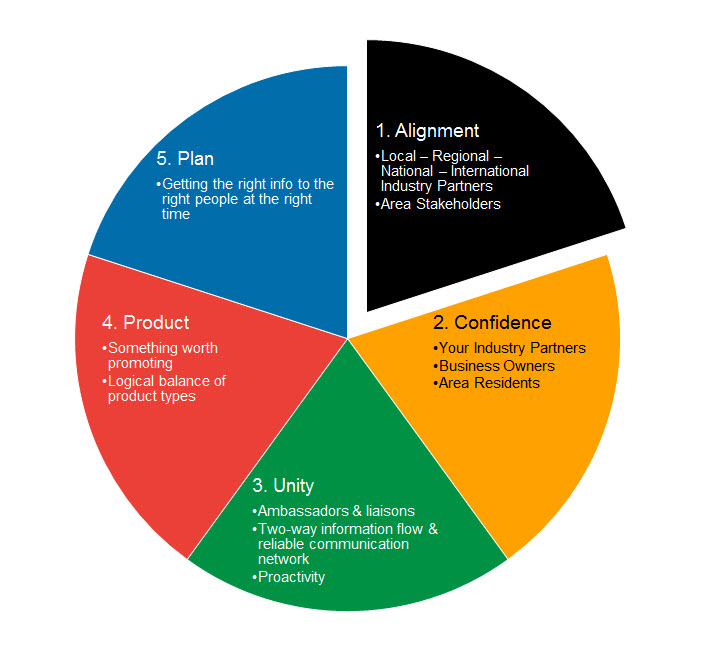 Unity
Believe it or not, but the interests of an area's stakeholders are not always unified. The tourism office wants heads in beds or bums in seats. The export office wants product exports in volume to affect a positive impact on the balance of trade. Area residents want quality new opportunities only if they are convenient and if costs remain largely unchanged from the status quo. Area businesses want sales and ideally, they should also want growth. How can we unite all of these disparate partner interests? It's not an easy task. First, an area needs to create open, bidirectional communication using an easy and reliable communication network (examples include an online community platform, Slack, a Facebook group, or similar tools). Town halls or meetings are fine to start with but eventually the effort needs to take a tangible form with an online reach into the furthest corners of the area. Secondly, an area needs liaisons or ambassadors who work both within the area and outside the area when they travel. Lastly, the stakeholders need to take proactive steps for growth. Unless you are the next Jamie Oliver, growth for a business or destination does not just happen. It has to be nurtured.
Product
Now is the time to focus on the product. Presumably your area or business has something worth promoting. Whether it is something as mundane as "cheap buffets in every hotel", an iconic product like champagne or even gouda cheese, or spectacular views like in the Italian Alps, is your product ready for market? Is it easily discoverable and accessible by your customers or visitors?
Also think about your product portfolio? Have you thought through the range of products and opportunities? If you only showcase your area's restaurants, then the answer is no. Foodies also like tours; visits to breweries, wineries and distilleries; food factory tours; farm visits; trips to a premium grocery store and more. Have you created an inventory of your area's assets?
Plan
Will travellers know about your pastries, chocolate, organic ingredients, fruit spreads, or distilled spirits (or something else) before they arrive? If not, how will you get the word to them while traveling? There are 3 major steps of a foodie traveller's decision-making process: Pre-Trip; On-Trip; and Post-Trip. Research published this year by the World Food Travel Association showed that foodies are still refining the plans of their trip while they are there (as many as 94% of Chinese and 71% of Mexican food travellers as an example). You need to reach them both before they go and while they are there.
Remember, not all foodie travellers are the same. What kind of PsychoCulinary profile (foodie decision-making preferences) does your business or destination appeal to? Cast the net out to all foodies is risky because if an experience doesn't suit our expectations, we'll tell our friends and families exactly that. You need to get the right information to the right people at the right time.
Learn more about achieving success in food and beverage tourism by attending Erik Wolf's session "The New Culinary Traveller" at WTM London. For more details follow this link.