Last Saturday the London Times led its front page with a photo of Mo Farah winning the 10,000m at the IAAF world championships. But the headline on the front page was "Anarchist threat to tourists" carrying a warning to British holidaymakers to be vigilant after warnings by militant groups of further attacks on tourists. Tourists displaced from the North African coast, the growth in budget carrier flights and increased consumer demand for short breaks to cities had all fuelled a significant increase in tourism to southern European cities.
There has been mounting antagonism about "overtourism" in a host of European cities, defines destinations where hosts, locals, guests or visitors, feel that there are too many visitors and that the quality of life in the area or the quality of the experience has deteriorated unacceptably. It is the opposite of Responsible Tourism, which is about using tourism to make better places to live in and better places to visit.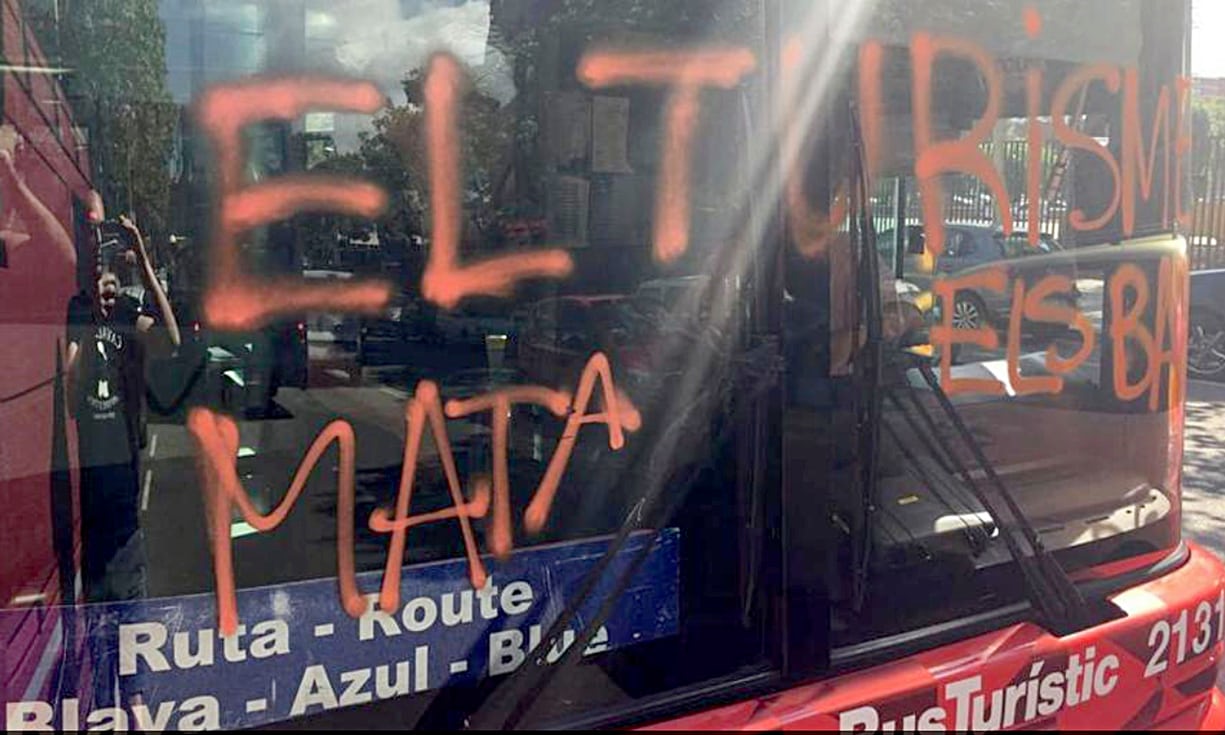 Rebellious locals are increasingly making their voices heard through direct action, and hostility towards tourists is being reported in the mainstream media in source markets. In the last week there has been direct action expressing the frustration of locals at the negative impacts of tourism in their neighbourhoods. Tourists travelling on an open top bus in Barcelona feared that they were being attacked by masked terrorists when they were ambushed outside Barcelona Football Club's Camp Nou stadium, tyres were slashed and slogans were daubed on the windows of the vehicle. Later the same group slashed the tyres of bicycles rented by tourists and smashed windows in five-star hotels. Laura Flores a spokesperson for Arran told local radio that the group plans further attacks: "It is a legitimate way to protest, like demonstrations…" and claimed that they were acting "in defence of the neighbourhood."
Flores, one of the leaders of Arran, explains the background to their action; mass tourism is "destroying where we live."
"Tourism is making the cities too expensive to live in as people rent out their flats to tourists and residents are forced out. It is forcing people to work in an industry where they are exploited with low wages for long hours. A small group of businessmen are making a lot of money out of this but it is not benefitting the majority. It is destroying the Catalan lands."
In Palma de Mallorca members of Arran barged into restaurants and boarded boats carrying banners saying "tourism is killing Mallorca."  There have been protests in Valencia and a demonstration has been called by Basque separatists in San Sebastian on August 17th.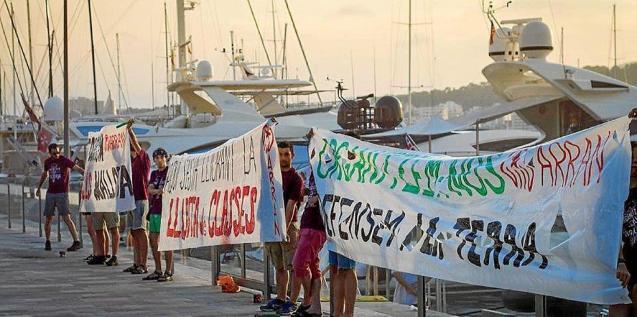 The Mayor of Palma, Antoni Noguera, described the incident involving Arran as "reprehensible" and pointed to their efforts to introduce a ceiling on tourist places. Without such a limit, he said, the city could "die of its success".
Álvaro Nadal, the Spanish tourism minister has warned against "tourism-phobia", saying that Spain "can't allow itself to be perceived as a country that is hostile to tourists" Tourism has played a major part in the Spain's recovery from the economic crisis a decade ago.
The problem is not just a Spanish one – there is disquiet and animosity about the dominance of tourism and the behaviour of tourists in Florence, Venice, Rome, Seoul, Cinque Tere, Berlin, Amsterdam, Scotland, Brazil, the USA and Croatia…. Read about more cases of overtourism.
Noel Josephides, the chair of ABTA, has described the protests as a "wake up call". He accepts that there will be more of them and that "dangerous tactics" are being adopted. Josephides argues that "the reason it is happening is because the local governments haven't been listening or taking the overcrowding seriously."
That's only part of the story; Barcelona for example has been working for several years to manage tourism more sustainably. The tourism sector, led by the WTTC and other trade associations, has for years trumpeted the virtues and value of tourism often aided by the marketing efforts of national governments. It is unreasonable to lay the blame at the door of local government when national governments go on marketing destinations, encouraging investments and failing to manage the growth in unregulated accommodation and access – ports, roads, airports and railways are rarely managed by local government. Tourism is beginning to crash into the limits of growth and we are only beginning to understand how to manage our way out of overtourism – no one wants to reduce their consumption of other people's places.
At WTM London in November we have a panel in the new Responsible Tourism Theatre on Overtourism in Scotland. Martin Brackenbury will be interviewing those struggling to manage overtourism in destinations.