The rules of engagement are being changed. According to established social media thinking, the lifespan of a tweet is 18 minutes. Yet one of the tweets currently getting the most media coverage – with articles on it found in publications as diverse as Fortune and The Sun – was written in 2011. Sent from the Trump Hotels account, it asks: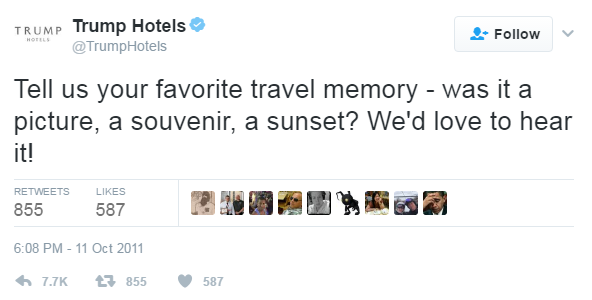 Since the announcement of the US travel ban on the citizens of seven countries, this tweet has been deluged with responses, as people tell stories of fleeing oppression or being granted asylum – such as 'That time I fled Communist Romania to a refugee camp in Austria, came to America, & years later became an exec @Google creating 10ks of jobs'.
Across the world, women and men are voicing their dissent, with most of the major airports in the US now the sites of daily protests. And just as individuals are making their anger known, so too have the leaders of several major corporations, including Goldman Sachs, Ford, Tesla, Google, Apple, Amazon and General Electric. Starbucks has gone so far as to announce that it will hire 10,000 refugees in response.
Several travel tech companies have also made clear their objection. Airbnb co-founder and CEO Brian Chesky has offered to provide "free housing to refugees and anyone not allowed in the U.S." Expedia's CEO Dara Khosrowshahi, himself an immigrant from Iran, issued a statement saying: "The President's order represents the worst of his proclivity toward rash action versus thoughtfulness. Ours is a nation of immigrants. These are our roots, this is our soul. All erased with the stroke of a pen." The company also joined a court case challenging the executive order, commenting: "Expedia believes that the executive order jeopardizes its corporate mission and could have a detrimental impact on its business and its employees, as well as the broader U.S. and global travel and tourism industry."
Steve Kaufer, CEO of Tripadvisor (which has committed $5m over next three years to addressing the refugee crisis) posted an article on Linkedin, in which he commented: "We are experiencing the worst global humanitarian crises of our time, and we are against this executive order not just because we are a global business with a diverse workforce, but because we are human beings and citizens who respect and love the fabric of our nation." It is revealing to read the comments beneath Kaufer's article – many of his company's employees state their pride to work for a company that is willing to take a stand, while others say they will now boycott its website, leaving comments such as: "I use your site to find great places to travel and things to see, not listen to your opinion on this Executive Order."
Who is right? Should the travel industry just keep quiet, order another margarita and go back to sharing its favourite souvenirs and sunsets? Or is it different this time? This weekend, Skift's Editor in Chief Jason Clampert posed the question: "Those of us in the travel industry have to figure out how we move from here, and the biggest role we have is to fight for the right of free movement of people — ALL of us, every color, every race, every orientation — in and out of America and beyond, and the future of a connected world outside of the neo-isolationist bubbles."
Last Saturday, the UNWTO's head was at a tourism conference in Iran, one of the countries whose people have been barred from entering the US. Taleb Rifai used the opportunity to criticise "forces that are trying to isolate people and stop them from traveling," and promised that "we will defeat these forces".
Time will tell. The 2011 tweet from Trump Hotels lasted a lot longer than 18 minutes.  How we chose to engage now will reverberate for years to come.