By Mark Frary, Co-Founder, Travel Perspective
In January this year, an Emirates Boeing 777-300ER took off from Dubai International Airport and, just over an hour later, it landed back in Dubai again. Yet this was not caused by a technical problem, it was all part of a plan to make aviation sustainable.
With the flight, Emirates became the first carrier in the Middle East and Africa to operate a flight in the region with one of the engines powered entirely by SAFs, or sustainable aviation fuels.
SAFs are fuels that are renewable or derived from waste and which meet certain sustainability criteria. They can be produced via a number of different processes, such as fermenting crops such as sugar beet or wheat, breaking down animal waste and vegetable oil, or capturing carbon dioxide from the air or industrial processes and combining it with hydrogen.
---
Join us at World Travel Market London
The market leading travel and tourism event brings the whole world together in London.
Join us from 6–8 November 2023 at ExCeL London.
---
Emirates' chief operating officer Adel Al Redha said of the demonstration flight: "Such initiatives are critical contributors to industry knowledge on SAF, and provide data to demonstrate the use of higher blends of SAF for future regulatory approvals. We hope that landmark demonstration flights like this one will help open the door to scale up the SAF supply chain and make it more available and accessible across geographies, and most importantly, affordable for broader industry adoption in the future."
According to IATA, SAFs promise to reduce carbon emissions by up to 80%. They have the advantage over other alternative fuels in that they are so-called drop-in fuels – they can be blended with existing aviation fuel and used in current jet engines with no modification required.
Other airlines in the region are also working with SAFs. In October 2022, an Etihad flight from Tokyo Narita, Japan to Abu Dhabi used a blend of 40% SAFs, which the carrier said reduced CO2 emissions by approximately 75.2 tonnes.
Cassie Mackie, Vice President Procurement & Supply Chain at Etihad Airways, said at the time: "Etihad is committed to achieving net zero emissions by 2050 and reducing our 2019 emissions by 50 percent by 2035. The industry must get serious about decarbonisation and this type of collaboration between governments, corporates and the aviation sector, which increases SAF supply and availability at airports, helps pave the way for broader adoption."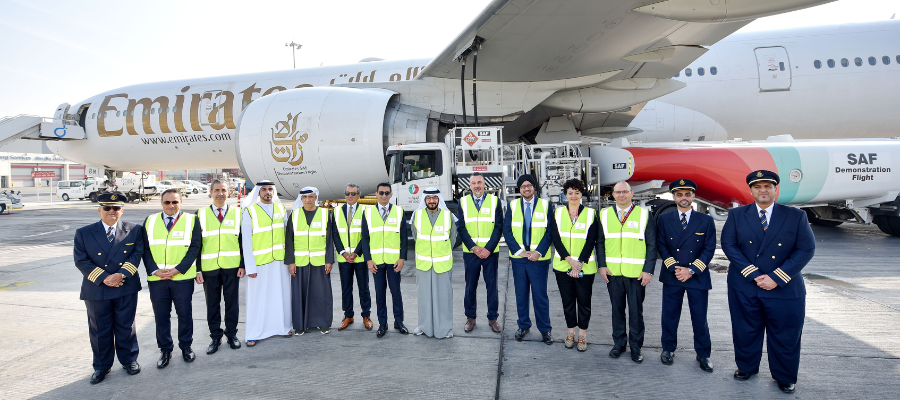 Aviation currently accounts for around 2.5% of the global carbon footprint and this share is likely to decrease rapidly as there are few proven technologies that can help the sector decarbonise as rapidly as other sectors. Batteries, which are rapidly replacing combustion engines in road vehicles, are too heavy to be used effectively in flight while the use of hydrogen to power planes requires large changes in the supply infrastructure to airports and the airlines that use them.
But to make a real difference, the production of SAFs needs to be ramped up and fast. Commercial airlines consumed 95 billion gallons of aviation fuel in 2019. Global SAF production in 2022 was around 119 million – supply is just 0.1% of the demand.
Countries such as Saudi Arabia, Iraq, the UAE, Iran and Kuwait are among the world's largest oil producers and would have a lot to lose in the event of a wholesale move towards SAFs. Despite this, they are also making plans for a future based more on SAFs.
---
Get the latest travel insights delivered straight to you
Sign up to receive the WTM newsletter and get updates direct to your inbox.
---
In the same month the Emirates demonstration flight took place, a consortium of five companies including the Abu Dhabi National Oil Company, Etihad Airways, BP, the Abu Dhabi waste management company Tadweer and renewable energy company Masdar announced a feasibility study to explore SAF production in the UAE. The proposed scheme would look at the production of SAF using municipal solid waste and renewable hydrogen.
Announcing the partnership, Masdar said, "This collaboration is designed to strengthen the UAE's leadership position in low-carbon energy and technology-driven industrial growth and will mark an important step in assessing the UAE's potential to become a global leader in SAF production."
Despite the Middle East's interest in SAFs, the lack of areas in the region for crop cultivation – one of the major pathways for their production – could be an insurmountable barrier.
Beyond the lack of supply, another major problems for SAFs is the cost – it is two to four times more expensive than traditional jet fuel. Covid caused huge financial problems in the airline sector and without incentives, there is little appetite to move to SAFs on a large scale.
IATA has called for governments to provide large-scale incentives for airlines to move to SAFs.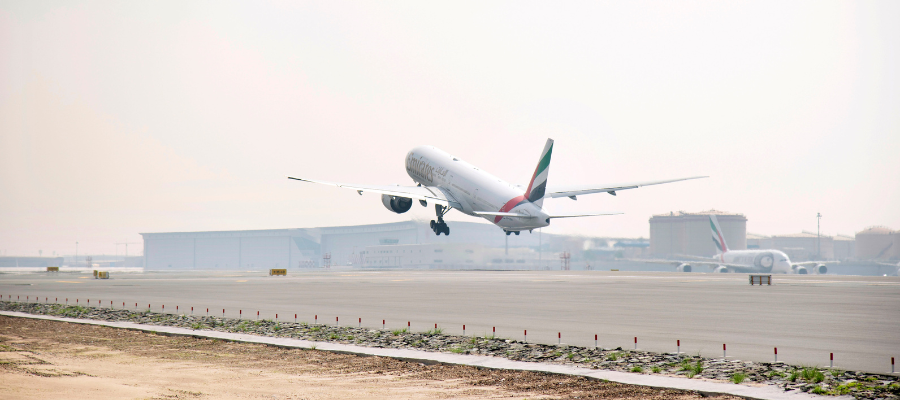 IATA's current estimates are that SAFs would need to replace 65% of traditional jet fuel by 2050 in order to decarbonise aviation. IATA says that with effective government incentives, SAF production could be increased 240-fold by 2030 which it says would be "a tipping point for SAF production and utilisation".
At the 78th IATA Annual General Meeting in Doha, Qatar in June 2022, IATA's director general Willie Walsh said, "Governments don't need to invent a playbook. Incentives to transition electricity production to renewable sources like solar or wind worked. As a result, clean energy solutions are now cheap and widely available. With similar incentives for SAF, we could see 30 billion litres available by 2030. Though still far from where we need to be, it would be a clear tipping point towards our net zero ambition of ample SAF quantities at affordable prices."
The recent report from the UN's Intergovernmental Panel on Climate Change, which once again told of the urgent need to take action to prevent a global catastrophe, recognises that carbon emissions from aviation are "hard to abate", along with others from sectors such as agriculture and shipping, but that there is a role for SAFs in helping achieve net zero.
Yet for SAFs to fulfil their potential to decarbonise aviation will require a concerted effort from governments, aviation bodies, airlines, aircraft manufacturers and, last but not least, airline passengers. With airports in the Middle East now emerging as the leading global aviation hubs, the opportunities and the challenges for those in the region are only too clear.