They say that love is the food of life, and travel is the dessert. If that is to be believed, then it means that honeymoon (the dessert after the wedding) is still as popular as ever. Honeymoon packages, Anniversary trip, babymoon, couples travel – the terms vary, but as a whole, travelling couples continue to be on the rise.
As noted by a 2017 honeymoon trends report by luxury travel operator Kuoni, the key difference between honeymoon travel a generation ago and today is that today's honeymooners are older and more well-travelled.
A generation ago, honeymoons served as a getaway to recharge from the stresses of wedding preparations. But because the honeymooners of today have travelled more, they also expect more, and are looking for factors other than a relaxing trip.
Media research company Skift also reported that honeymoons are changing in such a way that newlyweds and couples are opting to do more adventurous activities than previous generations. They also prefer splitting their honeymoon in two parts.
It is in this trend of having a two-part or multi-location honeymoon where the Middle East's role can be pivotal. Located right smack in the middle of Europe and Asia, the region is hub to airlines with the largest network worldwide.
Honeymooners from Europe will likely fly via the Middle East to get to the Maldives or Southeast Asia and beyond, just as couples and newlyweds from Asia will also likely fly via the Middle East to get to their European honeymoon destinations.
Here are a number of popular honeymoon places within the Middle East and Asia, locations where we can see current honeymoon trends come to life.
OMAN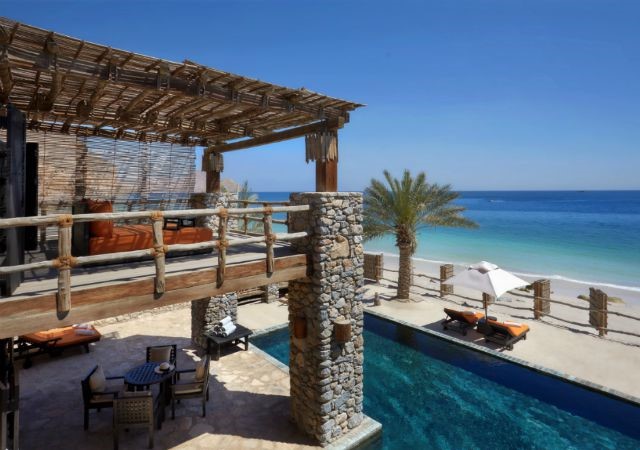 Oman's unique landscape and vibe of laid-back luxury make it a refreshing destination in the Middle East. It is not teeming in urban modernity or skyscrapers and it has also maintained its own cultural identity.
Luxury travel magazine and digital media company Venuelust has listed Oman (alongside Montana and New Zealand) as a top honeymoon destination for fit travellers.
In line with this, Oman's Ministry of Tourism is also actively working to showcase the country as a wedding and honeymoon destination for the European, Indian, and GCC markets. (source: Oman Observer).
Oman shot to tourism popularity lately when actor Priyanka Chopra and American singer Nick Jonas honeymooned in Oman after their December 2018 wedding.
They stayed at the award-winning Six Senses Zighy Bay Resort, known for its remote but easily accessible location in the Musandam Peninsula.
JORDAN
Adventurous couples consider Jordan to be their perfect location to combine the outdoors with history and luxury.
And while Jordan may already be a popular adventure destination, it is also making its way into adventurous honeymooners' list. Top wedding magazine Brides has very recently included Jordan it its Top Honeymoon Destinations list.
In March 2018, the number of visitors in Petra hit an 8-year high, with the number of foreign visitors increasing by 60 percent. (source: Jordan Times)
Through the years, the country's tourism has been reliant on its neighbouring countries' stability so the increase in Jordan's tourism the past number of years is a welcome change.
DUBAI
Honeymooners from Europe going to the Maldives almost always transit via Dubai. And in line with the rising trend of multi-destination honeymoons, they take this opportunity to also explore Dubai, which provides a complementing contrast to the Maldives.
The combination of these two cities as a honeymoon destination is extremely popular, that Turquouise Holidays, a luxury tour provider specialising in tailor-made trips, has dubbed it "The Perfect Twin Centre Honeymoon"
Hotels and tour operators in Dubai can work alongside tour providers to create packages that showcase Dubai as part of a honeymoon destination such as a five-night stay in Dubai prior to a week in the Maldives, etc.
It helps that tour operators such as Kuoni are already encouraging honeymooners going to the Maldives to fly via Dubai and spend a few nights to explore the city before or after heading on to the Maldives.
As for what makes Dubai a great honeymoon destination? Over 300 days of sunshine year-round, and its position as a luxury hub in the UAE. Couples get to indulge in a modern and luxurious city while still feeling they are somewhere exotic and far away from home.
The Government of Dubai has also made it convenient for those planning to either wed or honeymoon in Dubai as they have created an online portal of links and information for honeymoon and weddings in the city.
In 2018, Dubai ranked 6th on the list of top visited countries in the world with 15.8 million international guests. (source: Global Media Insight)
THAILAND
Southeast Asia has long been a popular destination for couples. Apart from being a tropical paradise, there's also a honeymoon destination and package for every budget which makes it an attractive region.
Thailand, in particular is one of the most popular countries for couples to have a destination wedding. My Overseas Wedding is just one of the hundreds of travel companies that offer and specialise in destination wedding packages to Thailand.
This is an interesting background on how the Tourism Authority of Thailand marketed itself as a wedding destination to the HNWI Indian market: in 2006, TAT (Tourism Authority of Thailand) asked the president of the India Thai Business Association Satish Sehgal, how to attract the high-end market from India. He suggested to encourage HNWI (high net worth individuals) to organise their weddings in Thailand.
TAT then sent out personalised invitations (each signed by the TAT governor). More than a decade later and Thailand is already a top global wedding destination. (Source: Bangkok Post and TAT News)
MALDIVES
Considered as Asia's very own Caribbean destination, the Maldives is undoubtedly one of the top honeymoon destination choice for couples worldwide.
The Maldives received 1.3 million visitors by November 2018, with European travellers continuing to be the majority of tourists in the country.
Because the Maldives is made up of natural atolls (chain of islands formed from coral), every resort here is in its own private island. So honeymooners often stay within the confines of a resort when they go to the Maldives. And this creates a rather autonomous style of marketing for every resort.
Each resort provides its own myriad of couple-friendly activities such as sunset cruises, al-fresco dining by the beach, couples massage, etc. And hotel chains that have a number of resorts in the Maldives (for instance, Anantara and LUX) offer packages where couples can 'resort-hop' from one resort to another.
INDIA
India may not be a usual honeymoon option, but leading wedding magazine Brides has India in its 2019 list of best honeymoon destinations, so expect it to be an up and coming couples travel destination.
Goa, in particular seems to be highlighted as a couples travel destination due to its famous combination of surf, sand and sea. Its history as a Portuguese colony also adds to its appeal.
India's diverse luxury tourism is what makes it appealing as a honeymoon destination. There seems to be a luxury accommodation option in most regions. For instance, those who like wildlife can experience living alongside antelopes and the endangered Indian grey wolves at The Blackbuck Lodge in Gujarat , while those who prefer cold weather close to the Himalayas have the Khyber Himalayan Resort Spa in Gulmarg.
As per India's Ministry of Tourism, 10.4 Million foreign tourists arrived in India in 2017, with the most number of foreign visitors coming from Bangladesh (21.49%), followed by the United States ( 13.72%) and the United Kingdom (9.83%)
—
Through the years, weddings and couples have taken on a broader meaning as traditional definitions become obscure. But one thing is for sure – couples travel and honeymoons are here to stay, and it's exciting to know that the travellers in this market are open to new destinations.
A comprehensive wedding report by the International Academy of Wedding and Event planning shows that couples nowadays prefer doing the two-part honeymoon by combining an adventurous trip with a relaxing one. For instance, they can spend a Safari week in Africa followed by a week in either the Seychelles or Mauritius for relaxation (they can also squeeze in an Indian honeymoon in this itinerary). In the same report, it's also been shown that destination weddings are on the rise. Along with couples planning a two-part honeymoon, this slightly changes the game of wedding tourism.