Euromonitor International is excited to share new insights about the travel industry. Travel and tourism continues to remain on track, outperforming the global economy, with arrivals set to grow by 3.7% and inbound receipts at a stronger rate of 4.1% over 2017, compared to world GDP at 3.5%.
Flaring up of geopolitical tensions weighs on demand
Pricing pressure will remain in the near term as there are major uncertainties buffeting the world economy, namely the rocky Trump administration, Brexit, as well as the flaring up of regional tensions across the world with a stand-off looming with North Korea and Japan, and the United States.
Value growth for 2017 is expected to be strong at 4.1% in 2017, decelerating to 3.1% in 2018, due to dark clouds gathering on the horizon as uncertainty escalates, and a minor economic deceleration is expected in China.
World Inbound Tourism Performance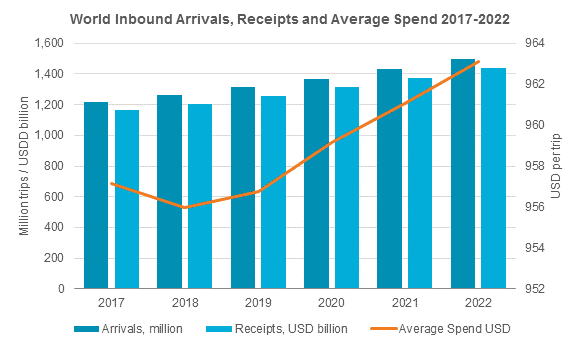 Mixed fortunes for China outbound
By 2022, we expect that China will be the world's largest source of outbound tourism demand, with 128 million trips, overtaking the US as the country with the highest propensity for travel abroad. Growth is set to be very strong, at 8.4% over the period 2017-2022. Outside of Asia, the US and France are likely to benefit the most, due to their China-ready approach.
China is already the largest source of tourism expenditure, growing by 10.9% over 2017-2022, driven predominantly by GDP per capita, and the rise in middle-class households.
Japan saw the strongest increase in China arrivals growth over 2013-2017, with a CAGR of 54%, amounting to an additional six million Chinese arrivals thanks to simplifying the visa process and the weak yen.
Due to mounting tensions with China and the travel ban, where the Chinese government is restricting tour groups to South Korea, Chinese arrivals to the country fell 39% in 2017. Worsening relations with Taiwan has also led to a decline.
China Demand for Top Destinations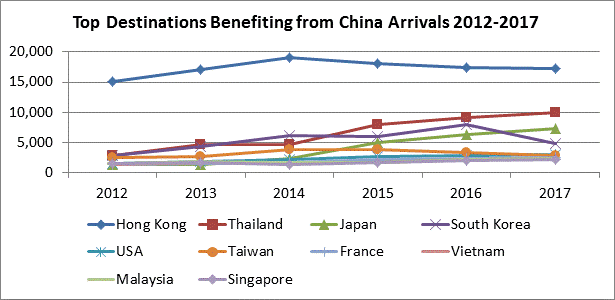 Sound prospects for industry stalwarts
Travel continues to be a two horse race with lodging and airlines dominating sales, which indicates the health of the global travel industry, where traditional components continue to deliver solid CAGR growth of over 3.3%, with airlines and lodging accounting for USD1.2 trillion worth of sales.
Companies are seeking out new sources of emerging demand and new business models like low cost or short term rentals are acting as growth catalysts, rather than cannibalising opportunities, and finding ways to thwart pricing pressure.
Global Travel Sales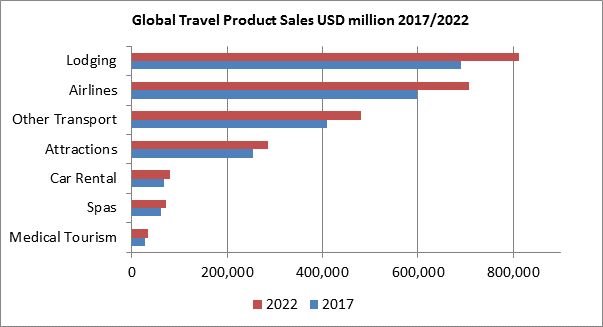 UK hits an online ceiling but plenty of growth elsewhere
For most countries, online travel sales are increasing at a strong clip year-on-year. However, with this new dataset in Travel 2018, we're able to see that in the most digitally ready markets, like the UK, that sit atop Euromonitor's Digital Consumer Index, there is a ceiling to how far online travel sales can grow.
UK online travel sales to residents started to plateau in 2015, and are not expected to exceed 70% of the total travel market over 2017-2022, with offline securing the remaining 30% share.
Despite the appearance of an online ceiling, other traditional markets like Germany are way below the curve, and offer strong incremental growth, in tandem with the strong growth coming out of China, Russia and India.
Online Percentage of Travel Sales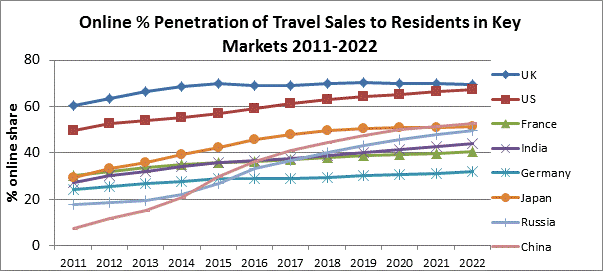 Luxury and budget benefit as consumers trade down and up
Luxury categories are benefiting from consumers trading up from mid-market brands to luxury, whilst growth in budget remains popular but doesn't bring vast returns, but budget players are faced with the challenge from consumers increasingly demanding a premium service at a lower price bracket. The trend towards premiumisation affects every price point, which also requires that luxury constantly updates to keep ahead of consumers' expectations.
Luxury vs Budget Category Performance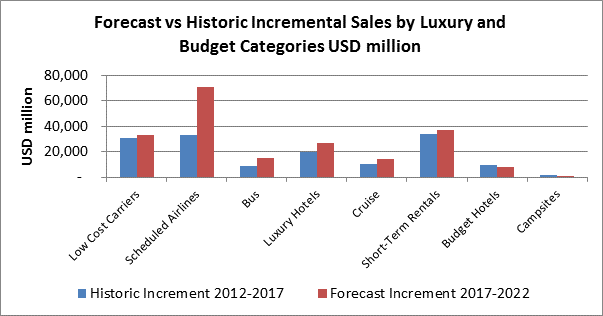 Brand success from global footprint – and China
China's Shanghai Chunqiu operating in intermediaries enjoyed the largest incremental sales of any travel brand in the world, followed by Expedia and Southwest Airlines, enjoying an additional USD8 billion, USDD5.5 billion and USD3.8 billion, respectively.
The largest travel brands worldwide are Ctrip and Booking.com, with Ctrip towering over all its rivals with sales of USD60 billion, compared to Booking.com's USD33 billion in 2017.
Leading Travel Brands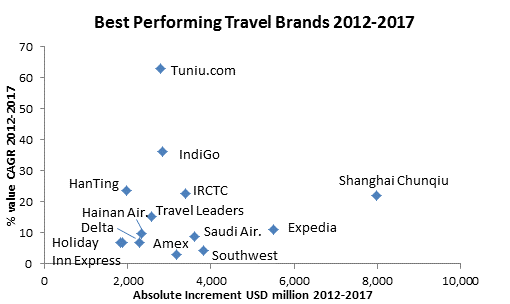 Note: Strong performing travel brands across lodging, airlines and intermediaries, ranked by incremental sales 2012-2017
Euromonitor International will present in the WTM London event the Top 100 City Destinations Ranking Report on Tuesday 7th November,  WTM Inspire Theatre,  14.55 – 15.45
To pre-register to receive the Top 100 City Destinations Ranking Report, visit:
http://go.euromonitor.com/wtm2017-top-100-cities-destinations.html
To meet Euromonitor team, please visit ME366 stand in the WTM Exhibition floor.