Last week, Travel Leaders Group released its results from a survey undertaken amongst 354 members, constituting travel agent owners, managers and frontline agents providing services to business travellers. The survey found that demand for short-term rentals is still relatively low amongst business travellers. Over 55% of respondents said their clients are not using alternative accommodation suppliers, but this result might point at the waning relevance of travel agents, rather than the lack of demand from its clients. Indeed, in its State of Business Travel 2016 report, Concur (which works together with players like Airbnb) reports that, amongst its business travellers, home sharing is quickly gaining popularity, with 56% growth between 2015 Q1 and 2016 Q1. And Airbnb reported in July that its sales to business travellers increased threefold in the past year.
Indications, then, are that business travellers are warming to the sharing economy, even though it is not a revolution just yet. Traditionally, it has always been easiest for travellers to book a hotel due to close ties between hotels and travel management companies. Today, however, the booking landscape is changing, and short-term rentals could have a real impact on where business travellers stay.
The importance of business travel
Business travel truly is a multi-million dollar business. The Global Business Travel Association (GBTA) recently predicted that business travel spending will grow by 5.8% to reach US$1.6 trillion by 2020. Although leisure travellers boast greater numbers, the average business trip sees spending of US$1,399, while the figure for the average leisure trip is US$1,123. The average room rate for business travel tends to be higher, as is spending on ancillary services. And business travellers tend to fill up hotel rooms during the week, while leisure travellers are more frequent at the weekend, thereby complementing each other well.
Top 15 Countries by Business Spending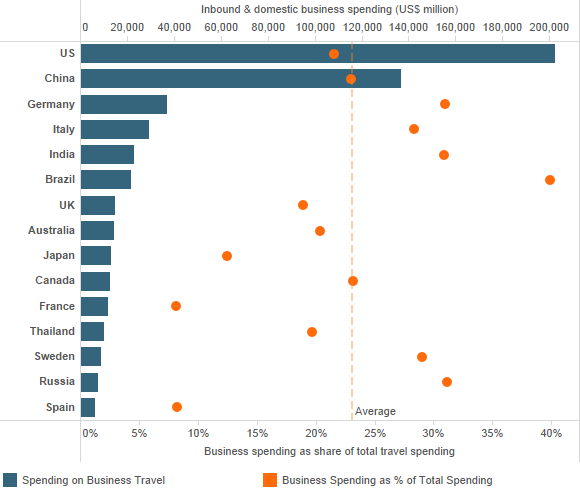 Short-term rentals enter the fray
The poster child of the sharing economy in the lodging domain, Airbnb, took its first steps to adapt to business travellers and their employers in July 2014. To appeal to the business traveller, Airbnb launched a new website, www.airbnb.com/business-travel. The listings on the website are designed to appeal to business travellers, with features such as Wi-Fi, instant booking, an iron, and no shared spaces.
To meet employers' needs, Airbnb announced its integration with Concur's TripLink product, which went into operation in autumn 2014. This allows travellers to book directly with Airbnb, but have the charges automatically added to their expense reports for reimbursement. The connection with TripLink ensures that travellers are booking according to their corporate travel policy and lets the employers know where their travellers are – a key step to address safety and security concerns. It is also an example of the simple integration needed to appeal to the managed business travel segment.
In July 2015,the company launched a revamped Airbnb for Business, which includes a centralised billing system, and better tools for HR representatives to track spending. The launch was accompanied by a marketing campaign. Airbnb has said that more than 500 companies signed up for the new system in the first 24 hours after launch, and that more than 50,000 companies have used Airbnb for Business to date. Some of the early adopters included Salesforce, Eventbrite, Evernote and fellow sharing economy company Lyft.
Modern business traveller books online and independently
Today's business traveller, not unlike the leisure traveller, increasingly wants to make their own decision on where to stay during their trip. With boundaries between leisure and business blurring, business travellers are not necessarily looking for hotels with business centres and proximity to the financial district, instead factoring in their personal preferences in their decision making.
Furthermore, with the growing gig economy, the future of business travel is expected to be very different. As work becomes more flexible, we will see more start-ups and more entrepreneurs looking to satisfy their travel needs. The online channel allows travellers to make a better-informed choice, and to manage the vast amount of options available to them, and it allows travellers to be in control of their booking before, during and after the trip.
Lodging booking data show that short-term rental bookings are made more online than hotels and other lodgings. With business travellers increasingly interested in booking online, it seems that short-term rental intermediaries like Airbnb are in a good position to capitalise on the changing demands and expectations of business travellers.
Lodging Bookings Made through Online and Offline Channel (2015)

Euromonitor International partnering for the 11th consecutive year with World Travel Market London is pleased to reveal the emerging global travel trends identified by the WTM Global Trends Report on Tuesday 8th of November at London's ExCel Centre.
To receive your free copy of WTM Global Trends Report on November 8th, please pre-register HERE.