Instagram remains the current darling of social media, its star rising as brands clamour for attention in the best photogenic social platform on the market.
The ability to show images well was recently enhanced by the site's new display format. The redesign last month has been largely praised for its cleaner look and larger display of photos.
And it comes at a time when the platform has outstripped Twitter for regular users, and with brands keener than ever to work with influential Instagrammers with big audiences.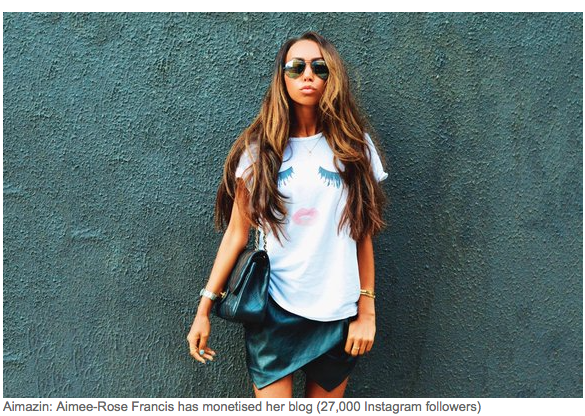 The Sunday Times this week ran an article headlined "Why this British blogger gets £800 for posting a picture like this on Instagram" and quoted Aimee-Rose Francis saying she charges up to £5,000 for projects with brands such as Reiss and Armani Exchange.
Interestingly, the article highlights that the Advertising Standards Authority in Britain is taking a keen interest in this development.
The ASA plans later this month to release directives designed to help make clear that a certain image on Instagram, or a blog post – for example – is advertising. "Adverts must be obviously identifiable as such," the ASA's Matt Wilson told the paper.
It's evident that in such a fast-evolving medium such as Instagram, rules are being made up as we go along. For IG clearly has no say over how it is monetized by its users. Nor, it is apparent, over how brands are circumventing its control freakery.
One of the biggest beefs with Instagram is that there is no mechanism to manage and post to multiple accounts, in the way that Echofon, for example, enables people to manage several Twitter accounts.
Another common complaint is that there is only one live link allowed on Instagram, seriously thwarting the ability to direct users to specific web pages.
But brands are smart. US clothing retailer Line and Label is one of many using a site called www.feedshop.it that makes Instagram sites shoppable.
By using the one available live link, Line and Label sends users through to a replicated Instagram page on Feedshop that makes each image clickable and takes people to the specific product to purchase.
An excellent blog post from www.sumall.com also highlights fashion retailer Lilly Pulitzer that uses another shoppable site www.like2buy.com.
What is interesting is that one of the oldest maxims in social still applies: don't just sell: entertain too. The Line and Label Instagram account mixes storytelling images with sells – and the former gains most likes. If people like you, they are more likely to buy.
It's why brands like to partner (eg., sell) through entertaining and colourful Instagrammers: it's piggybacking on their individual style. And it allows IGers to choose brands that fit their image, they would say. Or simply cash in on their numbers, as others would say.
Either way, Instagram is proving to be commercial despite the limitations of the site. It's a fantastic visual medium and creating awareness of a brand is just as important as making sales.
Instagram is inevitably starting to allow adverts on its site as the traditional means to make money. Understanding how users capitalize on its site – and make it easier to use and manage – would be equally profitable.