Senior industry buyer numbers top 10,000 for the first time, and Exhibitor Invitees also at record levels
The numbers of senior industry buyers and travel professionals invited to do business at WTM London, the leading global event for the travel industry, rose yet again for 2017.
The key benchmarks of exhibitor invitees and WTM Buyers' Club members in attendance topped last year's record figures at WTM London.
WTM Buyers' Club is the leading business club for senior travel industry decision-makers with direct purchasing responsibility. The number of pre-qualified buyers from the WTM Buyers' Club who attended the event over the three days stood at 10,484 – up 8% on 2016.
Furthermore, the number of senior industry executives invited by exhibitors to do business at WTM London rose significantly, up 14% year-on-year to 16,049 – including an 8% rise on Monday 6 November (invite-only day) to 11,861.
There was also an improved spread of attendees across all three days, with Monday's numbers up by 1% and Wednesday seeing a rise of 9% year-on-year, further cementing the three-day format for WTM London – introduced last year.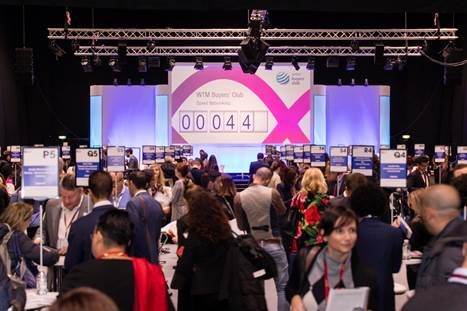 World Travel Market 2017, ExCeL London – Speed Networking
WTM London 2017 experienced almost 88,000 (87,794) visits across the three days – Monday 6 – Wednesday 8 November.  The first day of the event (Monday 6 November) saw 28,154 visits – an increase of 1% on last year. This included 5,715 senior buyers from the WTM Buyers' Club, an increase of 11% compared to the first day of the 2016 event.
Tuesday 7 November saw a massive 35,113 visits, including 7,525 senior buyers from the WTM Buyers' Club. Wednesday 8 November experienced 24,527 visits, including more than 4,000 (4,021) from the WTM Buyers' Club – an increase of 21% on the final day of the 2016 event.
WTM London again attracted around 50,000 (49,685) delegates.
The bumper numbers for the WTM Buyers' Club and senior executives being invited to WTM London mean the event is predicted to facilitate £3 billion in industry business deals, beating last year's record of £2.8 billion.
World Travel Market 2017, ExCeL London – Simon Press and Flavio Zappacosta, INIT Italy
WTM London, Senior Director, Simon Press, said: "WTM London has grown at an unprecedented rate in recent years with the seniority of delegates continuing to increase.
"I am delighted to see almost 10,500 senior buyers from the WTM Buyers' Club and more than 16,000 Exhibitor Invitees in attendance. These record numbers further demonstrates that WTM London is the event where the industry conducts its business deals. Around one million business meetings took place over the three days of the event which will lead to £3 billion in contracts being signed."
Audited figures of WTM London 2017 will be available in the New Year.
WTM London 2018 will take place at ExCeL London on Monday 5 – Wednesday 7 November.
About World Travel Market
World Travel Market (WTM) portfolio comprises five leading B2B events across four continents generating more than $7bn of industry deals. The events are;
WTM London, the leading global event for the travel industry, is the must-attend three-day exhibition for the worldwide travel and tourism industry. Around 51,500 senior travel industry professionals, government ministers and international media visit ExCeL – London every November generating around £2.8 billion of travel industry contracts. http://london.wtm.com/. Next event: 5-7 Nov 2018 – London.
International Golf Travel Market (IGTM) now in its 20th edition, is the meeting place for the global B2B golf travel community. More than 600 golf tourism suppliers join 350 pre-qualified buyers and 100 international press for four days of unmissable pre-scheduled appointments, exclusive networking opportunities and invaluable industry and trend updates. Taking place in a different destination every year, IGTM brings together 1,400 golf tourism professionals from over 65 countries. http://igtm.wtm.com/. Next event: 11-14 Dec 2017 – Cannes.
WTM Latin America now in its fifth edition attracts about 9,000 unique senior executives. The event generates US$ 370 million of new business. Taking place in Sao Paulo Brazil, this show attracts a global audience to meet and shape the direction of the travel industry. More than 7,000 unique visitors attend the event to network, negotiate and discover the latest industry news. http://latinamerica.wtm.com/. Next event: 3-5 April 2018 – Sao Paulo.
WTM Africa launched in 2014 in Cape Town, South Africa. Nearly 5,000 travel industry professionals attend Africa's leading inbound and outbound travel and tourism market. WTM Africa delivers a proven mix of hosted buyers, media, pre-scheduled appointments, on-site networking, evening functions and invited travel trade visitors. http://africa.wtm.com/. Next event: 18-20 April 2018 – Cape Town.
About Arabian Travel Market
Arabian Travel Market (ATM) is the leading, international travel and tourism event in the Middle East for inbound and outbound tourism professionals. ATM 2017 attracted almost 40,000 industry professionals, agreeing deals worth US$2.5bn over the four days.The 25th edition of ATM will showcase over 2,500 exhibiting companies across 12 halls at Dubai World Trade Centre, making it the largest ATM in its 25-year history.
http://arabiantravelmarket.wtm.com/ www.wtmworld.com
Next event 22-25 April 2018 – Dubai.
About Reed Exhibitions
Reed Exhibitions is the world's leading events business, enhancing the power of face to face through data and digital tools at over 500 events a year, in more than 43 countries, attracting more than 7m participants. East, Asia Pacific and Africa and organised by 41 fully staffed offices. Reed Exhibitions serves 43 industry sectors with trade and consumer events. It is part of the RELX Group plc, a world-leading provider of information solutions for professional customers across industries.
About Reed Travel Exhibitions
Reed Travel Exhibitions is the world's leading travel and tourism event's organiser with a growing portfolio of more than 22 international travel and tourism trade events in Europe, the Americas, Asia, the Middle East and Africa. Our events are market leaders in their sectors, whether it is global and regional leisure travel trade events, or specialist events for meetings, incentives, conference, events (MICE) industry, business travel, luxury travel, travel technology as well as golf, spa and ski travel. We have over 35 years' experience in organising world-leading travel exhibitions.
More information, please contact:
Paul Nelson – WTM Portfolio PR Manager
E.: paul.nelson@reedexpo.co.uk
T: +44 (0)20 8910 7032/ M: +44 (0)79 1955 5510
Natalia Hartmann – WTM Portfolio PR Executive
E.: natalia.hartmann@reedexpo.co.uk
T: +44 (0)20 8439 5535/ M: +44 (0)74 0336 7331