Key Findings
Airline loyalty programmes in transformation: To better cater to their highest paying passengers, airlines have made moves to reward these lucrative travellers better, including switching to a spend-based model for "miles" accumulation and joining forces with hotel loyalty programmes.
Evolution in hotel loyalty programmes: Although the hotel industry's recovery led to devaluations, hotel companies continued to evolve their programmes, such as IHG offering free Wi-Fi for all members starting in July 2014.
Co-branding remains key but face challenges: Co-branded credit cards remain lucrative for the industry thanks to high-margin sales of points or miles. However, co-branded credit cards face obstacles with interchange fee regulation in Europe and to a lesser extent, competition from general rewards cards.
Prepaid cards show potential:Although prepaid cards are not as lucrative as co-branded credit cards, airlines are launching these cards to appeal to those who travel abroad frequently or do not have access to credit.
Improving the travel experience: Consumers today use multiple internet devices in a sequential or simultaneous manner. Travel companies need to build a flexible technological architecture in order to reach them, including a presence in wearable technologies.
Loyalty programme models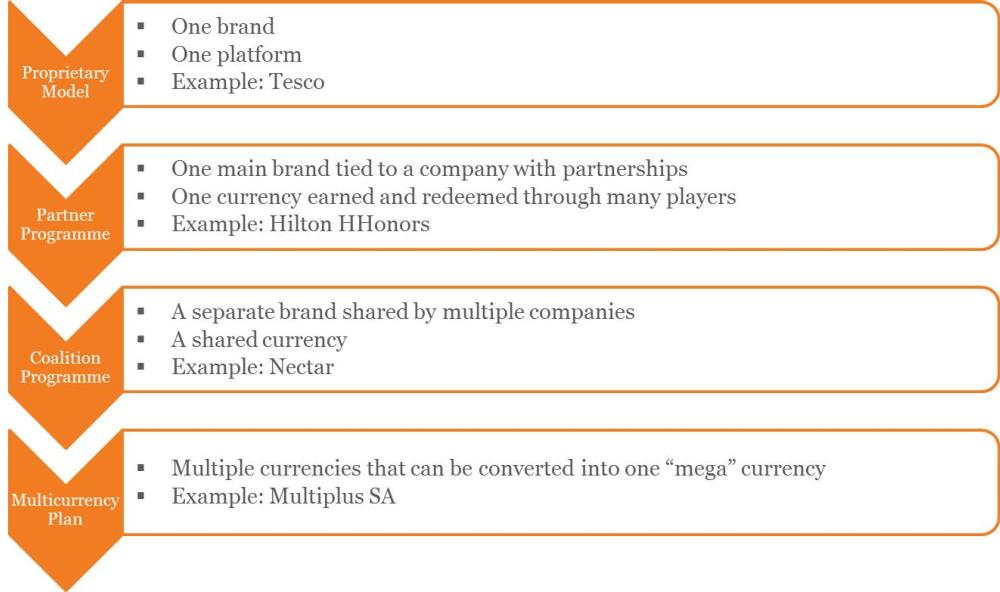 Airline and hotel loyalty programmes join forces
In March 2013, Delta and Starwood launched the Crossover Rewards programme. Delta's elite members earn one Skymile for each dollar spent on a room with Starwood in addition to earning Starpoints. Delta's Platinum and Diamond members (the highest elite tiers) get other perks such as late check-out, free internet and elite check-in.
Starwood's Platinum and Gold elite members earn one Starpoint for each dollar of spending done on eligible Delta flights. Platinum elites receive priority check in and boarding, first checked bag free and free upgrades.
United and Marriott followed suit, announcing their RewardsPlus programme in July 2013. United's Global Services, Premier 1K, Premier Platinum and Premier Gold elites will automatically receive Gold status with Marriott. As a result, they receive perks such as free breakfast, free internet, upgrades and priority late check-out. They will benefit from a one-to-one transfer of miles to Marriott points.
Marriott's Platinum Elites will receive United's Premier Silver status. This entitles them to perks such as complimentary upgrades, a free checked bag, priority access and boarding and 25% bonus miles on United flights.
It remains to be seen if these programmes will be effective in increasing loyalty as there may be significant overlap in the elites of these companies already and it is not clear if the additional benefits are enough to entice elite travellers from other programmes. Joining brands could also damage brand perception if one partner does not have a similar reputation to the other. However, the partners will have access to more data on their elites based on their enrolment and could offer better joint promotions. The programmes' value may increase thanks to the additional perks, especially Crossover Rewards since it allows travellers to double their earning power on a trip.
Future trends to watch
| | |
| --- | --- |
| Future trend | Insight |
| Lucrative travellers | Loyalty programmes will remain aggressive in courting their highest spending travellers, leveraging their loyalty programmes to give them a better travel experience. |
| Pure spend model for legacies in US and abroad? | Is the next step in the evolution of legacy carriers' loyalty programmes to remove the miles flown requirement for status and shift to a pure spend model for both status and mile accumulation? Will legacy carriers outside the US follow their moves? |
| Emerging redemption models | Airlines may shift away from zone-based redemptions to redemptions based on dynamic pricing to better balance supply and demand. However, legacy systems, accounting and business practices may hinder the transition. |
| Mobile | The industry will look to transform its loyalty programmes into a mobile wallet that becomes not just a reference to the loyalty account, but also the holder's payment card for everything. Geolocation may lead to more personalised offers. |
| Social media | Social media is a strong tool to interact with loyal travellers, and it is expected that more programmes will step up their social media activities, whether in private communities or on Facebook, to communicate with their customers. |
| Personalisation | Loyalty programmes allow the building of a detailed profile of clients, and companies are expected to leverage their programmes not only to improve the customer experience but also to drive additional revenues. However, privacy concerns may prove a challenge. |
Click here to "view full report"