The combination of the best, freshest and most relevant travel information, coupled with the ability to book in real-time, is really rather attractive when researching travel plans.
Being able to stay on one site and do all of that is better. Step forward TripAdvisor, on a mission to complement its vast user-generated content (UGC) by buying the best of travel start-ups.
It has taken 15 years to build up its UGC reviews – not only hotels, but restaurants, attractions, bars, tours and all other aspects of travel. Some 280m people now use the site to research travel.
As Google owns travel search, now TripAdvisor harnesses UGC, social media and mobile digital to position itself and command the middle ground of travel information.
In an interview with industry news site Skift last summer, CEO Steve Kaufer spelt out his views: "We have travellers coming to TripAdvisor doing things other than just hotels and restaurants and certainly attractions of tours, or guides, or other travel related things are on the site.
"We got starting in hotels, and then flights, and then vacation rentals, and then restaurants, and it's safe to say, that we will be going beyond where we are now," he added.
The weekly TripAdvisor team meeting encourages ideas as to what else the company can leverage. Certainly, it has been on the acquisition trail for the past three years to plug gaps in its arsenal.
Now it is reputed to make 50% profit on every dollar of turnover, a far cry from where it started with reader reviews in 2000. Back then the company was losing £50,000 a month, according to an article in Fast Magazine, and in trouble.
Then it had the idea of referring readers of its reviews to online travel agencies (OTAs) like Expedia and Priceline, who paid TripAdvisor for the clicks.
It's a model that still works today, with Expedia and Priceline accounting for 46% of Tripadvisor income. And it worked so well in 2005 that TripAdvisor was bought and bundled in with Expedia by new owners. It made financial sense for the OTA – but not to its rivals, who were deeply suspicious of Expedia's motives.
To avoid competitive issues and risk diminishing the company's standing, it was deemed sensible to spin off TripAdvisor as an independently traded company in December, 2011. It was another good decision.
Since then, its value has doubled and TripAdvisor has embarked on a buying spree, snapping up start-up travel companies that can add to the network of its travel information and product coverage, very much in line with Kaufer's stated intentions.
It has made 24 travel-related acquisitions, mostly small and strategic but including some bigger strategic brands: holiday rental sites Vacation Home Rentals and Holiday Lettings; tours and activities brand Viator (for $200m) and CruiseCritic.
It is covering travel bases and expanding away from its core hotel and restaurant reviews. It digests data like an avarice and bombards the casual browser with emails related to their vague enquiry. It creates list content like a machine and spews out surveys to old media by the bucketload.
And it is working the monetization, from advertising and business listings to direct 'Buy Now' booking buttons, while avoiding a head-on clash (for now) with its OTA partners (even though it was touted as a potential buyer for Orbitz recently).
But it may be on a collision course with its big OTA partners, says a report in Skift this month.
It says that TripAdvisor's Instant Booking facility is now with 43 small online travel agencies and chain hoteliers. It allows consumers to complete their hotel bookings on TripAdvisor, rather than go to an OTA – and it is projected that Instant Booking could account for 30% of TripAdvisor's hotel revenue by 2016, up from a projected 6% this year.
TripAdvisor is becoming a travel behemoth, born of an era when social media and personal ego began their rise to prominence. And it has gone beyond the issues of fake reviews to become a genuine source travel information. As you start search with Google, so you start travel research with TripAdvisor.
Most accommodation providers live or die by it, in their own minds. But they will not argue that it brings in bookings, even if it costs a hefty penny. Even if it restricts their ambition in building their own brand and identity: in short, to become a slave to TripAdvisor.
In an article on TripAdvisor's integration with Viator on industry news site Tnooz last week , one unnamed rival intermediary argued that brands should not be lured into a false sense of security with the potential for sales with brands such as Facebook or TripAdvisor.
"If you build your main strategy around that house of sand, then at some point you either pay the ferryman to maintain it, or hopefully you've used the time they've given you, to work on your own direct business to sufficiently cover the margins you'll lose when those services are free no more."
The increasing power of reviews
When Justin Reid checked into the Glasgow Marriott, he found it to be a functional corporate hotel. A bit like its Facebook page, which was hosting a run-of-the-mill, win-a-free-night competition attracting a handful of likes.
But then a maid turned down his bed. And instead of the usual pillow chocolate, he found a bottle of Irn-Bru and a Tunnocks teacake, two Scottish institutions.
Being a social media sort of man, Reid immediately took a photo and posted it to Facebook, attracting dozens of likes and comments about these great culinary creations.
"It is what people leave reviews about,' says Reid, former head of digital and social media at Visit Britain and, since September, 2014, head of DMO sales for Europe, Middle East and Africa at TripAdvisor.
"People are going less to official websites like Visit Britain for travel information, and more and more to review sites."
Marriott benefitted, at a stroke, changing Reid's perception of a dull hotel into a memory of a place with a sense of humour. And his friends changed their outlook too.
According to Feefo, an independent review site, some 75% of us now expect to be able to leave a review of our travel product. Because sometimes, as in Glasgow, things happen that you want to be able to share.
It's a high figure, probably even higher by now. And it should wipe away any vestiges of opposition to reviews from accommodation providers afraid of a bad posting.
If people want to leave a review, how can you say no? Clearly, TripAdvisor has owned the review market for several years but, given the rise in demand for reviews, several other sources are now emerging.
Online travel agents (OTAs) have long solicited reviews, sending an email to customers inviting a review within a few days of leaving the hotel. Google, inevitably, has also moved into the review space.
For accommodation providers, the most useful development has been that of the independent review site, which only invites reviews from guests proven to have stayed at the property. Like Feefo, Reevoo and itrust-reviews.
The companies send the invites, collate the information and place a button on the hotelier website pointing to these reviews from authenticated guests. They also award the property a rating based on responses.
According to Matt Eames, sales director at Feefo, some 83% of holiday shoppers are influenced by reviews – and half won't book a hotel without reviews. And interestingly, he says that two-thirds of customers are more likely to trust reviews that contain good and bad reviews.
A big advantage of the new breed of review sites is that reviews can be displayed independently, not alongside those of a competitor. Then there is that guarantee that guests stayed at the property, unlike with TripAdvisor or Google reviews. And trust is the most important aspect of a review.
Says Reid: "I think there is room for lots of players in the game. It is good for the consumer. It has moved away from a star-rating scheme: now more individual reviews, the better. It's better to have 200 reviews of somewhere, rather than two."
But Doug Mathieson, director of itrust-reviews, believes independent reviews complement the existing rating-systems – and he's probably right. As you start with Google, so customers will note the star rating as a starting point for further research.
He says that how suppliers deal with their reviews falls into two camps: reactive (TripAdvisor) and proactive ( iTrust-reviews, Feefo).
"Being such a powerful marketing tool, it makes perfect sense to be in the proactive camp and take control in house. By being reactive, you divert your hard fought for traffic to be displayed alongside your competitors, so simply by managing your online reputation you will keep your traffic and sell more product."
Itrust has recently signed an affiliate deal with Visit England, giving VE's 15,000 accommodation subscribers a special deal if choosing to sign up for reviews.
Whereas Feefo has signed up many of the big OTAs to run their reviews, so Itrust is primarily aiming at the small to medium (SME) accommodation businesses.
"We believe smaller and niche accommodation providers need to look after their online reputation every bit as much as the bigger players," says Mathieson.
"Our system allows this to be done 100% online for less than £1 a day and 30 minutes a month, making it an efficient and cost effective sales tool. This complements the tourist boards rating scheme – and does certainly not threaten it."
How to be the Travellers' Choice
For many hotels, winning one of TripAdvisor's Travellers' Choice awards is the ultimate in recognition for doing things right.
The awards are announced each January and they are now in their 13th year. They are divided into a number of sub-categories and more than 8,000 hotels, B&Bs and inns from the more than 915,000 properties listed on the review platform receive one.
These categories are small hotels, bargain properties, B&Bs and inns, luxury hotels, romantic hotels, family hotels, best  service, all-inclusive resorts and top hotels overall. There are also additional categories for non-accommodation businesses listed on the site, such as best beaches. There are awards in each of these categories for each country, each region and globally.
So how are the Travellers' Choice awards decided? Hotels do not get picked by travellers directly nor receive nominations. Instead, the winning hotels are chosen by algorithm. In fact, not just by one algorithm but by one algorithm for each category.
These algorithms take into account the quality and quantity of traveller reviews and opinions as well as traveller ratings specific to each award category. More recent reviews are weighted more heavily and hotels have to have done consistently well over the past 12 months.
Why are such awards important? A recent survey undertaken by TripAdvisor found that 83% of Brits were more likely to book a hotel if it had an award like a Travellers' Choice award. Who said all awards were fixed and not worth the glass trophy they were etched on?
Floridays Resort in Orlando has again been voted the number one family hotel in the US in this year's Travellers Choice Awards and has regularly topped TripAdvisor's rankings, Three years ago, the property's general manager Rod O'Connor was asked to speak at a TripAdvisor Master Class on how the hotel had achieved it.
He said at the time, "There really ARE no secrets to getting to and staying at  number one on TripAdvisor. The core principle is to deliver outstanding customer service at every touch point in the guest's experience, exceed guest expectations, and encourage guests to share their good experiences on TripAdvisor."
On a visit to the hotel  in 2013, I spoke with then social media manager Melissa Conn about how to do what it takes to get picked by TripAdvisor's algorithm. "You don't know the formula so getting five bubbles is the only way."
As a result, the hotel has an internal programme called Strive for Five which is aimed at getting the top level of bubble rating from the hotel's guests.
Guests are encouraged to post a review at the point of checkout and a TripAdvisor card is stapled to the guest's bill. This encouragement to review the hotel is also included in emails to guests after their stay.
Excellent service and dedicated staff are a common thread. The Chester Residence in Edinburgh was named number 1 for luxury hotels in Travellers Choice this year in the UK.
Owner of The Chester Residence, Graham Wood, said: "Our team works exceptionally hard to ensure each guest's stay is as luxurious and enjoyable as possible. They provide a personal, yet not intrusive, service which is both relaxed and friendly."
Lawton Court Hotel in Llandudno, Wales was named as best bargain hotel in the world in the awards. Its success shows that longevity and a huge number of reviews is not the only way t achieve success – it has only been open for just more than a year and has a few hundred reviews.
A TripAdvisor traveller reviewing her recent stay at Lawton Court Hotel said, "We could not have asked for more. The owners went above and beyond making sure all our needs were met to ensure we had a great stay. Great location on the seafront with stunning views, rooms were spotless and well equipped and breakfast was superb using all local produce. All the staff were friendly and attentive and the owners made us feel nothing was too much trouble."
Here are some tips to help you aim for a Travellers Choice award in 2016:
The quantity of reviews is important but recent reviews are more heavily weighted. Encourage guests to review after every stay, by follow-up email, in messaging on the bill or using cards or stickers
Five bubble reviews are key and empowering staff to deliver service that goes beyond the ordinary can help do that
Do not incentivise people to leave good reviews or disincentivise them from leaving bad ones – it is against the rules
If you do win, shout about it – on your website, to local media and on your marketing collateral
Ten tips to market your hotel using TripAdvisor
Got a hotel and want to know how to market it better using what is almost certainly one of the most influential travel platforms? Read our ten tips here:
Claim your listing. If you have not done so already, go into TripAdvisor and claim your business at tripadvisor.co.uk/owners. Click on your business type on the left and then do a search for your hotel. Why should you do it? You can update your listing, add your own photos, get emails when people review your business and allow you to respond t reviews.
Write a detailed property description. Once you have claimed your listing, you should make sure your property description contains as many details about your property as possible. Travellers like to know exactly what to expect.
Get free stickers to put up on your window or elsewhere in your hotel. You can get them at http://www.tripadvisor.co.uk/StickerRequestSupport and they take around six weeks to arrive.
Add the TripAdvisor app to your Facebook Go to  http://www.tripadvisor.co.uk/FacebookApp and follow the steps to add it. If you are getting good reviews, why not share them on Facebook as well? It's pretty easy to add and doesn't require any coding knowledge.
Upgrade to a Business Listing at http://www.tripadvisor.co.uk/BusinessListings. As well as claiming your listing for free you can pay to get a full Business Listing. The cost of doing so depends on your location. The advantage of doing this is that you can add direct contact details to your listing, helping drive direct business to your property and you can also start promoting special offers through TripAdvisor.
Get TripAdvisor widgets for your website at tripadvisor.co.uk/Widgets. Thee snippets of HTML can be added to your site to add live reviews to your site. There are a number of different ones available, including one that shows your overall bubble rating and number of reviews, another that showcases your most recent five-bubble review and another that lets you show how many travellers have ranked you as excellent.
Use TripAdvisor's Review Express tool, which encourages guests to review your property. You can use it to send standard emails to guests encouraging them to file a review. If you work with one of TripAdvisor's certified connectivity providers, such as internet booking enginers and property management systems, you can even automate this process.
Add video to your listing. Video is becoming even more important to travellers and as a hotel, you can add unlimited short (less than 10 min) videos to the site after claiming your listing. This can really breathe life into the experience at your hotel.
Pay to promote for direct bookings. TripAdvisor's Instant Booking programme, means hotels can now get bookings directly through TripAdvisor. You pay 15% commission to get half of all Book on TripAdvisor views and 12% to get a quarter.
Good, old-fashioned advertising. TripAdvisor lets you place banners on listing pages based on user behaviour. This means that is someone is looking at business or family hotel reviews in your city for example, you can pay to have your ad banner appear at the top of the listing. Find out more at http://www.tripadvisor.com/MediaKit. 
Personalisation and TripAdvisor
If you have been looking at reviews on TripAdvisor recently, you might have noticed something a little different.
In October 2014, the site introduced something called Just For You which marks one of the biggest changes in the way that reviews are listed on the site.
Just For You is TripAdvisor's first major personalisation development and means that for people who are logged as users of TripAdvisor rather than doing a casual search, hotels will no longer be listed according to their ranking.
So how does Just For You work?
Travellers search for a hotel in a destination and TripAdvisor filters the results based on tags, or travel preferences they have already specified in their profile, such as travel style, location, amenities and brand.
The TripAdvisor algorithm also factors in the user's previous research on the site and the reviews they have contributed in the past.
How will this affect hotels? Hugely is the answer. TripAdvisor says, "To help travellers find their preferred hotel, we'll default to personalised search results whenever possible. Travellers who want to reference the Popularity Index can still choose to sort hotels by ranking and toggle back and forth between the two methods."
So personalised will be the default, in just the same way that Google search results are now personalised by default.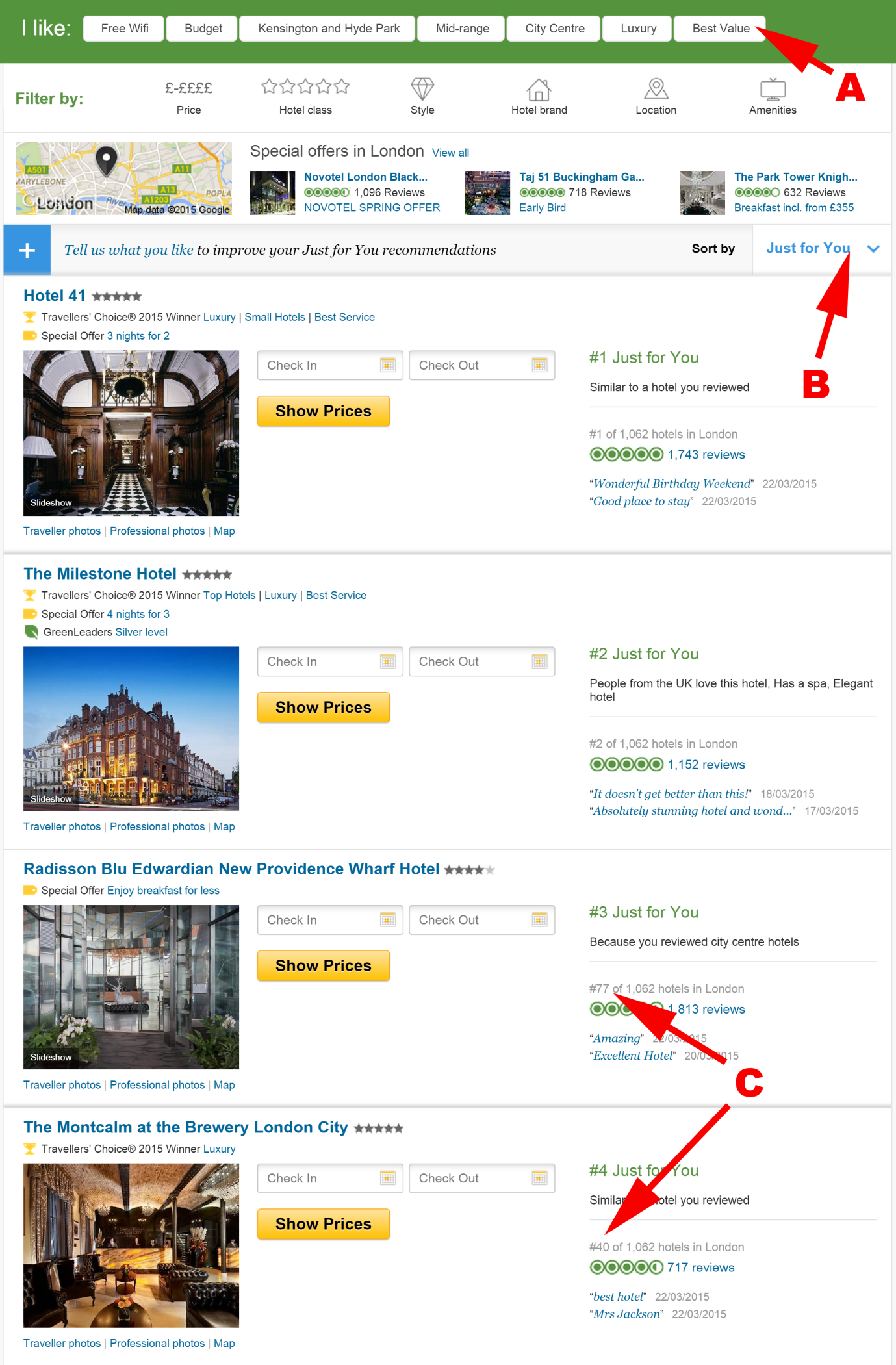 The screenshot above shows how Just For You looks in practice. Users can select the styles they are interested in at point A. The dropdown at B shows Just For You selected by default but other options such as Ranking and Price are also available.
The most crucial element of Just For You is shown at point C.
Here the hotel that is ranked at number 77 in hotels in London appears BEFORE the hotel ranked at number 40. This means that the measures that hotels are taking to appear higher in rankings is not necessarily going to be enough to get their review seen in the future.
As the algorithm behind Just For You gets cleverer, the personalisation will get better. It means that the TSEO (TripAdvisor Search Engine Optimisation) will eventually looks its efficacy in the similar way that SEO techniques have become superseded by changes in Google's algorithm
It is easy to see why TripAdvisor is so interested in personalisation – it can drive significantly better sales. Some analysts believe that product recommendation could drive up to 60% sales at online retailer Amazon although the company itself remains tight-lipped about its effectiveness.
Amazon uses a system which recommends products that are frequently bought together.  Yet Amazon wasn't always good at getting recommendations to work. IT's earlier perodnslaition feature called BookMatcher took many purchases to get to know people, according to Greg Linden who developed the retailer's significantly more successful Instant Recommendations tool.
TripAdvisor's move to hotel metasearch in 2013, which meant that users no longer had to endure a flurry of pop-up windows from online travel agencies and instead see real-time availability and pricing on the TripAdvisor site, means that the company is keen to make its search results as relevant as possible and that those who do find the perfect hotel go on to book using the booking link on the TripAdvisor site.
TripAdvisor won't be making the booking but it will drive more and better quality traffic to its advertisers who pay handsomely for the privilege.
Who TripAdvisor has bought – and the reason why
Any hotel can be featured on TripAdvisor, and will work its way up through the rankings organically, based on decent reviews. It's a Google-based model: the best float to the top.
It helps to have a hotel/B&B staff member constantly monitoring the site in order to respond to any (slight or imagined) criticism. Be honest: don't cut and paste an automated response: be sensitive to the subtlety of complaints/issues/advice.
These are the basics of TripAdvisor. Yes, there is the occasional rancid, spite-fuelled review but put that aside: TripAdvisor, like Google, gets better and better at sorting the wheat from the chaff.
What the site is doing is building review banks and encouraging more. It has 15 years worth and 125 contributions are now posted every minute.
Very well and good. But how does TripAdvisor expand – and how does it make money? Well, anyone can post a review about your property or restaurant and you get a free page.
But down the line, TripAdvisor worked out that it could charge businesses for extra information. So, by signing up for a Business Listing, TripAdvisor will add an email address, website (both clickable) and phone number.
One B&B I know of in the Isle of Wight pays £70 a month – but TripAdvisor says bookings increase, on average, by 20% as a result. Listings will also allow offers to be posted, give access to analytics and fringe benefits, such as better display of photos.
That's all about monetizing existing content. But TripAdvisor is moving way beyond its hotel and restaurant review base. Now it is moving into the entire travel planning phase.
In a 2013 interview, CEO Steve Kaufer made his intentions clear: in the next few years, TripAdvisor aims to massively increase the proportion of travellers who plan their trip on his website, now around 10 per cent.
TripAdvisor is clearly positioning itself as a place where travellers will plan and book all elements of travel, while insisting it will not become an OTA in its own right (and lose the 46% of its revenue currently paid by Expedia and Priceline for booking referrals).
It has hotel and restaurant reviews, yes. But what else does it need? Well, among its acquisitions in 2014 were:
Tripbod: Bought a year ago by TripAdvisor, Tripbod is a company that puts travellers in touch with a local resident. I used the service on an anniversary trip to Paris: my contact booked restaurants, sourced tickets for an art exhibition and recommended bars and coffee shops near our hotel, all for £40. We didn't meet up for a tour, but could have for extra. Tripbod founder Sally Davey says: For us community has always come first – something that aligns with TripAdvisor."
Viator: Rather than Tripbod's model of meeting a resident, Viator built up a stable of localized tours and activities in cities worldwide (electric bike tours, cookery schools, private transfers etc.,). It was bought last summer and is now integrated with TripAdvisor: mobile booking is expected to benefit most from the added exposure of Viator products. A Book Now button can be added, with TripAdvisor looking for more ways to monetize is expanded site.
LeFourchette: A European restaurant booking app (operating as The Fork), this acquisition capitalizes on all the restaurant reviews TripAdvisor has. Restaurants, tours and activities and more presence in holiday rentals were its main focus in 2014.
See the picture? Flight search; access to tours and guides living locally; restaurant reviews and booking added to hotel/holiday rental reviews and bookings.
Nobody else is competing on this scale, at this stage. And it's hard to see how anybody can, at this stage, when TripAdvisor is so clearly defining the travel information and booking process – and providing information and booking links along the way. 
Why destinations work with Tripadvisor
"Everything starts in the same place, from train times and the weather – and it all still starts with Google."
Google's stranglehold on search, ownership of YouTube and its forays into hotel and flight finders, have put the company in pole position for travel search.
But emerging fast in a bid to own the travel information space is TripAdvisor, and it is learning from Google, in being where people want to be – not where companies want them to be.
The above quote comes from Justin Reid, head of Destination Management Organisation (DMO) sales at TripAdvisor for Europe, Middle East and Africa. Previously he was in charge of digital and social media at Visit Britain.
So you'd expect him to have insights into how DMOs should act in today's digital marketing world, and he does. "Promote what people are looking for – not what you want them to like," he told a Visit Wiltshire conference this month.
"The Number One rule for destinations is to focus on the user – all else will follow. Give them the best experience and they will come back time and time again."
He was arguing, understandably, that as people will go back to Google because it has good search, so DMOs should use TripAdvisor as it has broad travel information and reviews.
But he has a point. Visits to DMO websites are leveling off as people search for reviews rather than neutral, non-recommended information. TripAdvisor, on the day of the conference, had 128,000 reviews of Wiltshire tourism products on offer.
Over and above, there were 637 live tourism topics about Wiltshire tourism being discussed in its forums (type in Avebury hotels, restaurants in Devizes or Wiltshire gardens to get the point).
You don't see many live forums on a DMO site these days (or anywhere else, for that matter). So does that mean that DMOs are dead without TripAdvisor? Up to a point, Lord Copper.
Member advertising now accounts for around 20% of income for DMOs such as Visit Isle of Wight. A website is a must, but neutral review sites and social media are now ingrained parts of the mix.
The UK is doing pretty well on digital and social media marketing, says Reid, as is Greece, South Africa and Turkey. "It is more and more important for DMOs to have information where people are," he adds.
That'll be Facebook, TripAdvisor and Instagram, for example. "The old model was to drive people to a DMO website. But 90% of useful travel content is now user-generated traffic (UGC).
"People trust reviews. There is a strong social leaning. It is a gradual progression, reflecting a lot on the general decline in traffic to DMO websites."
It's still a mix, however, with the overarching desire to create more bed nights within a county, or city. DMOs should also look at cross-visitation, he adds, as TripAdvisor can identify people looking at, say, Wiltshire as a potential destination alongside other places.
"If they are just looking at Wiltshire and nowhere else, then there is no need to do anything. But if they are looking at Wiltshire as well as Scotland and Newcastle, then we could target those people with advertising and content to swing them around."
If a straight race, it's all down to best content. And as Google strives to show a browser the best, and most relevant, content, then so does TripAdvisor.
Big data plays a big part: better identifying what people are searching for. Internet-based companies are capturing data all the time about what customers do online, be it searching for Paris or a luxury hotel in the UK. Or Wiltshire v Scotland.
The refinement of knowing what the browsing customers looks for helps TripAdvisor in promoting more relevant content, clearly a strong sales pitch to DMOs. TripAdvisor works with DMOs and tourism brands in differing ways, from advertising slots to enhanced business listings and microsites of content.
It has worked with destinations as diverse as South Korea, Salem and St Louis, and brands such as Visa and Hard Rock cafes – the latter incorporating a 'Book Now' button on the Hard Rock Bali page, a TripAdvisor function that is proving increasingly popular and, for TripAdvisor, profitable.
Infographic: TripAdvisor in Numbers