Throughout Denmark, at 50 popular tourist spots, you will find a sign this summer encouraging visitors to take a photo. Like the photo above. Each sign carries a distinct hashtag, which people are then encouraged to use when sharing the photo on social media.
Residents, as well as tourists, are encouraged to share the photos. It's a trend: Denmark is one of many tourist boards who now think it's better that travel recommendations come from travellers themselves.
"We have had a lot of talk about this recently" says Agnete Sylvest Jensen, head of digital media at Visit Denmark. "It's to get our citizens involved – but what we really want to get is foreign visitors involved and take photos to share."
"It's not so important that we get the photos – more that they go out on the visitor's feed. We see social media as important in personal recommendations."
"We'll evaluate in September to see whether more people actually shared photos from these places."
The influence of previous tourists to potential tourists are clear, says Agnete, and can be divided into two stages:
After the journey: Loyal tourists who have previously been in Denmark and who would like to share their experiences – and can be activated as ambassadors.
During the journey: Shared snapshots, the good moments that users want to share and show the world and 'them at home.' Instagram, Twitter and Facebook are seen to be the primary platforms. "Photos shared socially often act as a trigger and inspiration in the early stages of decision-making, and in the choice of destination is in place – very much an inspiration from the recipients," she adds.
It's part of the dawning realization worldwide among DMOs that the people to tell the tourism stories are the people who live there, and those visitors who are fans and can influence others.
It's a fascinating transition from a tourist board buying billboard and other media space and telling people why they should visit. And one that Agnete clearly buys into.
She has been at Visit Denmark for four years, when the agency created her job title and centralized all of its social media presence.
Previously, there had been different Facebook pages for each of its key markets. Now there is a consistent message, although the teams in London and other key markets can access the social accounts to "add local value once or twice a week," says Agnete.
She has a digital team of seven, plus two students, in Copenhagen covering content, analytics and video. The agency's developers are based in Bulgaria.
The agency operates on seven different channels – Flickr, Facebook, Twitter, Instagram, Google+, Pinterest and YouTube.
Video is a key component of output but Agnete has veered away from bigger productions. "The way we see it, we don't want to have to spend money as you also have to spend to get it seen."
As part of the marketing team, Visit Denmark will spend money on corporate-type films. But smaller projects are in vogue right now – such as a short on Danish castles last month, which was then showcased on travel news site Skift.
"The film creates a good feel: you can see yourself in that place. We are not selling – we tell stories of what you can do in Denmark. A good story is even more relevant these days," says Agnete.
Another such example of a story used to good effect on social media was the 100th anniversary last year of the installation of The Little Mermaid on a rock in Copenhagen harbour.
Visit Denmark organised the event to hit 13 cities worldwide on August 23, the anniversary: human mermaids were bodypainted and placed close to icons such as Sydney's Opera House or the Eiffel Tower.
A video news release was created (press releases? Pah!), a social media photo competition ensued while, on the same day, an infographic about The Little Mermaid was sent to 380,000 people on Visit Denmark's database.
The resulting coverage and awareness was huge: it was seen by 380m people worldwide on screen, while press coverage resulted in exposure worth twice that normally achieved by Visit Denmark in a year.
Further social media results were 250,000 users actively engaging with the content on Facebook, Twitter or Instagram. "With a creative yet simple idea, we got successful exposure with minimal paid advertising, utilizing both owned and earned media," says Agnete.
"It was a global event where we succeeded in exploiting synergies within exposure, resources and budgets. And furthermore, the project enhanced team spirit in the company!"
[tabs][tab title ="Working with bloggers"]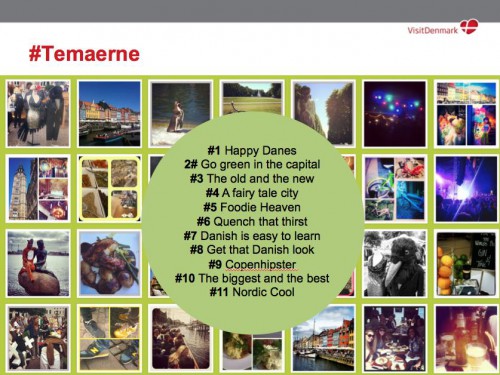 On September 11, a number of bloggers will arrive in Denmark to undertake a gruelling challenge for the third summer in a row.
It began with an event in London in 2012 when Visit Denmark set out to begin a relationship with bloggers. A competition elicited three writers: Paul Dow, Jayne Gorman and Julie Falconer.
The challenge was dubbed The Digital Scavenger Hunt, whereby these three consummate bloggers were set the task of finding and writing posts to cover differing subjects set by Visit Denmark.
It worked. The 2013 challenge was extended by Kathrine Lind Gustavussen, press officer in the London office of Visit Denmark, and four bloggers were invited for a weekend with an extended brief to cover different subjects – see above.
The coverage was impressive: 21,188 reach on Twitter; 113 Instagram photos tagged #DKblogger and 600 likes and 229 unique page visits on a dedicated site.
Furthermore, there were eight videos on Vine and two on YouTube and 12 blog posts including Huffington Post, Gapyear.com, beerbeauty.co.uk, shegetsaround.com, travmonkey.com and gohemiantravellers.com.
The 'winner' of the hunt was Jen Lowthrop.  But the real winner was Visit Denmark, which received widespread coverage of the aspects of Denmark they wished to promote for little outlay. None of the bloggers was paid.
"All in all, I would say that the VisitDenmark press trip was one of the best I've ever been on," said Macca Sherifi, one of the 2013 contestants.
"I thought the whole concept of the social media scavenger hunt was brilliant. It was unique, fun, and extremely engaging, not just to be a part of but for the people who follow my social media channels."
For 2014, the concept is being extended. Bloggers are being invited not just from the London office but from eight of Denmark's core markets: Norway, UK, Germany, Sweden, France, Italy, Holland and America.
The bloggers will meet up with Copenhagen's strong and buzzing Instagram community over the course of four days.
And the extra expense in terms of time and airfares is being offset by Visit Denmark partnering with the private sector, in the guise of Generator Hostels. It has opened in Copenhagen and, in April opened the city's first petanque bar.
Now, there's an easy story for bloggers to write about.[/tab]
[tab title ="The blogger's point of view"]
Alex Berger is a travel writer, photographer and videographer with a focus on highly visual and long-form content. He's run www.virtualWayfarer.com since 2007 and is an active travel and tourism researcher with an emphasis on digital communication's influence on travel, hostel/backpacker culture, and study abroad.
Why the move to Denmark in 2011?
After working for three years in mergers and acquisitions in Arizona, I was eager to re-locate. I was offered a tuition waiver for a two-year full degree Master's at the University of Copenhagen. It also offered me a two-year visa to live abroad and explore Europe. I've fallen in love with Copenhagen. After finishing the degree, I applied for a green card and plan to stay several more years.
The Danish travel industry and social media. How developed and mature a relationship is it?
It is deeply divided and has a long way to go, but there have been major strides over the last year. The country has a handful of major players but by-and-large is only starting to undergo a social media awakening. The two most active brands are Spies (link to related article here) and the Danish-based booking meta search engine Momondo which is very globally aware and pro-active.  Copenhagen-based startup Everplaces is also hard at work looking at ways of socializing the travel experience and industry as a whole.
Apart from the Spies video, any other examples of clever social media marketing campaigns in Denmark?
The Danes have a dry practicality and quirky sense of humour that periodically gets them in trouble (Visit Denmark's quasi-disaster a few years back) but also leads to fantastic content.  Coke had two clever ones this year: "Slurp" at one of Copenhagen's central theatres and "The Happy Flag" which they ran at the Copenhagen Airport. The "Monkey Dance" has also been quite successful.
Why don't Danes love Twitter (and which is the most used/loved social media platform)?
The most used, hands down, is Facebook. LinkedIn is also very popular for professional interactions. Instagram has also been quite popular while Google+ usage is extremely low.
Twitter is present, and adoption is growing but the resistance to it is a difficult question. I believe a lot has to do with culture and conversational behavior. Danes are very particular about how they express themselves, preferring a structured turn-based approach where each individual is able to voice full/complete thoughts. Twitter's character limit and format fundamentally prevents this while Facebook is very conducive to it.
Second, a key part of understanding the Danes is understanding the concept of Janteloven. It essentially states that while everyone should aspire to excel, no-one should seek to stand out or think themselves better. The reasons individuals use Twitter and the content they share is in direct conflict with large parts of Janteloven. This contrasts with something like Instagram that allows for humblebragging and is a bit more collectivistic in nature.
The third component is that businesses don't have the incentive to use Twitter unless they're internationally facing. Standards for customer support and responsiveness in Denmark lag behind. It possibly ties into Janteloven and the Danish resistance to special treatment, unlike other nationalities who demand immediate attention when frustrated.  Either way, Danish companies are just starting to monitor social media, ramping up responsiveness and awareness to match changes in their approach.
You produce a lot of content about Denmark – did you consciously set out to be a travel blogger in your own backyard?
Not at all – I only started blogging about Denmark in a more robust fashion eight months ago. My initial negative experiences with Danish DMO's and workload led me to de-prioritize all but my Danish photography. I also had concerns that an increased focus on Denmark would frustrate my long-time readers. In retrospect, I no longer feel this is an issue: the response to my in-depth insider's take on Denmark has been very positively received by long-time and new readers.
Do Danish DMOs now collaborate with home-based bloggers?
The good news is that larger Danish DMO's seem to be making a core pivot in their strategy and way of engaging. Historically, they have enjoyed a relative monopoly on Denmark's outward facing identity and this led to a certain level of arrogance and disconnect from the local community. In my first 10 months here, I repeatedly reached out to local DMOs  and was generally ignored or rebuffed.
More recently, they have been making a much more concerted effort to engage local talent. I've seen a positive shift in how they engage with their communities and a more collaborative spirit, which I hope marks a core change in mentality and approach. I've also seen them engage much more heavily on social media, including collaborative sharing and a number of new collaborations predominantly with the Denmark based Instagram community.  They've also started to engage on a limited basis as part of this transition with local bloggers.
How do you rate the output of domestic travel bloggers, generally? Beginners, getting there or experts?
In the last year, several new blogs have popped up as well a handful of digital magazines/co-authored blogs. I'd classify the majority of Danish bloggers as late-stage beginners, with the exception of one or two experts. I think there's huge potential here and I am currently in the early stages of attempting to nurture a Danish travel blogging community.
The exception to this is the Instagram community.  There are a number of world-class IGers and the community as a whole is much more organized, professional, and engaged. They hold regular events, do cross-over and collaborative projects and have engaged with several major brands/DMOs.
And is there a developed mechanism for paying these bloggers to write about places?
The Visit Denmark and Wonderful Copenhagen DMOs have organized a series of trips over the last couple of years to bring in outside bloggers. They've also worked with a handful of external bloggers on more targeted/niche projects.  To the best of my knowledge, monetizing is still extremely difficult and done on a case-by-case basis, predominantly funding by-way of private sources. Given the relative youth of the Danish blogging community as a whole I would say that Denmark is still lagging behind significantly when it comes to compensating bloggers for their work.  [/tab][/tabs]
Sex sells holidays in social media
A Danish travel agency became an internet sensation this year when it suggested that holidaymakers on a city break should "Do It for Denmark" and conceive in a bid to boost the country's falling population.
Launching the campaign, a spokesman for Spies Travel, part of Thomas Cook, said: "At Spies, we are concerned. Fewer Danes mean fewer to support the ageing population – and tragically, fewer holidaying with us."
"Research shows that Danes have 46% more sex on city holidays and, since more sex equals the chance of more kids, we are prescribing a romantic city holiday to save Denmark's future."
At the heart of the campaign was a beautifully shot video showing Danish couples in various short break destinations. The video has been watched by more than 7.3m, some no doubt drawn by the good-looking actors.
As well as the video, the campaign offered so-called "Ovulation discounts" to couples (as well as to everybody else who might feel left out) to encourage them to travel. The there were a series of romantic city guides to help the couples get the best out of their trip.
For those who did conceive on holiday (proof in the form of a photo of a positive pregnancy test and medical records was requested), there was a prize on offer – three years' supply of nappies, a pram and a family holiday at a resort, in total worth 50,000 Danish kroner.
It certainly appealed to the Danes. Alex Berger, a Copenhagen-based travel blogger, said: "The Spies ad was hilarious and distinctly Danish. The Danes have a dry practicality and quirky sense of humor that the rest of the world loves.
"It also gives them added freedoms as I suspect brands in most other countries attempting this type of advert would have been in damage control mode almost immediately…"
The campaign was created for Spies by Copenhagen-based advertising agency Robert/Boisin & Like-Minded.
It is not the first campaign that the agency has masterminded for Spies. Its solar charging dummies campaign was another social media success.
As with the Do it for Denmark campaign, sex was at the heart of the dummies campaign. The agency had two dummies built at the Technical University of Denmark and covered with 6,260 flexible solar cells.
One was sent to Gran Canaria for a week and the other left freezing in Denmark. Scientists then analysed which of the two dummies had more stamina in bed, displaying the results in an amusing video.
Another campaign by the agency, called Hide and Seek, showed a couple of mafia enforcers desperately trying to get holidaymakers to end their holidays when they were supposed to go home.
The campaigns have received plaudits from the advertising industry. The solar charging dummies campaign won a silver award and Do it for Denmark a bronze award at the advertising industry's highest profile awards event, the Cannes Lions.
The Do it for Denmark and solar dummies campaigns certainly worked in terms of raising the company's profile on social. The dummies campaign helped increase Twitter activity for Spies by 300% and gained it 332% more Facebook likes.
But does sex actually sell?
The agency reveals that the campaign generated a five times return on investment and increased bookings at the company by more than 14% on the same period the year before.
Are you going to do it now too?
A chat with Wonderful Copenhagen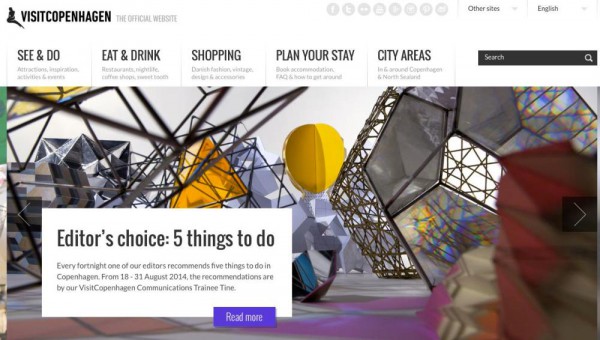 The city's DMO has been very active on social media platforms in recent years. WTM talked to Louise Ornfelt, senior strategic consultant, who has worked on the digital transformation/innovation at Wonderful Copenhagen for the past decade…
The importance of social media
You appear to be a DMO that really gets social – well done. Tell us a little about your digital and off line strategy and how you see your marketing in, say, three years time?
Thanks. Our strategy is to be authentic and true to the city. Our aim is to communicate the DNA of Copenhagen and bring all the great stories from Copenhageners out to the world. We believe that interesting and well-produced content is the key to reach the audience. Everyone is interested in great content and, as a DMO, it is our way to have other channels to share our stories. On the other hand, we invite brand influencers to take over our social media accounts from time to time to keep being interesting and cool to our community.
Tell me about bloggers
You're part of the digital scavenger hunt. But do you have a separate campaign to invite international bloggers to the city? And what's your relationship with domestic bloggers?
We handle bloggers in line with journalists from more traditional media. We look at their audience, readership, social media reach and the quality of the content. When we host an international press trip, the participants are often a mix of bloggers and journalists. We cooperate with domestic bloggers. We have tried different activities like a weekly blogger post on our Facebook page Visit Copenhagen or once we had a large blogger section on our website, but the traffic numbers were low. We closed it down – too much work and not enough value.
Tweet your way through Copenhagen
Tell us a little about how the campaign came about and the results. I understand it is aimed at the meetings and incentive market?
The Twitter campaign was a part of a stronger focus on the most important social media in the meetings and incentive market, Twitter. Six leading reporters learned about Copenhagen's many sustainable offers during an update on the Capital of Sustainable Meetings. Every step of their journey was shared on social media, making it possible for a sizeable audience to follow the reporters' experiences. The tweet reach for the hashtag #meetincph was almost 48,000 and today up to 10 % of visitors to www.copenhagencvb.com come from Twitter.
This looks excellent! A combination of round-ups, news, tweets and links. Again, tell us more about the thinking. Do communities get to write original content as well?
Actually, we've had a huge focus on communities for the past 18 months. Through an EU innovation project called Copenhagen Communities we have had the opportunity to test and drive new knowledge about working with communities. The project aimed to test and explore the potential of working strategically with niche media, social media and social services in order to attract more interest specific tourists to Copenhagen – tourists who move across the traditional segmentation. As an example we have worked together with KMD Ironman Copenhagen and tested how to activate participants and audience through a hashtag campaign in order to increase the international reach of Copenhagen towards triathletes around the world. The result was very positive. KMD Ironman Copenhagen sold out in six hours and doubled the share of international participants.
Prezi Day
I see you're hosting this three-day event in September. It's not free – but how important is it for Copenhagen to be seen to be hosting such prestigious social/digital events?
It is very important. It shows that Copenhagen is a creative and innovative destination and brands like Prezi want to be co-branded with our city. It means a lot!
Pinterest
You've a new Pinterest guide on things to do in the city this summer. Is it just another social media platform to look after? Or do you genuinely rate it as a vital service?
I would not call it a vital service right now, but Pinterest is a social media platform where Copenhagen has to be visible. We constantly have to follow up on new features and test new functionalities. But we have limited resources and have to prioritize our efforts.
Tell me more, tell me more
What else do you have up your sleeves for the near future? And what one social media tip would you give other city DMOs across Europe?
In the future, we will work more with communities and niches as a supplement to broad marketing campaigns. This strategy works with social media where dialogue and valuable content are essential and you have to earn the attention of your target group.
Get on your #bike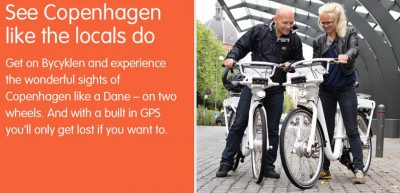 Copenhagen is a city of bikes. Some 60% of workers commute by cycle and the Danish capital was home to the first official large-scale cycle sharing scheme, Bycykler København or Copenhagen City Bike.
The scheme, one of the first major public bike share schemes in the world, was launched in 1995 and the streets of the city were soon filled with people who inserted a 20 kroner piece and cycled off. Although the local residents were rarely seen on them, they proved very popular with visitors to the city. Yet in late 2012, the scheme was abolished due to budgetary constraints.
The Copenhagen City Bike has now been replaced by something bang up to date – the Bycykel, an electric-powered bike fitted with GPS and a tablet PC that shows maps and information from the city's transport authorities.
Purists are grumbling that motors are not the done thing but social media addicts will love them as they can share right from the saddle. The Bycykeln cost 25 kroner (about £2.80) an hour to hire. You can watch a video about the bike here.
Another take on the GPS-powered bike is the Bike the City scheme, squarely aimed at tourists.
The company hires out bikes fitted with a GPS-enabled audio guide that tells you information on " drama, culture, history and crazy anecdotes of life" about the places you are visiting around the city. One of the specially adapted bikes costs 225 Danish kroner (£25) a day to hire.
The company says one of the befits of its system is that there is  "no more 'flock animal' group appearance. Riding on your own makes it easier to blend in with the locals and experience a more authentic Copenhagen."
If you want to see what all the fuss is about, just search for the hashtag #bikecph, which VisitDenmark promotes to bring together cycling-related content on social media.
The intersection between bike culture and social media is nowhere busier than in Copenhagen.
Bicycle blogs, Tumblrs and Instagram feeds are now widespread but urban mobility expert and designer Mikael Colville-Andersen kickstarted the revolution in 2006 by taking the picture below and posting it to Flickr. It has since been called " The Photo That Launched A Million Bicycles".
Copenhagen Airport takes off
Copenhagen Airport (CPH) may have been one of the first civil airports in the world – it opened in 1925, just 22 years after the Wright Brothers took to the skies – but that does not mean it has rested on its laurels. It is an airport that is constantly reinvigorating itself – and technology and social media are at the forefront of how it is getting ready for the future.
The airport's e-commerce and marketing director, Karen Bender, told WTM: "Denmark as a country is quite innovative and the airport decided about four years ago that we wanted to be at the forefront of digital travel. Our passengers, or guests as we call them, are highly digital – 89% own a smartphone. We have carried out a few initiatives and it has really paid off."
CPH launched its Facebook page in 2012 and today has more than 70,000 fans. "We have the highest engagement score in our industry – our content is being shared and commented on the most. We have an active community and we have been good at managing the fine balance between giving information and sharing fun stories about the airport.
It recently won the award for best Facebook page in the Moodies Awards for airports.  The judges said the page was "inspiring, [had a] strong visual profile and best content."
"We launched our Facebook page to get closer to travellers and create a personal eye-level dialogue where they can get to know us and find inspiration – before, but also during and after, their trip," says Bender.
"With Facebook as the pivotal point, we have continually worked strategically to integrate a social media platform for all the key business and service areas throughout the airport. We are therefore very pleased and proud to receive the two awards which demonstrate that our dedicated work has been fruitful."
The airport has also experimented with wearable technology, working with technology company SITA to implement a pilot project to give its customer service staff Google Glass.
It meant they could translate on-the-spot for passengers who did not speak Danish or English and provide a reference database of answers to frequently asked questions – just by tapping the frame or winking an eye. The two duty managers who used Glass in the project could also share images or video of problems found in the airport with their colleagues.
Copenhagen Airport's director for customer care, Marie-Louise Lotz, said: "The feedback has been very positive, from both passengers and the passenger service staff doing the testing. The glasses are user friendly, and it's really important to our staff that the devices are hands-free. Every day, they carry around documents and equipment like duty rosters, desk allocation sheets, peak prognosis sheets, passenger numbers and cruise arrivals, smartphones, radios and many other things. Having their hands free and all this information potentially available from a small computer like Google Glass allows our people to engage better with passengers, for example when helping them check in, because they do not have to focus on a screen."
The airport is also calling on its social media followers to let them have a say in what features and services the airport should offer in the future.
It has set up a portal called CPH Ideas where people can submit ideas as well as adding a social element, allowing others to vote on ideas already submitted.
Adds Bender: "Each year, we make more than 100,000 passenger interviews, so we are already evaluating their views on the existing airport. But we would also like to know more about what they are missing at Copenhagen Airport and get their ideas for new odd, fun or different facilities that they may have come across in other parts of the world. It does not have to be at an airport. It may be at a camp-site or a luxury hotel, as long as it would contribute to making Copenhagen Airport a more exciting place to travel to or from."
She says the project is tied in with the airport's plan to expand from 24m to 30m passengers a year. "This is not just a physical building project but we are also expanding our ways of thinking by listening to our customers. We are not the first to crowdsource like this but it was clear to us that we should definitely use our digital community and get their input. It is also important that we take their input seriously," she says.
So far, the airport has received more than 250 ideas for the airport's future. The most popular idea so far has come from Alexander Poulsen whose idea for the airport to install an observation deck similar to that at Heathrow Airport's deck in terminal 4 has been liked by more than 180 people.
Another new digital project at the airport is a virtual tour around the airport.
Bender says, "We launched the project to show that wayfinding today is not just about having a map but also to make a better experience way of finding your way around. You can see all the shops, you can see what you can purchase, you can even see a video of the shop as well as getting help to get around."
The airport also uses the system on a business-to-business level to show potential concessionaires what the airport looks like and what they can offer in terms of retail space.
Bender says more innovation is on the way.
"We will continue to be not first movers in general but first movers in the airport industry. We look a lot to other industries to see whether we can take an idea and tailor it to our industry." 
Infographic: Social Denmark in Numbers