QATAR has more reason to watch the World Cup this year as it looks to Brazil to learn what lessons it can put into practise when hosting the tournament in 2022.
There is no distraction on the pitch, as Qatar was knocked out in qualifying from a group that saw Iran progress to the finals.
And there is currently no distraction off it, as a future host country cannot market itself until the tournament prior to its hosting is complete; in the case of Qatar, the end of the 2018 World Cup in Russia.
It's fair to say the awarding of the WC to Qatar has had its critics, mainly about the summer heat (although British TV commentators in Brazil have complained about nothing else all tournament).
Whether the 2022 tournament is moved to the winter months remains to be seen. But what is sure is that Qatar is being talked about, and social media remains one of the biggest forums for conversation.
More people in Qatar have individual access to the internet than anywhere else in the Middle East. The official figure stood at 88% last year: it is a very well connected country.
The penetration is only rivaled in the region by Saudi Arabia and the United Arab Emirates. It's no surprise that three of the richest states in the region now incorporate fibre connections in all new housebuilding as standard.
The advanced communication network, and ease of access to social networks, has even resulted in Qatar setting up a Social Impact Department within its Ministry of Information and Communication Technology.
The ictQatar Ministry has a wealth of information and posts data on its Slideshare channel, including a recent 'All you need to know about… Top 10 World Cup innovations.
Another excellent source of old and new media consumption was a survey published last year by the Northwestern University in Qatar, which interviewed 10,000 people in eight Middle Eastern states, including Qatar.
The report made clear that social media usage is very much the domain of those under 25 in the region. In itself, that is not surprising as the generation gap is very entrenched in the Middle East in terms of media consumption.
Some 82% of Qataris aged under 25 use the internet, compared with just 37% aged over 45 in the Middle East. What is surprising is that in in Qatar the figure is sharply higher – two-thirds of the older bracket use the internet.
Throughout the region, television remains the most popular pastime, yet Qatar is the only one of the eight countries where the internet has now eclipsed TV. Internet access and use is more culturally accepted across all age groups in Qatar than elsewhere in the Middle East.
Qatar is the home to Al Jazeera satellite TV station, which neatly dovetails the two dominant media forms. But also in that it is available in English. English plays a significant role in Qatar – English-language sites are accessed more here than those in Arabic.
It may well be that this is due to a high proportion of western and Asian expats – foreigners outnumber natives of Qatar.
That's also reflected in University figures showing that while Qatar is familiar with the internet, it is not that social compared with the rest of the region.
Less than half of Qataris online access a social website daily, the lowest figure in the Middle East, and few western sites have gained traction beyond Facebook and Twitter.
The social media platform used disproportionately highly is Instagram but that could be more about shopping: most popular IG sites turn out to be retail sites.
With eight years to run until the World Cup in Qatar, shopping and retailing will be very big business. Perhaps now is the time to create an Instagram account connecting football with the country but aimed at young Qatari men from oil-rich families. And their Dads.
An interview with Qatar Tourism Authority's Head of Digital Media
In recent years, Qatar has been investing heavily in tourism development, with specific strategies for each country and with sport as a major component.
In France, the Qatar Tourism Authority teamed up with Paris St Germain and amongst other activity, launched two Facebook campaigns encouraging people to visit during the team's winter training camp in Qatar, and the search for a football fan to write about Qata
In an interview for World Travel Market, Faisal Ahmed Al Mohannadi, Head Of Digital Media, Qatar Tourism Authority, reveals what other plans he has for using social media to promote tourism.
After the Facebook campaign focused on France, are you planning more country and theme-specific FB campaigns?
Of course. In coming years, we will run extensive campaigns not just in our target markets but others too. In terms of social media campaigns, these are aligned according to the marketing strategy thus will include several other countries in the long run.
I'm not aware of specific social media projects from Qatar during the World Cup (which you will host in 2022). Am I missing something or was it a conscious decision not to?
There are none that I have heard of either. The simple reason for this is that a future host country cannot market itself using the world until the world cup prior to its hosting is complete – i.e. in the case of Qatar, end of 2018 World Cup in Russia.
Does Qatar see social media primarily as a consciousness-raising marketing tool? A two-way conversation device? Or something else?
Qatar Tourism uses social media for a myriad of reasons. The first is that people who are on social media follow us to know what is going on in the country. Then there are those within the tourism industry and/or tourists who interact with us on social media. Additionally, we use social media as a tool to drive traffic and attention to our ongoing campaigns, programs, initiatives and activities.
Do you regard yourselves to be 'controlling' of social media, or to be open to freewheeling conversation?
We definitely do not aim to be controlling, because as anyone who has tried this approach has learnt, it doesn't work. As an institution that wishes to inform people about Qatar, we do follow a content calendar that is more structured rather than 'controlling." However, our social media networks are also open platforms for anyone to interact with us, whether it is about suggestions, clarifications, complaints against any of the entities we license as a regulatory authority etc.  
Which of the various social media platforms do you find works best for Qatar?
It depends from one campaign to another. However, in order of effectiveness, market penetration, and response:
Twitter
Facebook
Instagram
YouTube
Could you highlight any social media campaigns from any of your industry partners in hotels and tourism that you found particularly creative?
Apologies but nothing comes to mind other than Qatar Museums Authority (http://www.qm.org.qa/en).
I read that Qatar has the highest level of tablet ownership in the Middle East (although lowest in the ME for use of social sharing networks) – is there any opportunity for the QTA to interact with its own people?
I think that in a connected society like Qatar, of course there is a massive opportunity to interact with the people of Qatar. In fact, QTA is leading this charge with one of the most active social media presences in the country. Additionally, as a national authority that oversees the growth of the tourism industry in Qatar, we aim to engage locals at all levels for almost every campaign.
[tabs][tab title ="Qatari hotels – the social scene"]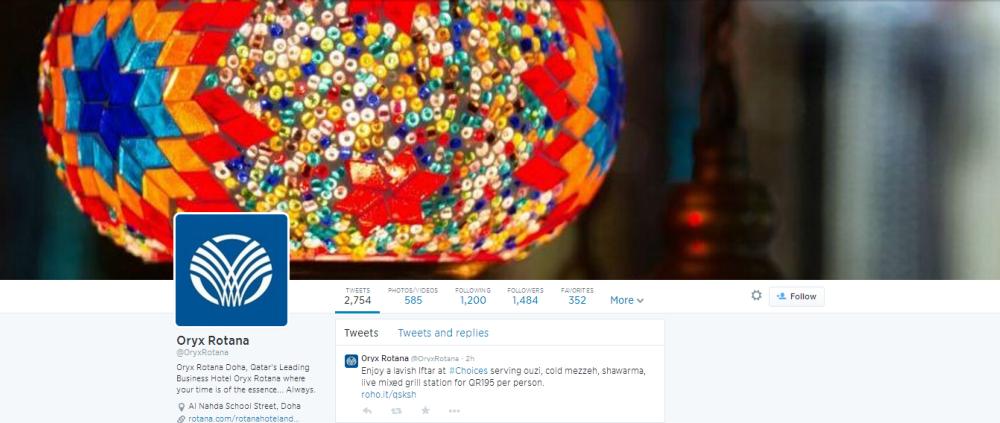 As with many other Middle Eastern destinations, Qatar is on the crest of a wave of significant hotel development, spurred in part by the 2022 World Cup on the horizon. According to the Qatar Tourism Authority, in 2012-13 the country had a bed base of around 13,500 rooms, of which the lion's share (86%) are in the upmarket category, distributed between 80 or so hotels. Yet there are more than 100 hotels in the pipeline and the country has said that it will add a further 45,000 rooms before the World Cup.
With an increasingly competitive market, hotels will be looking to social media to distinguish themselves. So how are hotels in the country using social today?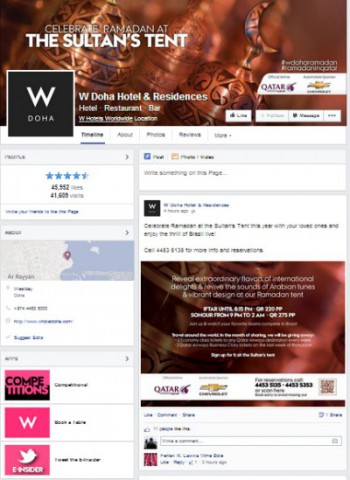 The test results are in and the answer is "Could do better".
The W Doha uses its Facebook to post almost exclusively about events and special offers at the hotel but has attracted a significant following of almost 50,000 fans. On Instagram, the hotel posts regularly and gets great engagement with its 5,000+ followers, who are impressed by the hotel's stunning interiors. It is on Twitter that the hotel does best of all. It joined the network in May 2009 and has been tweeting at quite a rate since then clocking up more than 12,000 tweets in that time. It serves up a buffet of shout-outs of key staff, offers and competitions as well as jumping on news events of interest to guests (such as the World Cup) and retweets of satisfied guests.
The Torch Doha, named for its unusual torch-like form, is heavily active on social channels. It is clearly aware that its unusual design is a selling point and promotes this with great photography on Facebook at every opportunity.  Instagram users take a lot of photos of the hotel, which it shares through Facebook and Twitter, but the property has yet to establish its own channel – a missed opportunity.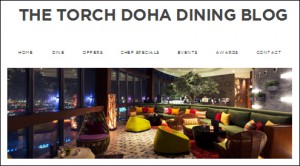 Rather excitingly, the hotel has established a good Tumblr (http://thetorchdoha.tumblr.com/) focusing on food – it is frequently updated, has some great imagery and is well written. Top marks.
On TripAdvisor, the hotel enjoys healthy reviews and its PR manager actively comments on reviews made by guests, although most responses are of a standard variety.
Some key Qatar hotels on social
| | | | |
| --- | --- | --- | --- |
| | Facebook followers | Twitter followers | Instagram followers |
| W Doha | 45,948 | 12,800 | 5,195 |
| Torch Doha | 39,727 | 5,577 | – |
| Four Seasons Hotel Doha | 14,186 | 7,609 | 1,266 |
| Oryx Rotana | 7,861 | 1,484 | 311 |
| Hilton Doha | 6,110 | 978 | 73 |
| Crowne Plaza Doha | 5,163 | 893 | – |
One 2013 visitor to the Four Seasons Hotel Doha, luxury travel blogger Mrs O Around the World, revealed in a blog post that the hotel had communicated with her through Twitter before arrival. Such personalised service is commendable, but very resource-hungry for any hotel. Whether all visitors, not just those with high-profile blogs, get such treatment is uncertain.
Meanwhile, the hotel uses some good-looking imagery to promote itself on Facebook. Like the W Doha, it promotes hotel offers and events but also frequently posts great imagery from the hotel to subtly push what the hotel is about without forcing it down the throats of followers. On Instagram, the Four Seasons likes to mash up food, event and property imagery but there is no overall discernable look and feel to what it posts.
At the recent Qatar Hospitality Summit, Savino Leone, the general manager of the Crowne Plaza Doha, said, "Social media is key. You need to manage it every day."
Yet for the Crowne Plaza, social media efforts are clearly focused on TripAdvisor. The hotel has an infrequently updated Twitter feed and although Facebook is updated more frequently, it is almost exclusively used to promote events at the property.
Leone added, "One of our targets is to respond to 80% of comments. When a guest goes to make a booking they will check TripAdvisor so it's very important that you respond to reviews and make your own comments."
Leone is clearly a man of his word and virtually all TripAdvisor reviews have had comments added by him. There is clearly some templating of the answers but some of the responses have been tailored to the individual guest, for which the hotel and its manager must be complimented.
The Oryx Rotana, another of Doha's leading business hotels, also actively responds on TripAdvisor, although it too focuses on tweaked standard answers. On its other social channels, there is again a focus on events and offers on its social channels and traditional greeting messages for special days and events, such as Ramadan.
What is clear is that Qatar's hotels have yet to experiment with social media, with the possible exception of the Torch's Tumblr. There is an opportunity for one of the existing properties – or the constantly opening newer properties – to establish themselves as Qatar's social media hotel.[/tab]
[tab title ="Launching a new airport on social"]
Travel and airports are hugely important on social media. According to Facebook's 2013 trends, travel was the second most posted event (http://www.facebookstories.com/2013/en-en/top-life-events) in 2013. Only changes in relationship status were more important.
Airports are also the places that people check in socially with things like Foursquare and Facebook Places more than any other (http://travel.cnn.com/top-50-most-popular-checked-places-facebook-086551).
So what to do when you open a new terminal or airport? Go social, that's what.
When the new Terminal 2 opened at London's Heathrow Airport in early June, the airport used the hashtag #HeathrowT2 to track what people were saying. On Twitter, there were almost 2,000 tweets using the hashtag. The reach achieved by these tweets was impressive, running into the millions. This was partly due to the many airlines who are members of the Star Alliance who are making the terminal their home were tweeting about it regularly.
Yet hashtags are a double-edged sword. If the opening goes smoothly, it is a way to get everyone sharing their positive messages about an experience. If things go awry, it binds together the conversation, increasing the intensity of the agony and potentially prolonging it after it would normally have died down.
Plans for a new airport in Qatar to replace Doha International Airport were first announced in December 2003. At the time, the chief executive of Doha International Airport and Qatar Airways, said, "The new airport will position Doha and Qatar as a leading regional aviation hub for at least the next 50 years and will also be the hub for Qatar Airways, which is among the fastest growing airlines in the world."
The plan was to build the new airport on mostly reclaimed land a few kilometres east of the existing airport. It would be able to handle 12 million passengers a year on opening, with capacity to expand to 50 million over the long term.  It would also be designed for use with the Airbus A380, the key aircraft in the airline's fleet.
Qatar's new Hamad International Airport finally opened fully for business on 27 May this year. Unfortunately, a soft opening for the airport was originally scheduled for April last year but this was delayed because of aviation safety concerns which have now been addressed. As a result, the launch on social media has been more muted.
The airport has chosen to establish new accounts using the brand hiaqatar. The airport's Twitter account (http://twitter.com/hiaqatar) has already notched up more followers (more than 3,000) than its predecessor (http://twitter.com/DohaAirport). On Facebook, the airport (http://www.facebook.com/HIAQatar) has achieved more than 2,700 likes while on Instagram (http://instagram.com/HIAQatar) it has already been followed by more than 500 people, despite only posting eight images.
The airport and Qatar Airways used the hashtag #HIAQatar to pull together social media coverage of the opening. According to Tweetreach, the hashtag has reached more than 14,000 accounts and more than 54,000 impressions, with the airport itself doing much of the running.
Those figures are fine but more could probably have been done to widen the reach of the campaign, particularly with partners – airlines, aircraft manufacturers, tourism bodies and travel companies in the state. As the airport looks set to grow into one of the world's most important aviation hubs in the next decades, this could be seen as a missed opportunity to do more.
TAKEAWAYS
Airports and travel are in a sweet spot for social media so it makes sense to use this to promote new developments
Airports need to work with partners – airlines, retailers, tourism bodies – to extend the reach of hashtags.
Hashtags are a double-edged sword. If things go well, they amplify the positives; if things go badly, they prolong the agony. [/tab][/tabs]
How Qatar Airways joined and owned the conversation
One tweet about your brand every second. One that is positive and underlines a core part of your brand message. It is the sort of thing that many travel brands can only dream about. Several airlines have embraced social media – KLM, British Airways and AirAsia spring to mind – but this particularly successful campaign was a pioneering step for a Middle Eastern carrier: Qatar Airways. The airline had been successful in winning airline awards for its product and service but had no social media presence.
Tweet-a-Meet – which ran in spring 2012 – was conceived by Qatar Airways in conjunction with the agency Batey Singapore, part of Grey Group, as the first Twitter race across the world. The idea behind it was to highlight the carrier's growing international network of flights, as well as raising its profile on social media.
The idea was simple. Twitter users joined the competition by picking someone from their list of followers to create a team and a destination from Qatar's network of 100. These users then connected their Twitter feeds to a bespoke microsite which allowed them to view their progress on a personalised map. Every time one the entrants tweeted something about their chosen destination, they moved one mile closer to their goal. The first three teams across the finish line won a pair of business class tickets. You can see the launch video here:
[ot-video type="youtube" url="https://www.youtube.com/watch?v=Ypo9iT5QH5M"]
Cleverly, the campaign also had the side-effect of creating crowdsourced Twitter guides to the destinations in question, which the airline had made into printed pocket guides to each city.
The campaign was highly effective. In the first week, Qatar Airways had gained more than 10,000 followers and Twitter users in 165 different countries were posting some 30,000 tweets a day, with the hashtag #tweetameet appearing in Twitter's trending topics list.  Notably, every destination on the airline's network was tweeted about.
According to the agency , which won an Effie Award for excellence in marketing communications for the campaign, Tweet-a-Meet created a spike in website visits and led to a double digit increase in sales (see the video here). Not bad for a channel that is regularly dismissed as not creating a return on investment.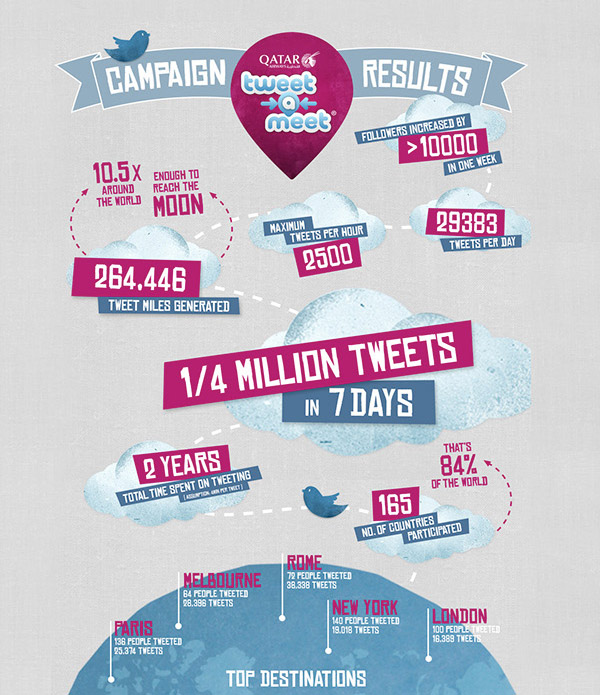 The resident social media expert's view
Damian Radcliffe is a media and communications professional living in Doha. He relocated to Qatar two years ago after 17 years working in creative, strategic and policy roles across online, TV and radio in the UK's commercial, public and non-profit media sectors. He is researching and reporting on the potential – and societal impact – of digital technology on the Middle East.
We've decided to highlight the best of Damian's writings on social media use in Qatar, which contain valuable insights.
Five things you need to know about mobile and the Middle East:
The Middle East and Africa has the lowest average mobile connection speeds. The average speed across the region is currently 529Kbps. Speeds in other emerging markets such as Asia-Pacific and Central and Eastern Europe are more than double this, although Latin American users only enjoy an average of 684Kbps. This is against a global average in 2013 of 1.4Mbps (A report from Cisco).
How people in the Middle East use social and entertainment media:
Insights include the volume of Western media content consumed in the region, as well as strong attitudes towards it – 71% of Arabs, for example, feel Arab films and television are good for morality, but only 15% feel the same about films from the US. More broadly, 34% feel Hollywood films and television are harmful for morality, despite two-thirds (66%) of also saying that people benefit from watching content from different parts of the world. For Everette E. Dennis, Dean and CEO of Northwestern University in Qatar, "these apparently contradictory findings really are not." Instead he argues that they simply reflect the complexity of "how the Arab world is coping with globalization and still grappling to preserve local culture." (A survey by Northwestern University).
A quick media quide to Qatar and the Middle East:
Personally, I've found that news is a popular genre for discussion and consumption in Qatar – with seven daily newspapers, lively discussions on forums and social media, as well as websites like Doha News and JustHere being part of this mix. I've also seen people reading broadsheet newspapers whilst driving (and not just idling in traffic jams). But that's a story for another time…
Find out more about Damian's work at:
Infographic: Social Qatar in Numbers