When China and social media appear in the same sentence, the first thing a Westerner often thinks is that they are banned.
This is all down to something known colloquially as the Great Firewall of China or, to give it the official name, the Golden Shield Project. The project was initiated in 1998 but was only switched on in November 2006. It covers a variety of technologies, such as blocking of certain internet addresses, redirecting web requests to different domains and the filtering of results that use certain words.
Facebook was banned in 2008, Twitter and YouTube in 2009, Blogspot in 2009 and WordPress in 2011 and they remain unavailable. In September 2013, there were rumours that access to some of these would be restored in the new Shanghai Free Trade Zone but this has not happened.
Despite this, social is alive and well in China. Many people access these sites through proxy services that hide your true IP address or using a VPS, a virtual private network that acts as a secure pipe to the internet. Some bloggers host their blogs outside the country and use URLs that do not include the names of the banned platforms to allow access.
The country had 618 million internet users (45.8% of the population) at the end of December 2013 and huge numbers of them use social networks, but homegrown ones rather than the Facebooks and Twitters of this world.
Renren (see picture above), which has similar functionality to Facebook, had 214 million active accounts at the end of June, 2014, and around 44 million active users each month. Microblogging site Sina Weibo has more than 150 million monthly users and has launched a ten-second video app similar to Vine called Miaopai.
Video is huge. Weibo says that more than 150 million video views are happening on the site each day. Meanwhile, video site YouKu Tudou – formed from a merger of two similar sites in 2012 – has more than half a billion users. Because there is no limit on the length of uploaded video, the volume of video streamed comfortably outstrips that on YouTube.
Shanghai, with its population of 24.2 million, is the biggest city proper in the world and is well connected technologically, meaning social media use is high there.
Shanghai now has the country's fastest broadband, at an average of 5.4 megabits per second, compared with 4.17 Mb/s in Beijing and 3.54 Mb/s nationally. It represents a remarkable turnaround for the city; in 2010, it had the country's slowest broadband but an investment programme by China Telecom has seen it leapfrog the competition.
According to a survey of 14 Asian cities by Japanese advertising firm Hakuhodo, 92.4% of households own a computer in the city while 49.1% of Shanghai's population owns a smartphone (with the highest ownership among 20-somethings). The survey shows that chat services are the most popular with social media coming in at fourth after listening to music and text messaging.
The city also has an initiative called iShanghai, designed to increase the number of free wi-fi hotspots around the city under the same SSID name.
A growing number of taxis in the city offer free wi-fi to passengers. This summer, Dazhong (which runs turquoise taxis) became the latest to add free access to 6,000 of its cabs, recognisable by a cloud sticker on the glass partition. The taxi firms Haibo (sapphire) and Jinjiang (white) have also added wi-fi but the Dazhong wi-fi fleet is the largest.
This domestic demand for access to social media is also extending overseas as the number of Chinese travelling abroad increases. In spring 2014, online travel agency Ctrip announced that it would start offering free wi-fi access on overseas tours organised by the company. It has spent £1 million on mobile wi-fi hotspots that can be used by up to five travellers.
The city dips its toe into social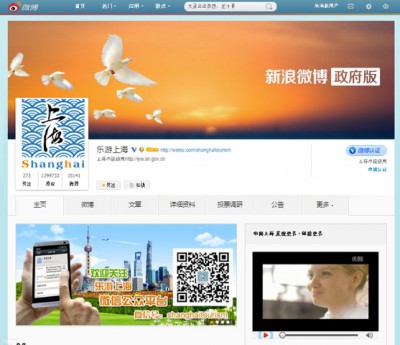 Last year held mixed news for tourism chiefs in Shanghai. Although the city did well in attracting domestic tourists – up 3.6% to 260 million (many of whom follow the city's tourism administration on Weibo, above) – the number of inbound tourists from overseas dropped by 5% to 7.57 million. This is despite the country's recent introduction of 72-hour transit visas that allow tourists to stay on short breaks in certain key cities, including Shanghai.
While other destination marketing organisations and tourist boards are increasingly turning to social media to attract inbound tourists, this channel is still in its infancy in China and Shanghai.
In Chinese numerology the number 99 is considered very lucky. The number nine sounds like long (in duration) so a 99 represents a very long time, or eternity.
It is no surprise that Shanghai's tourism authorities are using the number in their social media campaigns.
At the beginning of 2013, the Shanghai Municipal Tourism Administration asked its fans on Sina Weibo to share their favourite things about the city in five categories: "Sights along the Subway", "Shanghai Cuisine", "Nostalgic Tour of Shanghai's Old Neighborhoods", "Shanghai at Night", and "Shanghai Positive Energy".
By the end of the campaign, some 36 million people had posted almost 600,000 reasons to love the city.
The campaign was considered such a success that it repeated the exercise in early 2014, under the banner "Do You Like Shanghai?", but with different categories.
Over a period of two months, Weibo users suggested reasons that they liked the city, ranging from famous residents, iconic buildings, popular streets, brands associated with the city as well as Shanghainese food and culture. These reasons and information about the campaign was reposted more than 21 million times in the first week, the tourism bureau said.
The tourism administration's deputy director Cheng Meihong told International Channel Shanghai, "What exactly these 99 reasons are is not the most important thing. What's important is that this campaign can get more people to discuss the topic and share their experiences of living in the city. I think what we need is this progress."
The list of 99 reasons chosen is listed here. They include recommendations for eating scallion oil noodles in Shanghai's back streets and love for the city's traditional Shikumen buildings as well as the more modern Oriental Pearl radio and TV tower. The grand weddings that are a trademark of the city and the old-timers playing traditional games such as Dadanzi and Gunquanzi in the city's lanes also proved popular with Weibo users.
As far as inbound tourism is concerned, there is no overriding strategy to use social media to attract visitors, although there have been some efforts in that direction.
The Chinese National Tourism Administration says it recognises the value of technologies in attracting tourists. This year has been dubbed Beautiful China 2014, the Year of Smart Travel, with a focus on how information technology could be used to improve the experiences of tourists. Coupled with the launch of the campaign, the administration launched a new website at www.travelchina.gov.cn, although the sharing links to Facebook on Twitter that are optimistically shown on the site go nowhere.
Individual attractions, publications and hotels are doing their bit, even if the tourism authorities are not doing much.
One of the biggest current tourism developments in Shanghai is the opening of the Shanghai Disney resort at the end of 2015. Disney is using Weibo and YouKu to drum up interest in the theme park in social channels.
The city's annual Shanghai Tourism Festival, which lasts for three weeks each September and attracts eight million people to the city, is using Weibo to encourage more visitors.
Listings magazine Time Out is using a range of social channels for its Shanghai edition. The magazine has a few thousand fans on each of Facebook, Twitter and Weibo and also has a lively Instagram feed at www.instagram.com/TimeOutShanghai. In early September, the publication launched a WeChat air tour.
This allows users to learn about events, shows, fairs and artworks to check out in the city. The tour has an element of gamification by providing treasure hunt questions to answer. If you answer correctly, you can then access exclusive interviews with artists, critics as well as art content related to the shows.
How the world should market to China
Visit Britain is direct when it recommends using social media to sell travel to China's outbound market.
"The power that social media has, and its intense use by nearly every demographic, means it is not simply an opportunity – but a necessity for any company selling in China."
Take note. Nearly 100 million Chinese nationals travelled abroad last year, up from just 30m a decade ago, and the numbers are accelerating.
But Britain received fewer than 250,000 of those visitors, a fraction of the market. The target by 2020 is still a modest 650,000, a UK trade delegation spokesman announced on a visit to Shanghai in April.
The visit marked the launch of China Welcome, with several travel and tourism-related companies in the UK supporting the initiative. Training of staff is a key component, with Mandarin-speaking staff also being employed (Harrods now has 70).
There is a strong business and tourism imperative to chase the China market, hence Visit Britain is recruiting for a digital marketing executive to be based in Shanghai, to start October 1. Apart from being fluent in languages, the applicant is also expected to be extremely conversant in social and digital.
The job specification lists six key areas, with management of VB's website and social media accounts top of the list, alongside creating content relevant to the Chinese market.
It's a crucial appointment, with the right person having to be acutely aware of several factors in marketing to the Chinese.
The vast majority of Chinese travel independently, and use the internet to research. More than half of all internet use is also via mobile platforms.
Facebook and Twitter have been banned throughout China since 2009 – and is now only available inside Shanghai's Free Trade Zone.
The average age of a Chinese internet/mobile/social media user is 28. In the US it is 40. "So tailor your communications accordingly," says Visit Britain.
The most prominent Chinese social media platforms are Sina Weibo and Tencent Weibo, which between them reach over half the Chinese population (Weibo translates as micro blog).
It's interesting to think that the appeal of social media in China is a direct result of the country's historic intolerance of foreign media and its attempt to control output. Visit Britain thinks so.
"One of the main reasons that social media has such a prominent position in the Chinese social landscape is due to the scepticism regarding the official media. Along with the cultural desire to find and share information, it has led to a growth in the prevalence of peer-to-peer content," says its briefing notes.
The notes have been compiled for companies looking to break into the Chinese market, and are relevant to any country around the world looking to do the same.
In opening its 'Getting China Ready' web page, you'll see a couple of impressive statistics. That, in the few seconds since clicking on the page, 10,000 users have visited Sina Weibo and 50,000 videos have been viewed on Youku, China's equivalent of YouTube.
Adds the VB advice: "Chinese are much more active on social media and spend more time online compared to Western people. Being active means engaging with them there, through a well localized website, local hosting and social media profiles on Weibo/Wechat and video content on Youku."
Wechat is a very interesting platform. It's the Chinese equivalent of What'sApp, is available in many different languages and is widely used in travel marketing, not least by Shanghai-based Spring Airlines.
The Chinese love apps. According to a report by OAG, expectations are that within three years the Asia-Pacific region will account for nearly half (47%) of 4.4 billion app users worldwide, and China will be the biggest market for that demand.
"Today, there are more than 216 million travel apps downloaded in China – suggesting that there could be anything up to a six fold increase in travel apps downloaded in China by the end of 2017."
It's a huge market, unfolding before our eyes. As Visit Britain concludes on its briefing notes: "Using social media is absolutely essential." They're not kidding.
Spring Airlines flies high on social media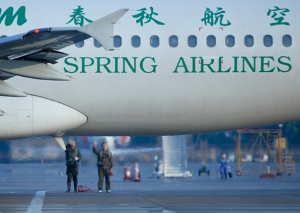 When launching a new route, an airline throws the kitchen sink at publicity. There's no point committing an aircraft, landing slots and staff if no-one knows about it.
Shanghai-based Spring Airlines took off in 2005, the year after Facebook launched and the year before Twitter. It was China's first low-cost carrier, and was an airline of the social media age.
And in April, 2014, Spring started service between Shanghai and Singapore, its fifth international destination alongside Thailand, Japan, South Korea and Vietnam.
The marketing division went into overdrive. Traditional marketing was not ignored: 20 free tickets were offered per flight from launch day (April 25) for five days, a total of 100 free seats.
But it's social that Spring majors on. The airline has the largest presence on SinaWeibo, China's biggest social media site, and regularly launches campaigns – such as using the tag @SpringAirlines to win cinema tickets.
It reached out to several bloggers, who were invited on the inaugural flight from Singapore with a brief to write about their #ShanghaiStory and #ShanghaiAdventure (http://webintravel.com/spring-woos-bloggers-may-offer-matchmaking-flights-win-singapore-fans/).
It also wheeled out a populist blind date game, whereby a group of single men and women were invited to fly between the two cities and games played to find a match.
Introduced on a Shanghai-Kunming flight five months previously, where three matches were made, it was used again on a flight to Taiwan in March. "It's very popular in Shanghai," said Nikki Zhang, Spring's social media director. "People don't have time and hope to meet Ms or Mr Right when travelling."
Participants were invited on WeChat, the Chinese equivalent of WhatsApp. Spring has 500,000 members on WeChat, an app which is integral to the airline's social marketing strategy.
As reported in Tnooz, the mobile-based messaging service app has emerged as a travel-transaction platform.
Spring's WeChat service allows users to book flights, check flight status, and access customer support. It also has a WeChat Check-in service, and customers can choose seats from the app.
The app is a natural fit for Spring's audience. "As many as 75% of our ticket buyers are below 30 years of age," says spokesman Zhang Wu'an.
Hence booking is encouraged, and made available, through mobile platforms and websites to save on costs. Sales through its mobile channel jumped from eight per cent to 50% last year, according to Jonathan Hutt, international brand manager.
It's home page invites customers to Skype the airline, and has prominent social media buttons (although, given its markets, the English-language Facebook and Instagram sites have few followers: 10.2k/349 respectively).
But in its home markets, the airline continues to be at the forefront of social and digital innovation. This year, it gave flight attendants Google glasses on a flight from Shanghai to Chengdu. The crew were able to access passenger information more intuitively with the name and seat number shown on the glasses.
In March of this year, it also carried out trials at its Shanghai hub with passengers wearing smart watches.
They could check in, pass security and board flights using a barcode on their watches. Passengers could also view their flight status. Spring said at the time that it is developing a dedicated app for smart watches.
It sets the airline fair for growth in the Asian market, at a time when China's civil aviation market faces intensifying competition, according to a report in The Wall Street Journal in April.
The government has moved to liberalize the domestic airline market, says the report and, for the first time, promote the growth of budget airlines though air travel in China, a market which is booming.
[tabs][tab title ="Instagram and mobile photography"]
Leon Yan is a filmmaker and graphic artist who studied at CalArts and the London Film School. He is currently Head of Film and Video at NeochaEDGE, a creative agency in Shanghai. And in his spare time, he enjoys street (and recently some nature) photography during his frequent travels. He has 15,000 followers on Instagram and also co-runs Instagrammers Shanghai.
How is Instagram doing in China, and Shanghai in particular? Is there a Chinese equivalent of IG?
Instagram is doing fairly well but usage isn't very high compared to other countries and in relation to the overall population of China. There are actually dozens of Chinese equivalents to Instagram, such as Tuitu, ??, Suipai, Maopaopaipai, Camera360 and many others. WeChat (a dynamic messaging app in China which works a bit like Whatsapp) has a photo-sharing capability but this feature is quite secondary to the rest of the app. It's notable to mention WeChat as many of my Chinese colleagues actively share photos here and are very light users of IG. To put things into perspective, WeChat has more than 400 million users in China while IG has six million. Still, I would say IG has a striking advantage as you can easily explore worldwide photography. As one of my Chinese colleague says, "I can see the world from this little square." The variety of content on IG is also much more diverse and the overall quality also much better. According to my Chinese colleagues, IG is also a good way to learn English.
Congratulations on a strong following and excellent photos. What attracted you to the medium?
What attracted me to the medium of mobile photography was its immediacy and convenience. I can't get certain candid shots with a DSLR camera – which I also don't carry all the time. My iPhone however is always with me. I've recently started shooting with a Sony RX100 MK3, which is fantastic and compact, but really powerful. As a camera, it suits me really well when I need to catch something unexpected I see in real life. Another thing that I liked about mobile photography was how immediate it is for the viewer to see the photo on Instagram. It couldn't be more instantaneous and direct than from one connected mobile phone to the next. That's a really powerful thing.
I see you have 1,600 in your Shanghai Instameet group. What's the profile of the group – lots of expats?
The Shanghai InstaMeet group started this January: we had about 20 attend our first meet. Since then, numbers have wildly varied from 30-110 attendees. The account is growing fast. Originally, we thought we'd organize a meet every two or three months but the response has been really enthusiastic. People have been requesting one every month just so that they can get their monthly fix (!). The group is also fairly mixed. Sometimes it is 30-40% expat, but mostly it is young Chinese users. They are also from all over, not just Shanghai. We get a lot of visitors who pass through Shanghai sometimes. The age range is about 17 – 40. The male to female ratio is pretty even.
Your last meet was at Shanghai Museum of Glass (nice pics!) Do institutions like this welcome you officially and compete for your attention – or was it just an informal, relaxed meet-up without official sanction?
We have had some institutions and companies ask us to hold an InstaMeet at their event or location, but we prefer to select a location based on its visual qualities, its potential for great angles, and whether or not we think it'd be fun for people to explore. We then introduce ourselves to that institution to see if we can be offered some kind of support (such as prizes, free tickets, etc…) in exchange for some free promotion on IG. In the beginning, it was just an informal, relaxed meet-up but as our group grew larger, we felt we needed to get official support from the location, otherwise it would feel like a flash mob. Sometimes though it can still be a relaxed meet-up.
And following on from that, are some IGers in Shanghai now being paid by brands to work with them?
As far as I know, only a few IGers in Shanghai are getting paid to work with brands and companies. Usually it is for content development and for managing a company's IG accounts, or if they are known for doing a certain style of photography or video work, brands will contact them to do something similiar for them. Since the user base in China is still quite small, there are only a small handful of Chinese IGers who have more than 100K followers, which is usually the mark an IGer has to pass to get substantial commercial offers. I do know of a few IGers in Shanghai who have a much smaller following who still manage to get commercial work, usually from the quality of their work or the fact that they are otherwise really great networkers.
You're a VSCOcam man, I see. How do you rate Instagram's own filters – as good as? And any others you recommend?
At the very beginning like most people, I used Instagram's native filters. Once I switched to VSCOcam and especially after the redesign of the app, I've stuck with VSCOcam. I find the controls and tools more useful, the presets more subtle and aesthetically pleasing and the minimal design very attractive and a delight to use. I also really enjoy using Mextures, SKRWT, PS Express, Decim8 and Snapseed, but to a lesser extent.
How's the selfie craze going in Shanghai?!
The selfie craze is pretty strong in Shanghai – and to be fair, it has been for some time all over Asia. It's not something we like to admit, but if you go anywhere in Shanghai (in a club, bar, gallery or tourist spot) you should be able to see someone taking a selfie!
Some of his works can be found at:
[/tab][tab title ="How the city's hotels are embracing social"]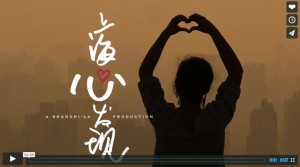 When Shangri-La Hotels and Resorts opened its third property in Shanghai in the city's historic Jing-An quarter, the company wanted to use social media to create a buzz around the new property.
It did so by commissioning Beijing-based freelance videographer Jonah Kessel to create five short Vimeo films featuring celebrities such as Shanghai jazz musician Coco Zhao, photographer Wang Gangfeng and fashion designer Jiang Ling to say what they felt represented the heart of Shanghai. These clips were then seeded on Sina Weibo and users of the social network asked for what they thought represented its heart.
As part of the campaign, the group ran weekly competitions where the most popular submissions won trips to Shangri-La properties around the world.
Such is the popularity of user-generated video that the campaign, called Shanghai at Heart, attracted more than 10,000 video clips. Over the four-week period of the campaign, news of the hotel reached more than 200 million people. Crucially, the company said the campaign had "substantially increased room bookings and traffic into hotels, restaurants and bars."
The campaign won the hotel group a bronze medal in the Hong Kong Marketing Excellence Awards.
In the second half of the year, the hotel group launched another Weibo campaign to tie in with the launch of 360 degree virtual tours of its properties, including the new Jing An Shangri-La. Weibo fans were encouraged to share a photo from one of the featured hotels with three friends.
It is not the only hotel using social media well in Shanghai. In June 2013, the Westin Bund Center became the first travel business in China to win a Smitty award from America's Travel + Leisure magazine, as runner-up in the category for best use of social media by an individual hotel.
The award was given for its campaign tied in with the 2012 Shanghai International Film Festival, of which the hotel was a sponsor. The hotel connected with movie producers via social networks, posted timely updates about China's pop culture, and cross-promoted its Weibo account with the organiser's official website and Weibo account.
The award was not a one-off either. In the 2014 awards, the hotel walked away as overall winner in the same category.Receiving the award, Andreas Trauttmansdorff, general manager of The Westin Bund Center Shanghai said at the time: "We are truly delighted to have received this special recognition. To be the first hotel in China to be recognized in a competitive category by Travel + Leisure Social Media in Travel + Tourism Awards is testimony to our pursuit towards innovation. We are honoured by the recognition and will continue to raise the social media bar for everyone in the hotel industry not just in Shanghai but across China."
The hotel is on Twitter and Facebook, where it has a few hundred followers, but is most active on Weibo, where it has more than 12,000 fans and it posts content frequently.Like many hotels doing social well, the Westin posts a mixture of native content, such as how-to articles on the top technology tips for Shanghai or tips for catching buses, alongside more traditional marketing messages.
For hotels in Shanghai and China in general, it is increasingly important to be aware of another part of social – the user-generated hotel review.
Tripadvisor launched its Chinese version, called daodao.com, in 2009 and bought local rival Kuxun.cn shortly afterwards and now gets millions of unique visitors each month. It is not merely a translated version of the main site but includes integrations with Sina Weibo, Tencent Weibo and WeChat.
[/tab][tab title ="The blogger's point of view"]
Sue Anne Tay is the creator of Shanghai Street Stories, a superb blog which chronicles community living and architecture in the city's neighbourhoods.
Shanghai Street Stories: it's hard to imagine a city more likely to generate stories. True?
Yes, I would say that any large metropolis from New York, London, Tokyo to Shanghai draw such a diverse array of people from different backgrounds within and outside of the country. Couple that with a city that changes so fast and the stories resulting are endless. Remember, the country only opened up in 1978 and essentially condensed decades of modernization and urbanization.
Tell us more about blogging in Shanghai: is it still an emerging scene, semi-mature or racing along?
Depends on which sphere of blogging. For Chinese, they have longed moved away from blogging in long-form but now turn to Weibo (Chinese Twitter platform) and WeChat (messaging mobile app where you can create "group channels") to communicate to a large audience of hundreds of thousands, if not millions: 140 characters in Chinese is almost like a mini-essay. Plus, you can add an entire album of photos to your short post of either platforms. Unless you have something very specific to write about, I would say blogging has matured to the point of slowing down.
Within the expat community, people who blog are usually trying to capture their experiences abroad for their friends and families, and they eventually adopt a certain focus in topic and tone of blogging. That's still chugging along given that so many foreigners keep arriving in China to work and study.
More specifically travel bloggers: who do you admire in Shanghai and elsewhere in China? 
LifeinNanchangLu.com is most about food and travels around China to write about food, and is written by Fiona Reilly who is an Australian doctor. FarWestChina.com is written by Joshua Summers. Lee Mack of CityWeekend, an expat magazine, has been writing about his travels for many years as travel and now senior editor. Oh yes, a travel site is Bamboo Compass.
Apart from your blog, what other social media do you like – do you use English and Chinese language platforms?
I mainly use Facebook (1,450 followers) and sometimes Twitter. I use WeChat to share with my Chinese friends but what I should really actively get on is Weibo for the reasons I mentioned earlier (getting a wider audience reach). But I have an account and use it to follow and learn from many Shanghai folks who follow heritage preservation and urbanization.
Is WeChat the most important app/platform in the travel industry in China? Weibo? Or another?
Weibo, for sure.
Does the Chinese travel industry use social well to promote inbound and outbound tourism?
Depending on the age group, social media is important with younger crowd familiar with mobiles. They use QR codes, promotions and constant messages to promote travels and deals. Lots of short videos of young people solo traveling (without a tour group). Personalities who have large Weibo followings may be sponsored to go on certain trips to share with their legions of followers.
Video: how important to your readers? Or is it more words and images?
I don't do video, I would love to but I don't yet have the capacity.
I enjoyed your profile in The Guardian in April – is your day job still looking at rural business for a foreign bank?
No, I've left the bank and am now with an advisory company, still doing strategy and research-related work.
You can also follow Sue Anne Tay on…
[/tab]
[/tabs]
Infographic: Social Shanghai in Numbers