All eyes seem to be on Japan as the next holiday and event destination. With the Rugby World Cup currently taking place, (it ends on the 2nd of November), and the Summer Olympics happening in July of 2020, Japan is set to welcome more tourists than ever.
Based on Japan Travel Bureau's 2019 Travel Trend Forecast, the projected number of travellers from overseas in Japan will reach 35 million. This figure is very likely to happen given that in 2018, the number of foreign travellers in Japan reached a record of over 30 million for the first time.
Last year, the countries that visited Japan the most are: Italy, Spain, Australia, Vietnam, Thailand and the Philippines. And with the coming major global sporting events, 2019-2020 is very much likely to bring more overseas visitors to Japan.
And among tourist markets, it is luxury travellers that are showing particular interest in Japan. When Business Insider teamed up with luxury travel agency, Original Travel to find where billionaire travellers are headed to in 2019 onwards, Japan emerged as the second most popular destination (out of 15 countries).
And interestingly enough, it is not the usual shopping that the ultra-rich go to Japan for. It is the unique and cultural experiences in the country that they travel far for.
And because luxury travellers these days take longer, extended breaks to recharge, their focus is to explore beyond the usual tourist or luxury experiences. The trend now is either combining luxury with adventurous experiences or to truly emerge themselves in unique, one-of-a-kind experiences that not many have done previously.
As affluent travellers flock to Japan, the country finds itself filling up room demands.
A report from Nikkei Asian Review reveals that in the face of hotel shortage, real estate companies in Japan are busy constructing luxury hotels to cater for the increasing number of tourists.
While Japan is home to two of the world's most advanced and most efficient megacities: Tokyo and Osaka, it is still not a destination wildly known for luxurious attractions (Like Dubai for instance), and that in itself is a luxury.
In this regard, here are some of the unique Japanese experiences that high net-worth travellers go to Japan for:
Hopping on Luxury Trains
Japan's Luxury Train: Twilight Express Mizukaze
While Japan is the land of high-speed trains, with the most popular of them being the Shinkansen (bullet train), not many know that you can also experience one of the most luxurious train ride experiences in Japan.
For US$22,000, one can hop on board the Twilight Express Mizukaze and spend three days and two nights exploring the western regions of Japan (Keihanshin, Sanin, and Sanyo).
Operating since June of 2017, the multiple-unit sleeping-car excursion train has a capacity of only 34 passengers, it is described as a "nostalgic modern" train with art deco inspired luxurious interior décor which made Twilight Express Mizukaze earn its nickname as a "rolling hotel".
Road tripping the Japanese way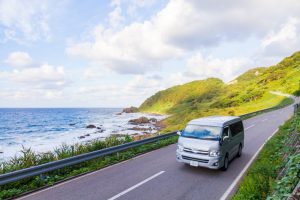 A growing number of overseas tourists are discovering the adventure of road tripping in Japan
Those who are more adventurous may embark on a road trip in Japan. Given the amount of stunning landscape outside of Japan's megacities, it's not surprising that many visitors are now opting to rent cars in Japan and take road trips to the countryside.
Carstay is a company that makes things much easier for travellers driving around Japan. In Japan, places where you can rest your vehicle, and stay overnight, are highly regulated. Carstay connects drivers to official / approved car parks where they can legally spend the night. Some of these spots also belong to locals who are more than happy to take travellers around to experience activities unique to their town.
Going beyond the usual food experience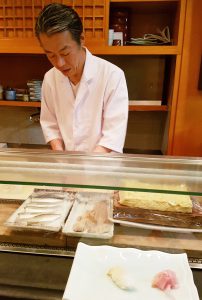 Being home to globally known food like Ramen, Soba, and Wagyu Beef, Japan is no doubt a food lovers' destination.
A typical foodie tourist will visit Japan and sample all the food it is known for, and perhaps include a couple or a few Michelin-rated restaurants (fact: Japan is a country which has the most Michelin-star awarded cities: 21 in Nara, 117 in Osaka, 135 in Kyoto and 304 in Tokyo).
However, some want to take their immersive experience of Japanese cuisine a few notches higher. Those who want to fully understand what they are eating can embark on a knowledgeable and filling evening with Sushi University.
Sushi University will take guests to an authentic Edo style sushi restaurant where they will be served an "omakase" or menu by a Sushi chef. The highlight of this experience is that the sushi chef provides an in-depth lecture and there is a professional interpreter to translate everything, including questions from guests, so it becomes an interactive experience.
Dining atop Tokyo's highest building
The Rooftop Bar of Andaz Toranomon Hills has the best view of Tokyo
With a population of 38.14 million, the Greater Tokyo Area remains to be the largest urban area in the world. And in addition to its population, Tokyo also takes the number one spot as the city with the largest GDP in the world.
Yet despite its population and wealth, Tokyo's skyline is not as glitzy, high-rise and iconic as its fellow GDP-rich cities like Shanghai, London or Chicago. This is because Tokyo's fault line is just beneath its surface. And while today's construction technology creates safer buildings, Tokyo's height limit for a skyscraper is around 250 metres / 750 feet, give or take.
Toranomon Hills is currently the highest building in Tokyo, measuring 256 metres. Housed inside Toranomon Hills, from its 47th to 52nd floors is luxury hotel Andaz Tokyo Toranomon Hills.
For those who would like to dine while overlooking the best view of Tokyo, Andaz Toranomon Hills has 5 restaurants and bars, including The Tavern – Grill & Lounge and Rooftop Bar.
Taking part in a historical sporting tradition
Take part in a Sumo experience in Tokyo
Sumo is a Japanese style of competitive full contact wrestling that has its origins from more than 2,000 years ago. The sport originated in Japan, the only country where it is practiced professionally. And though it is not an Olympic sport, it is recognised by the International Olympic Committee.
Sumo Basho (tournaments) take place only a few times a year so it is quite challenging for travellers to catch an actual Sumo tournament.
Sumo Experience allows guests to witness real Sumo wrestlers do their training, and on some of their locations, also provide the experience to interact with retired Sumo wrestlers. Apart from the novelty photo opportunity, this is also a great way to get to know what the life of a professional Sumo wrestler really entails.
Having someone capture your perfect moments in Tokyo
A moment in Shibuya, the world's busiest pedestrian crossing is captured by a local photographer in Tokyo
Social media has created storytellers in all kinds of travellers. From backpackers, adventurers, to honeymooners and luxury travellers – everyone wants to have a unique travel story to tell and to capture it all on perfect Instagrammable moments no less.
Everyone wants to take the perfect photo, but most of us have been there before: we sometimes ruin what would have been an amazing travel experience to get that perfect shot.
Localgrapher takes this dilemma away from travellers. They provide you with a local photographer who knows all about the city and provides tips on where to take the best photographs.
They say that photographs make the best travel souvenirs, and it can be quite a luxurious treat to have somebody else take care of this.
—
The luxury found in these experiences is that they are not the typical, quintessential glitter-and-gold that one normally associates with travelling affluently. It will leave travellers with unforgettable luxe moments that are endearingly quirky and unique to Japan.