Who says you shouldn't visit Dubai in the Summer?  A city made to adapt for the scorching desert climate, there are still plenty of ways you can keep the kids entertained over those hot summer months.
From indoor entertainment venues to unique dining experiences, these kids activities in Dubai are sure to keep your family happy this summer.
1.      The Green Planet, City Walk
Explore the great outdoors, entirely indoors! Based around the world's largest man-made life-sustaining tree, The Green Planet biodome takes you on a journey through three distinct sections of a tropical rainforest. This entirely indoor ecosystem is home to more than 3000 different species of plants and animals, including the ultra-popular sloth!
Complete with majestic waterfall, lush vegetation and kept at a perfect 24-27 degrees Celsius year-round, it is hard to believe you're in the centre of a big city.   Throughout the day there are organised educational talks as well as plenty of interactive displays.
Buy tickets online from 89AED for adults, 64AED for children, or add on a special encounter session including sloths, sugar gliders and feeding the Piranhas! Learn more here.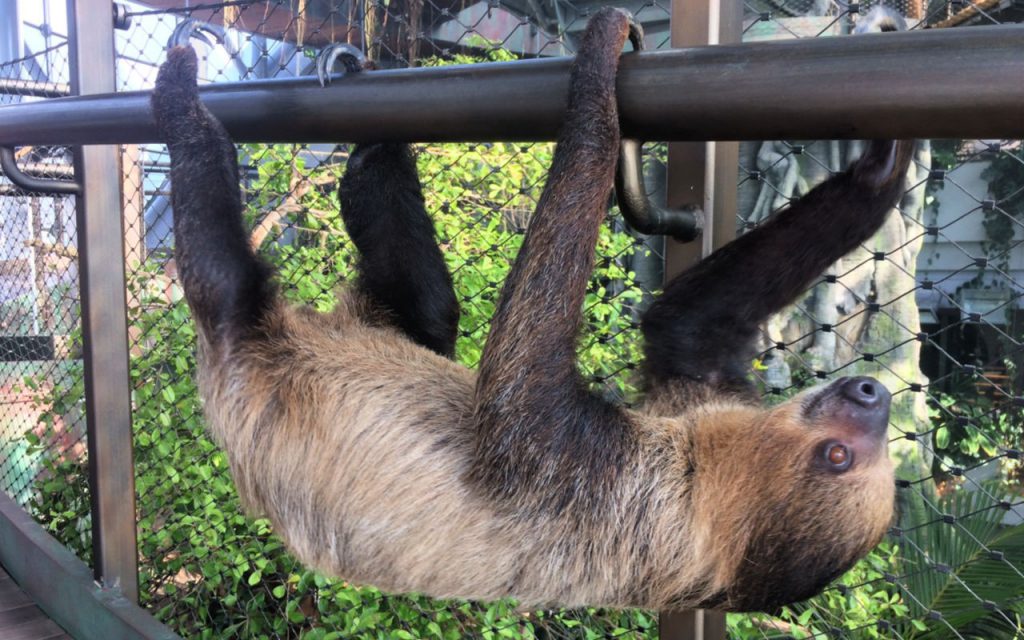 2.      OliOli, Al Quoz
Taking inspiration from children's museums and science centres around the world, the creators of OliOli have crafted one of the most amazing interactive children's play museums.  A far cry from your normal drop and play indoor spaces, OliOli is designed to engage the whole family and is arguably one of the best things to do in Dubai with kids.
There are eight galleries to be explored with over 40 exhibits. Kids can explore their engineering skills, splash their way through interactive displays or even build their own life-sized forts.  One of the most popular features is Toshi's Nets – a giant swinging climbing frame.  A great combination of creative thinking and energy burning!
Children 2 to 18 years cost 120AED for two hours; accompanying adults 40AED. Learn more here.
See OliOli in action: https://www.youtube.com/watch?v=JBeB5B_KRG0
3.      Dubai Frame, Zabeel Park
Where old meets new, the Dubai Frame is a glittering new addition to the Dubai skyline – literally a giant golden frame. Situated in Zabeel Park, journey through exhibits from the Dubai of yesterday on the ground floor, before being transported 150 metres up to the top of the frame.  Here you'll be spoilt with not only 360-degree views of the city of Dubai, but a see-through floor! Watch the park beneath and a musical foundation show to rival Dubai Mall.
On descent, don't miss the Future Dubai Gallery on the ground floor, a special 3D presentation on where the city is headed 50 years from now.  Adult tickets in timed slots are 50AED, children 20AED.  Learn more here.
4.      Al Seef District, Bur Dubai
Just as the Dubai Frame connects the city with panoramic aerial views, Al Seef bridges the city at ground level between Dubai's Al Fahidi Historical Neighbourhood into a beautifully designed creek side village. Built along a 1.8 kilometre stretch of the Dubai Creek, take an evening stroll through the beautifully crafted alleyways and 1950's-style souk where you'll find Emirati handicrafts, fragrances, art and local cuisine.
This new development seamlessly blends into more contemporary structures as you head along the creek front walk and past a small marina where abras can be used to cross to Deira. Beat the heat by heading into the Dubai Museum of Illusions for some mind-bending optical illusions and plenty of instagrammable moments!
Strolling the waterfront is complete free! Dubai Museum of Illusions costs 80AED for adults and 60AED for children, family packages available. Learn more here.
5.      Kidzania Dubai, Dubai Mall
A real-to-life city built just for the kids.  Kidzania edutainment centre inside the Dubai Mall is so much more interactive than your usual indoor soft play centres.  Children are given boarding passes and transported to the Kidzania world where the Kidzos currency rules and you need to earn a living undertaking different "careers" in order to spend your Kidzos on leisure activities.
This is hands-off for parents as your children will be guided by Zupervisors as they learn new skills and manage their funds for an extremely rewarding and educational day out.
Tickets from 129.50AED when booked in advance online, accompanying adult 75AED.   Learn more here.
6.      Dine in front of the big screen at The Pointe, Palm Jumeirah
With unrivalled views to Atlantis the Palm, new entertainment district on the Palm Jumeirah, The Pointe is set to be equally amazing in both the cooler months as it is in the peak of summer. Whilst it might be too hot for Al Fresco dining year-round, your tween and teens are bound to love the novelty of luxurious dining at Guy Fieri's Dine in Cinema.  Meanwhile, your younger ones can be kept active and engaged at Cheeky Monkeys play centre.
Learn more about Reel Cinema's dine in experience here.
7.      Chill off at Wild Wadi, Jumeirah Beach
Get some flip-flops on your feet and continue to enjoy the outdoors while keeping cool under the water. Wild Wadi at Jumeirah is packed with over 30 water-based rides and attractions.  There are designated areas for smaller children, and your tweens and teens will love the thrill of racing one another on the twin slide Jumeirah Sceirah.
Part of the Jumeirah Hotel group, hotel guests have access to Wild Wadi included with their stay, so why not make a staycation package out of it?  UAE resident rates start from 69AED under 1.1m or 149AED over 1.1m. You can enhance your experience with a VIP Cabana. Learn more here.
8.      Peng-Friend Experience, Mall of the Emirates
Penguins in Dubai?  Yes, you read right! Not just skiing and snow sports, Ski Dubai is home to a small colony of both Gentoo and King Penguins with their own VIP enclosure and private pool. Penguin Encounters give desert children the opportunity to meet and learn more about these adorable aquatic creatures.
You will be snow suited and booted before staff take you on an educational tour culminating in meeting some of the resident penguins.  Once you're done, the kids can continue cooling off hitting the slopes in the Snow Park and playing in the snow playground – or take on the five ski runs of Ski Dubai.  Icy temperatures of around 1 degree Celsius make this one of the coolest Dubai attractions for kids!
Packages start from 230AED for Peng-friend experiences or combined Snow Park tickets from 315AED. Children from ages 2 years old and up can get involved. Learn more here.
9.      Chillout Ice Lounge, Times Square
Keeping with an icy indoor theme, another unique experience in Dubai for kids is the year-round winter wonderland at Chillout Ice Lounge.  Don't worry if you've arrived in your summer gear, you will be suited up in warm fuzzy coats, gloves and socks ready for your sub-zero experience.
Guest are greeted with a nice hot cocoa to enjoy as you explore the ice parks sculptures, or try some of their fabulously icy mocktails, warming soups or café foods – definitely a Dubai dining experience with a difference!
Entry starts from 80AED per adult and 40AED per child, group rates also apply. Learn more here.
10. Dubai Aquarium & Underwater Zoo, Dubai Mall
In only the way Dubai can, the Dubai Aquarium and Underwater Zoo, located right in the centre of Dubai Mall holds many world records.  Not only does it have the world's largest acrylic viewing panel (where shoppers can see the aquarium FREE!), it is also the largest suspended aquarium in the world, weighing in at 2000 tonnes and holding 10 million litres of water.
Take a walk through the 48-metre-long tunnel as sand tiger sharks and rays glide overhead. There are educational displays and presentations throughout to learn more about the marine habitats of its residents. You can also add on experiences including cage snorkelling with the sharks.  If you're not feeling so brave, however, how about taking the glass bottom boat or assist with feeding time?
Tickets start from 130AED but there's a huge variety of add on packages. Learn more here
This is just the start of a very long list of ideas to keep you busy with the kids in Dubai this summer.   We would also recommend you keep an eye out for annual events such as  Dubai Sports World, a 25,000 square metre sporting extravaganza held entirely indoors at the World Trade Centre.  Adrenaline and action fans will be kept entertained with indoor theme parks at IMG Worlds of Adventure, VR Park at Dubai Mall and Dreamworks at Motiongate, Dubai Parks & Resorts.  Or why not try your hand at something more physical like one of the cities many indoor trampoline centres or climbing walls?
Get incredible rates on family holidays and Dubai activities by attending ATM Holiday Shopper on 27th April at the Dubai World Trade Centre.
Book today to benefit from our early bird half price tickets! Simply quote "EB50" at checkout. For more info visit www.atmholidayshopper.com