With skyscrapers above and streets filled with yellow taxis below, there is a bewildering number of choices of things to do in New York with kids. Here is a list of the top attractions to experience when visiting New York with your family.
Central Park
One of the best NYC attractions is the iconic Central Park. A sprawling area of green where the bustle and noise of the city can seem far away.
There are plenty of things to see and do – why not row or take a gondola on the lake, or maybe you can observe the nearly 3,500 year old Cleopatra's Needle, visit the Bethesda Terrace Arcade, ride a century-old carousel, watch a puppet show at the Swedish Marionette Theatre, or relax on the Great Lawn. And if this isn't enough for you, try to visit all 21 playgrounds within the park.
New York Hall of Science
Known by its shortened title of NYSCI, this is one of the most interesting NYC attractions when travelling with a family. There is a mixture of permanent and temporary exhibits, a 3D theatre that shows different films throughout the day, and daily science demonstrations to attend.
For those who want something more interactive, there are also workshops on offer, including molding and casting, paint party, and designing your own air-powered vehicle – but these workshops are usually held on weekends.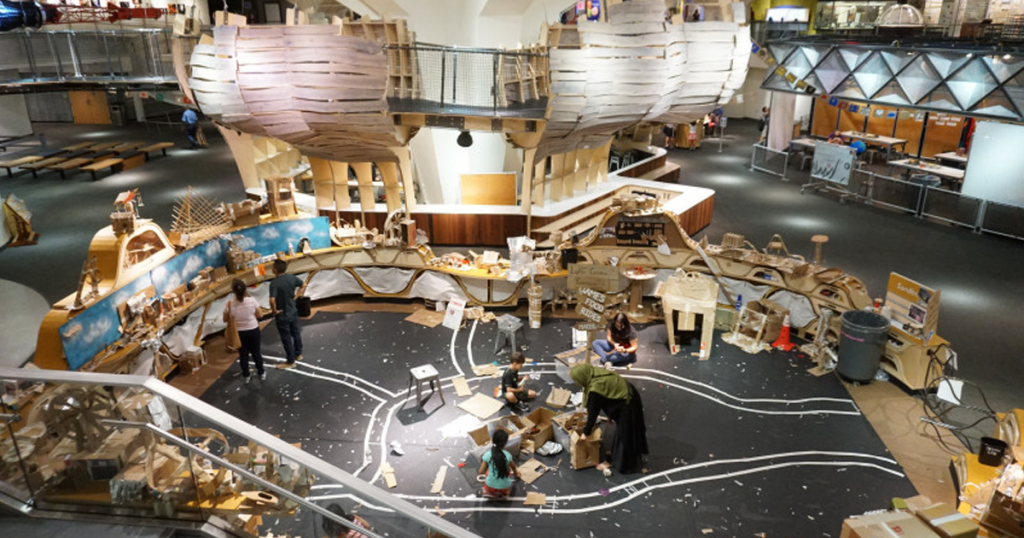 American Museum of Natural History
2019 marks the 150th anniversary of this famous institution within NYC. Containing a wealth of exhibits of interest to curious young minds. The numerous halls you can visit include the Biodiversity and Environmental Halls, Birds and Reptiles and Amphibians Halls, Earth and Planetary Sciences Hall (that includes the spectacular Hayden Planetarium), Mammals Hall, Human Origins and Cultural Hall and the obligatory dinosaur exhibits in the Fossils Hall.
On certain Saturday afternoons, children 7 years and older can meet and listen to a scientist talk about their work in the Discovery Room.
Intrepid Sea, Air & Space Museum
One of the most unusually located NYC attractions is this museum that is built on the ship 'Intrepid' . It's a fun place to explore and a great opportunity to walk around an aircraft carrier, plus it has some fantastic exhibits including the Space Shuttle Enterprise.
There is even a Concord on display, though it does cost extra to go inside the British Airways Concord that holds the record for the fastest Atlantic Crossing by any Concord. For something really different, why not spend a night on the ship on what is termed 'Operation Slumber'.
Statue of Liberty
The most famous sight in NYC is the Statue of Liberty – a gift from the people of France in 1886. To reach the site of the statue, the appropriately named Liberty Island, you need to take a ferry with Statue Cruises. When you board from Battery Park in New York, you have a short 15 minute journey to reach the Island.
If you want to access the statue's pedestal or crown, you will need a special ticket – but be aware that there is no elevator so to reach the crown so you will need to climb 162 narrow steps, plus there is a minimum height restriction for children. Because of this, for those who want to enter the statue, a visit to the pedestal is recommended.
One World Observatory
The perfect conclusion for your New York itinerary with kids is the One World Observatory. The Skypod Elevators race you up the 102 stories in an impressive 47 seconds. The Observatory covers three floors – the 100th, 101st and 102nd.
From this very high vantage, you can gaze down upon all the different places you explored in New York whilst savouring a meal at ONE Dine. This is a spectacular way to farewell one of the world's greatest cities.
Get incredible deals on family holidays by attending ATM Holiday Shopper, the new and exciting Dubai travel show on 27th April. Your next vacation starts here.
Book your tickets today to benefit from our early bird half price rate! Simply quote "EB50" at checkout. For more info visit www.atmholidayshopper.com