Halal holiday packages are on the rise, with more hotels and countries adapting their offers to their Muslim guests every year.
Global demographics are changing, and the range of Muslim destinations worldwide is growing steadily in places outside of the Middle East.
With family and multi-generational travel on the rise, here are ten of the best Muslim-friendly destinations for you and your family to enjoy a luxury family holiday together.
---
Our 10 Halal-Friendly Travel Destinations:
---
1.) Malaysia
In 2017, Malaysia enjoyed the title of being Southeast Asia's most visited country (they received 25.9 million visitors), second to Thailand which received 35.3 million.
In the mid 1990's, the country's tourism campaign ran the slogan "Malaysia Truly Asia", which propelled the country's popularity as a destination where three different cultures mix and co-exist peacefully (Malays, Chinese and Indians). And though the country is predominantly Muslim, all other religions are tolerated throughout. (Christianity, Hinduism and Buddhism are the 3 most popular ones next to Islam).
With such a vast mix of cultures making up the country, it is pretty easy to imagine how Malaysia's cuisine is an interesting melting pot of Malay, Chinese and Indian cuisines.
Malaysia is not just diverse in its culture but in its landscape as well. Though its capital, Kuala Lumpur can be a bustling metropolis, Malaysia is abundant in thick, lush greenery, as well as beach destinations along its coast.
Malaysia also has a Legoland theme park (the only Asian location of the theme park until 2017, when Legoland opened in Nagoya, Japan).
The best way to get to Legoland is from Singapore (a mere 40-minute shuttle bus ride). FromKuala Lumpur it can take you 3 .5 hours by road.
On the luxury front, families can visit Penang, a coastal state in northwest Malaysia that has its fair share of luxury resorts such as the Shangri-la Rasa Sayang, and also the five-star heritage Eastern & Oriental Hotel.
If you have extra time, you can take a 2.5 hour ferry ride from Penang to Langkawi, anisland 30 kilometres off the mainland coast of northwestern Malaysia. Known for its luxury resorts and stunning beaches, the island is popular for couples and honeymooners, while families indulge in watersport activities.
Last year,the Global Muslim Travel Index has named Malaysia as the best Muslim-friendly destination in the world.
2.) Turkey
Families with older children (aged 7 and above) can immensely enjoy Turkey's breathtaking natural landscapes, and vast historical sites. The country's ravishing coastline extends over 8,000 kilometers, bordered by sea on three sides.
Turkey holds some of the best halal hotels offering luxurious quarters and amenities such as women-only beaches, swimming pools and spas. All food is halal, alcohol is not served in these "dry" upscale establishments and entertainment is tailored to Muslim families.
In Istanbul, families can enjoy staying at the Four Seasons Hotel at the Bosphorus. The hotel is only a four minute walk from Besiktas Square, a busy and popular meeting point where Bosphorus ferries depart. The square is also filled with restaurants that line the shore of Besiktas. Being a Muslim country, almost all of these restaurants are mid to high end and have the breathktaking view of the Bosphorus as their backdrop.
Families who have been to Istanbul also highly recommend taking the Bosphorus cruise as this can double as a stress-free and relaxing way to see most of Istanbul's landmarks such as Topkapi Palace, Hagia Sofia and the Blue Mosque.
Turkey is not just rich in history but is also a Halal-friendly destination. Last year, The World Halal Summit Council announced that Turkey ranks third in Halal tourism in the world, next to Malaysia and Indonesia.
---
Get the latest travel insights delivered straight to you
Sign up to receive the WTM newsletter and get updates direct to your inbox.
---
3.) Belgium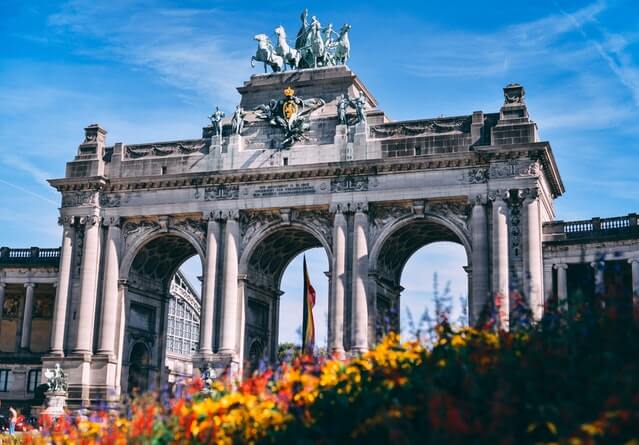 Belgian chocolates aren't the only reason why this country is a family-friendly destination. Well, now that we mentioned food – if you think about it, the top three Belgian delicacies: Waffles, chocolates and fries are absolutely child-friendly and approved!
No dragging of feet here, Brussels is such a walkable and pedestrian-friendly city, many seasoned travellers have named it as the most walkable city they've been to.
Belgium also has a rich history in comics – many streets are decorated with art from The Adventures of Tintin, The Smurfs, and The Adventures of Nero to name a few.
The entire family can go to the Brussels Comic Strip Centre, where the adults can reminisce about quirky Belgian cartoon characters that accompanied them as they were growing up, and the kids can be introduced to these well-loved iconic Belgian comic strip characters.
Brussels (and Belgium in general), is also fast becoming Halal-friendly as 70% of Brussel's population is made up of individuals of foreign origin, with more than 12% of this comprised of Muslims.
In Brussels alone, there are over 60 Halal restaurants and seven mosques where Muslim travellers can go to pray.
4.) London
London is possibly one of the world's most popular family destinations for travel. Children will be delighted to take public transport such as the Underground, London Buses (you must get the double decker ones), and even the famed black Taxis of London.
Having so many transport options is ideal when there are a TON of destinations, parks and free museums that you and your children may want to visit.
Whether you are simply browsing or aim to spend big, London is a paradise for luxury shoppers. Don't skip a visit to the famed Bond Street, known for its exclusive designer stores, jewelers and art galleries.
And what would a visit to London be without stopping by Harrods, the renowned seven floor department store offering the finest selection in food, fashion, technology and more.
Parents should take advantage of the fact that most museums in London are free. The British Museum and the National History Museum are the 2 main "must-visit" museums when in London (with or without children.)
On the hotel front, there are several family-friendly luxury hotels in London. One of them is The Langham, centrally located in Marylebone and have a number of newly-refurbished family rooms with views over Regent Street and space for up to five guests.
Muslim families visiting London will not have a hard time when it comes to looking for Halal food. With more than 1 million Muslim residents currently in London, the Muslim-owned or Halal-certified restaurant scene is abundant.
5.) Maldives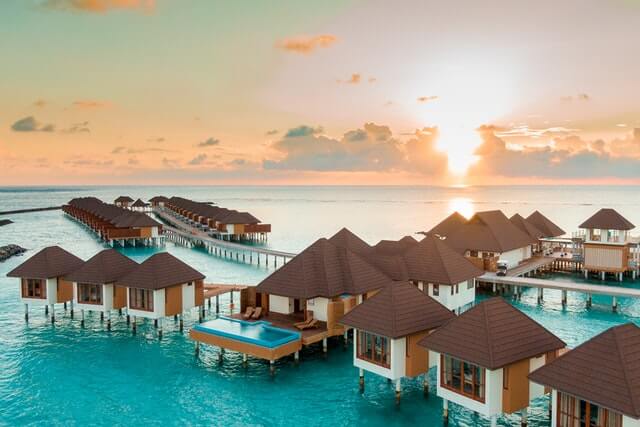 The Maldives is no longer exclusive to just couples and honeymooners. Many families frequent the Maldives especially because of its proximity to the Middle East and its popularity has brought more frequent and direct flights from the region to the Maldives.
Islam is the religion of the Maldives, which makes it a fantastic Halal-friendly destination for Muslim visitors.
The number of luxury resorts in the Maldives increases every year leaving you with lots to choose which is best for your family.
There are many child and Halal-friendly resorts such as Jumeriah Vittaveli, a luxury resort that is only a 20-minute catamaran ride from Male. They serve exclusive halal food and alcohol-free rooms. Their villas are also designed with privacy and exclusivity in mind – each having their own private pools and direct access to the beach or lagoon.
Spoil your family with all-day water activities, including paddle-boarding in turquoise lagoons and snorkeling amongst colourful fish. Take long walks alongside the jaw-dropping white sanded beaches. A trip to the Maldives promises paradise perfection and quality family bonding time.
6.) Paris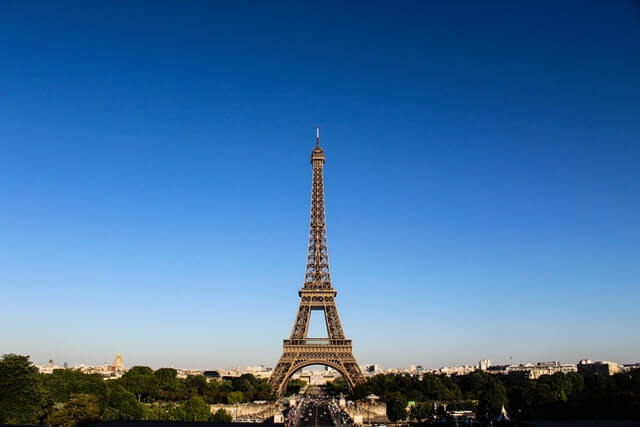 Paris is a city whose must-sees and landmarks are almost the same for families and couples travelling alike. Many of its principal sites are concentrated within a fairly small area and the city is perfectly walkable with children in tow.
Montmartre, in particular, a district set in the 18th arrondissement, can be a great learning playground for families to explore art. The Salvador Dali museum will pique kids' whimsical side and discover the sense of humour in art.
Also located in Montmartre is the Le Mur des Je T'aime or the "Wall of Love", an enormous mural with the words "I Love You" written in 250 languages.
And there's also a fun way to climb your way to Sacre-Coeur Basilica: The Little Train of Montmartre. This little train ride begins across the street from Moulin Rouge and saves you from the climb up the cobblestone streets with kids.
Halal restaurants are not at all hard to find in Paris due to its increasing share of Muslim inhabitants. When facing the choice of which delicious halal venue to visit, why not consider this list of the top voted Halal restaurants in Paris city centre.
There are many halal-certified hotels in Paris. The 5-star Hotel Fouquet's Barriere is one of them. Not only is the hotel located at the corner of Champs-Elysees and George V Avenues, this hotel is also equipped with Muslim-friendly facilities and services such as prayer mats and halal food on demand.
7.) Cordoba, Spain
Spain as a whole is a family-friendly destination, but Cordoba, in particular, will be particularly interesting to Muslim families because of its Moorish history.
It's interesting to note that as the rest of Europe was going through the dark ages (476 – 800 ce), Cordoba remained to be the most sophisticated and progressive capital of Muslim Spain.
Today, Cordoba is one of Spain's most beautiful cities, with a quiet and laid-back atmosphere set against iconic Moorish architecture.
The sites of Cordoba are entrenched in deep history yet they remain architecturally stunning. The Mosque of Cordoba, the Alcazar of the Christian Monarchs, along with the Cordoba Synagogue are also examples of how religions can co-exist peacefully at present.
The Andalusian region of Spain (where Cordoba is) is home to a huge population of Muslims and therefore halal restaurants are aplenty.
8.) Brunei
Brunei is one of the safest and most family-friendly countries worldwide, yet it is also one of the most underrated and overlooked destinations for holidays.
The country is one of the smallest nations on earth, located on the island of Borneo in South East Asia.
While there is freedom of religion in Brunei, 67% of the population is Islamic. Bandar Seri Begawan, Brunei's capital has a rich Islamic background and is considered to be very Muslim-friendly.
Brunei is one of the safest countries worldwide, obtaining an exceptional safety ranking of 'Level One', comparable to other countries like Australia, Singapore, Sweden and Switzerland.
To sum up what can be seen and visited in Brunei: Mosques and nature. Brunei's mosques are known for their beauty and elegance.
The Omar Ali Saifudden Mosque is a major historical site and one of the most famous tourist attractions of Brunei. It is also considered to be one of the most beautifully constructed mosques in the Asia Pacific.
And although it is a small country, Brunei has conserved 70% of its rainforests and is home to some of the world's rarest wildlife species such as the Sunda clouded leopard and proboscis monkey.
You'll find many tour companies offering family holiday packages with Brunei jungle treks and rainforest lodges, a truly memorable experience.
9.) Sydney, Australia
When it comes to family-friendly destinations, Sydney comes extremely close to being top of the list in global cities.
Its combination of beaches, great weather, nature, wildlife and ease of transportation and being tourist-friendly in general, Sydney is one of the most popular holiday destinations for families. In 2017, Sydney received 3.7 million international visitors and this figure is expected to increase yearly.
Sydney is a city that has something to offer kids of any age bracket. Most of Sydney's attractions can be found centrally, and families need not spend time in the bush to experience Aussie wildlife.
The famous Taronga Zoo is just a ferry ride from Circular Quay, and to those remaining in the CBD (Central Business District) area, there is the Wild Life Sydney Zoo and the Sydney Aquarium located in Darling Harbour.
Sydney has the largest Muslim population in all of Australia so finding halal cuisine is not hard. From traditional Lebanese, Indian, Turkish – all can be found scattered throughout the city .
The luxurious Four Seasons Hotel Sydney is centrally located in George Street, minutes from Circular Quay and the Rocks Markets. They can provide, upon request: Prayer mats, list of halal restaurants in the area and no alcohol in the mini-bar.
10.) Xi'an, China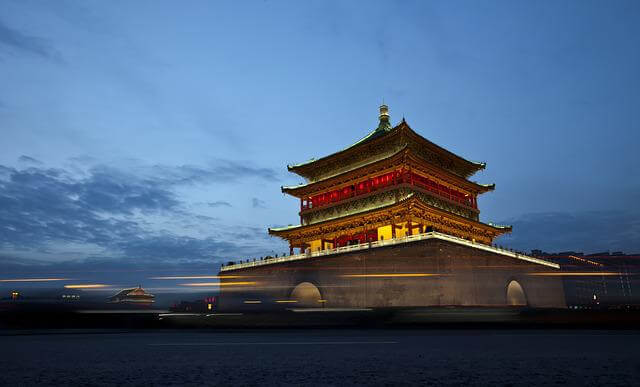 Xi'an, the capital of Shaanxi Province in central China, is very Muslim-friendly with a lot of Halal cuisine and historical treasures to be discovered.
Xi'an is famous for the Terracotta Army, a collection of terracotta sculptures depicting the army of the first Emperor of China, Qin Shi Huang. Most tourists who come to Xi'an flock to see that, but not very many know of another gem in Xi'an: the Muslim Quarter, where history makes a clear mark in present society.
Marco Polo's silk road actually had its starting point in Xi'an. As a result of this, the route from China to the Middle East (and vice versa), helped the Islamic faith make its way to the east and you can get a glimpse of China's Muslim population and influence in Xi'an's Muslim Quarter.
Quite literally the melting pot of East and West, Xi'an is also home to plenty of halal and vegetarian restaurants.
Apart from the terracotta soldiers and Muslim Quarters, there's a ton of things to do in Xi'an and families who appreciate history and adventure will absolutely enjoy this city.
---
Discover more destinations at ATM
Arabian Travel Market is the market leading, international travel and tourism event unlocking business potential within the Middle East for inbound and outbound tourism professionals. Find out more about ATM and how you can attend.
---