If your food preference and choices changed during the pandemic, you're not alone. A 2021 study done by the American Society for Nutrition found that how people ate, shopped and felt about food changed as the pandemic rolled out.
Though we're well past the pandemic, some of these changes are continuing to influence how consumers prefer to have their gastronomic experiences.
Food is considered a common ground and a universal experience that ties everyone from diverse backgrounds, so these global food trends are definitely seen to influence the dining scene in the Middle East in 2023.
There are an estimated 300,000 restaurant and food service establishments in the Middle East, and 13,000 of those are based in Dubai.
To get a perspective on how establishments are adjusting and thriving to these trends, I got in touch with Alina Abramovich, Director of Marketing at the Kempinski Mall of the Emirates, who provided compelling insights.
Kempinski Mall of the Emirates is a luxury hotel in the centre of Dubai. On top of having direct access to one of Dubai's top shopping malls, the hotel also offers four culinary concepts to its guests.
---
Join us at World Travel Market London
The market leading travel and tourism event brings the whole world together in London.
Join us from 6–8 November 2023 at ExCeL London.
---
2023 food and beverage trends in the Middle East
More demand for plant-based menu
The popularity of plant-based diets has been increasing even before the pandemic, and it is seen to continually rise.
Overall health benefits, animal welfare, and environmental activism are one of the key reasons why people shift to a vegan diet.
When Fast Company asked the Middle East's top restaurateurs for food trends coming in mid-2022 and beyond, a number of them foresaw the popularity of plant-based dishes increasing. One of the featured respondents, Jad Aboujaoude, managing partner for Salmon Guru and Elements Hospitality credited diners becoming more health-conscious as a reason for the plant-based popularity.
Sustainability group LIVEKINDLY has identified the Middle East as the new hotspot for vegan food, and reported that Triton market research expects at least 12 new vegan restaurants to open in the region. Overall the vegan meat market in the Middle East is projected to have a compound annual growth rate (CAGR) of 9.84 percent between 2019 and 2027.
At the Kempinski Mall of the Emirates, Abramovich said that their Middle Eastern-inspired restaurant offers plant-based dishes that are traditional to the Levantine cuisine for thousands of years. Its Spanish restaurant Salero has been offering several plant-based food options using alternatives such as mushrooms, potatoes, eggs and beans.
Sustainable consumption and dining
As people become more aware that our own production and consumption patterns affect the environment and the number of resources we have available, the demand for sustainability is getting stronger not just in the dining scene but in all industries.
In the Middle East, consumers are increasingly mindful and are pushing for more sustainable food options.
Catering and F&B publication Caterer Middle East conducted a survey of 7,000 food consumers in 2022 and found that:
43% of consumers are willing to pay more for takeaways in restaurants that have visible sustainability practices. Another 47% said that they would even consider changing what they order from the menu to be more sustainable.
Communication and transparency are also crucial. Because there are plenty of ways to practice sustainability, establishments need to be vocal, open, and openly communicate to customers and clients how they practice this.
The survey revealed that 56% of respondents would like restaurants to better share how they are working to make takeaways and deliveries more sustainable.
56% also don't feel that restaurants are very transparent about their sustainability practices, and 66% believe that it's important for restaurants to be open about their practices to limit food waste.
The Kempinski Mall of the Emirates practices a 'binless' system where almost 80% of the hotel's waste is recycled. Abramovich said that the hotel has implemented a system to reduce food production and convert food waste to manure.
---
Get the latest travel insights delivered straight to you
Sign up to receive the WTM newsletter and get updates direct to your inbox.
---
Less Alcohol Consumption
Yes, we are talking about the Middle East, where alcohol consumption is considered haram, or forbidden. However, the younger population worldwide are, in general, consuming less alcohol than the earlier generations. In 2020, the European Journal of Public Health found that alcohol consumption among adolescents has declined since the year 2000.
The 2019 publication 'Young Adult Drinking Styles', counted a number of reasons behind this. Economic factors may impinge the amount of time and money young people spend on alcohol.
Other reasons could be that the younger generation has seen the effects of alcohol in their parents' generation so they are choosing to live a healthier lifestyle. Social media could also have taken the place of peer pressure drinking in adolescents, which was a popular rite of passage before the Internet / social media age.
Rather than alcohol, Generation Z consumers are preferring newer niches of drinks such as mocktails, cannabis-infused beverages, Kombucha, which is considered the new soda of the younger drinkers, among others.
Restaurants and hospitality brands in the Middle East have long been creating and innovating non-alcoholic beverages for customers, so this trend will definitely create more opportunities for establishments.
---
Don't miss out on our world-leading events
We bring travel and tourism professionals together, from around the world at our events. Discover the closest one to you and join the WTM community.
---
Trending: Medjool Dates
This is not a typo or a drill. Medjool dates, which have been in the Middle East for thousands of years, are now trending in 2023.
Medjool dates have become so popular that Whole Foods Market named the fruit as one of its top food trends for 2023, saying,"with a classic caramel note we can all get behind, dates are having their moment."
Thanks to consumers' overall shift to healthier choices, dates, with its high fibre content and abundance in phytonutrients, have gained popularity in social media and other traditional media outlets.
American Medjool dates grower Natural Delights have reported a consistent increase in demand for dates over the last five years. The company even founded an official holiday for the fruit: National Medjool Date day every 4th of February.
This trend is definitely good news for the Middle East, where dates are naturally in abundance. It presents an opportunity for establishments to not just showcase Medjool dates on its own, but to incorporate it in menus, especially as the fruit has become a popular healthy substitute for sugar and carbs.
At the Kempinski Mall of the Emirates, Abramovich noted that on top of incorporating dates in their menus during Ramadan, their Iftar buffet also contains several varieties of Ma'amoul, cookies filled with date paste made from the finest Medjool dates.
Dates and other local ingredients can also be incorporated in dishes due to the popularity of fusion food not just in the Middle East, but globally. For instance, the dishes at the Kempinski Mall of the Emirates' Olea restaurant are traditional but tweaked to include diverse ingredients representing the UAE and the region.
Immersive Dining Experience
The concept of experiential or immersive dining isn't anything new, but its popularity propelled worldwide after the pandemic.
The days of lockdown and having meals delivered at home had people wanting more than simply being fed in a restaurant. To be entertained, amused, and have all the senses enthralled whilst dining is something that will be even more popular in 2023.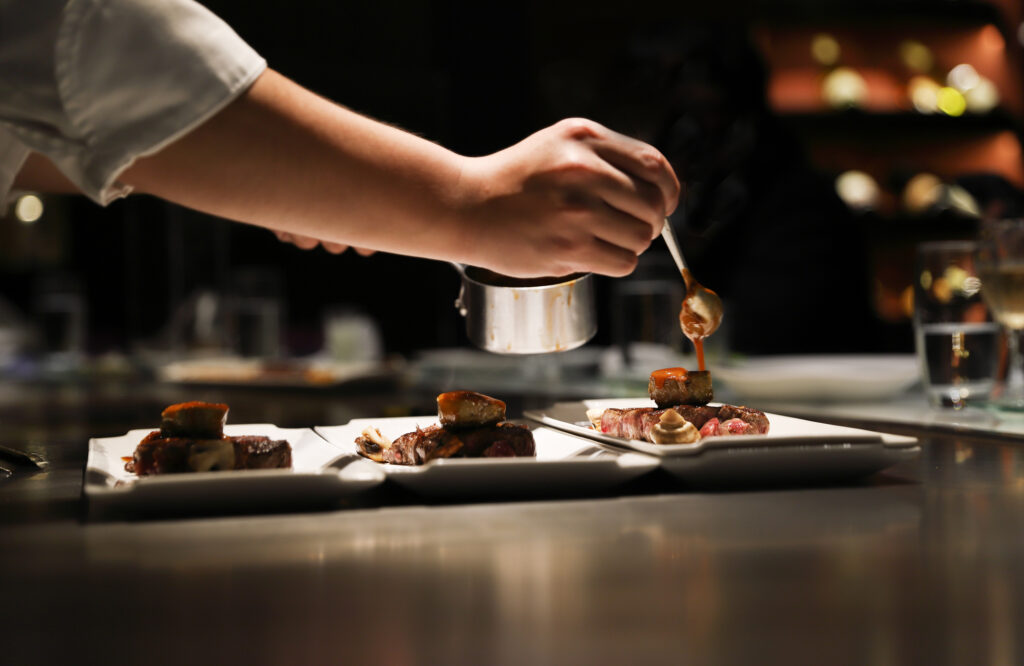 The global success of Le Petit Chef, a new dining concept that combines theatre and 3D projection mapping in a culinary experience is proof of this trend. The 6-course French dinner with visual mapping is currently available in 36 locations worldwide.
Dining in the dark concept, which originated in the late 90's in Europe, has gained popularity over the last couple of years in the Middle East, and can be experienced in various locations, such as the Bab Al Qasr Hotel & Residences in Abu Dhabi and The Fairmont Dubai. From use of technology, ambience, and location – the options are endless when it comes to establishments providing a unique dining experience to customers.