There is a Chinese proverb that goes, "When the wind of change blows, some build walls, while others build windmills."
When you're in the tourism and travel industry, you know that the winds of change can come anytime, and it is only wise to be building those windmills to adapt.
Over the last several years, travellers from China have been making the greatest impact in worldwide tourism.
A report from Madrid-based UNWTO (United Nations World Tourism Barometer) demonstrated that in 2017, Chinese tourists spent over 250 US Billion, consolidating its position as the biggest spender in the world. (source: UNWTO report)
This data from the World Tourism Organization's Yearbook of Tourism Statistics clearly indicate that while China has been experiencing a steady growth in outbound travellers since 1997, it was in the year 2010 when the growth skyrocketed quickly (in 2010, China had over 47 million Chinese tourists abroad, and in 2017, there were over 143 million Chinese who travelled overseas.
It's no wonder that every year, tourism boards of various countries conduct research on how best to cater and attract high spending tourists from China.
Here are some key information about high-spending Chinese tourists:
There is a slight shift in what they spend their money on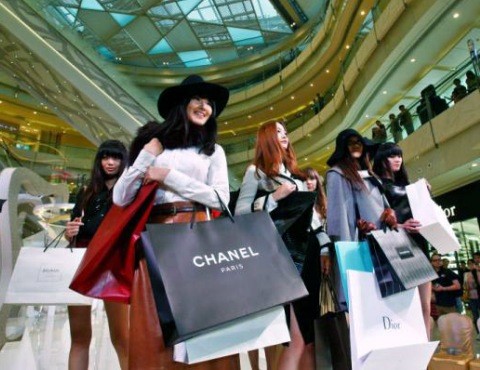 In October of 2018, the Chinese government started to impose a limit on how much luxury goods Chinese tourists can take home. In a bid to increase domestic spending, the Chinese government imposed a crackdown on the shopping practice known as daigou, where 'personal shoppers' purchase luxury goods from overseas in order to re-sell in China.
Local offices and stores of luxury brands such as Chanel, Louis Vuitton and Hermes are set to see sales increase within China. But Chinese tourists are still spending overseas. They have now focused on items and brands that are not readily available within China. As a result, more understated luxury brands like Goyard, Delvaux and Moynat are being sought after overseas. (source)
There is more focus on experience
Chinese tourists are spending more on local experiences like food and tours
Despite the decrease in luxury brand shopping overseas, Chinese tourists are still spending but this time there is a focus on experiential 'services and goods'.
But as Chinese tourists become increasingly well-travelled, their tastes also become more mature and evolved so they are now willing to spend more on local experiences that tell a story that is quite unique to them.
The more experienced travellers are looking to invest and spend on experience-based products and locally-sourced goods in order to signify their status as a cosmopolitan global consumer.
As an example, this Chinese tourist profile information by Visit Britain has shown that among the popular activities that Chinese tourists in the UK engage in, shopping is only third in the priority (Dining in local restaurants and visiting gardens and parks top the list).
Overseas brands and shops should consider mobile payment
Certain retailers in Europe have already implemented mobile payment apps like WeChatPay
In terms of being a cashless nation, China has been way ahead of its time and contemporary countries. In 2018 alone, China's shoppers have spent a record US $41.5 trillion transactions on their mobile phones for online and in-store expenditure.
An estimated 525 million mobile phone users in China use the two leading payment apps WeChat Pay and AliPay for their shopping. (source: TechinAsia)
An insight by leading market consumer research firm Nielsen has shown that in 2017, 65% of Chinese tourists used mobile payment for their shopping overseas, compared with only 11% of non-Chinese tourists.
Over the last couple of years, European retail brands have started implementing WeChat Pay. In 2017, the Galleries Lafayette group in Paris has integrated WeChat Pay, and in 2018, WeChat Pay had collaborated with Docomo Digital in order to cater to Chinese tourists visiting Italy.
Chinese tourists are seeking pristine environments
Places with pristine environments are popular with Chinese tourists, such as New Zealand
Mark Edelson, president of Alila Hotels and Resorts (a part of Global Hotel Alliance, headquartered in Singapore), has stated that, "as Chinese people began to travel more and gain international exposure…they seek opportunities to escape the polluted cities to get away to more pristine environments." (source)
A South China Morning post article states that China's air pollution problem from smog were found to cause an average 1.1 million premature deaths in the country annually and may be causing the Chinese economy a loss of an estimated US $38 billion a year in the form of early deaths and lost food production.
It is human nature to seek what is rare and lacking from our natural environment. It is therefore unsurprising that countries abound with natural resources and relatively cleaner environments are popular in the Chinese tourist's go-to list. (outside of Asia, Australia, Singapore, Italy and Germany are topping the list).
—
Two years ago, we took a look at what the high-spending Chinese millennials travellers prefer, and it's evident that a couple of years is enough time to see changes in their spending preferences and habits.
There are many factors to consider when analysing what makes a particular tourist group's taste change and evolve, but one thing is certain when it comes to tourism trends: change is the only thing that is constant, and we would be wise to adapt to it.