Let's all do a little time-travelling and look back in the mid-90's to early 2000's. This was a time in commercial travel where in general, airlines' business class seats were quite competitive. These seats with extra wide legroom that can be reclined very comfortably came with all other 'front of the plane' perks that were so similar to the airlines' own First Class seats. So similar that passengers found little reason to upgrade to First Class tickets.
It was at this point that airlines decided to revamp the First Class seats, starting with British Airways and Air France, who introduced seats that lie fully-flat in order to give passengers ample reason to spend more in First Class.
Commercial aviation has come a long way now, almost all major airlines' business class seats on long haul flights have seats that lie fully flat.
But among all these airlines, it is the Middle East airlines that have brought First Class travel to a completely different level. From hot showers 30,000 feet above ground to your very own 3-room suite up in the air, here are some of the most luxurious ways you can fly with Middle Eastern carriers.
Emirates
It was around 4-5 years ago when Emirates made headlines when they were able to create the most indulgent activity imagined: taking a luxurious, hot shower spa 30,000 feet above the ground. These are available for First Class passengers on their A380 planes, and also select Business Class long-haul flights.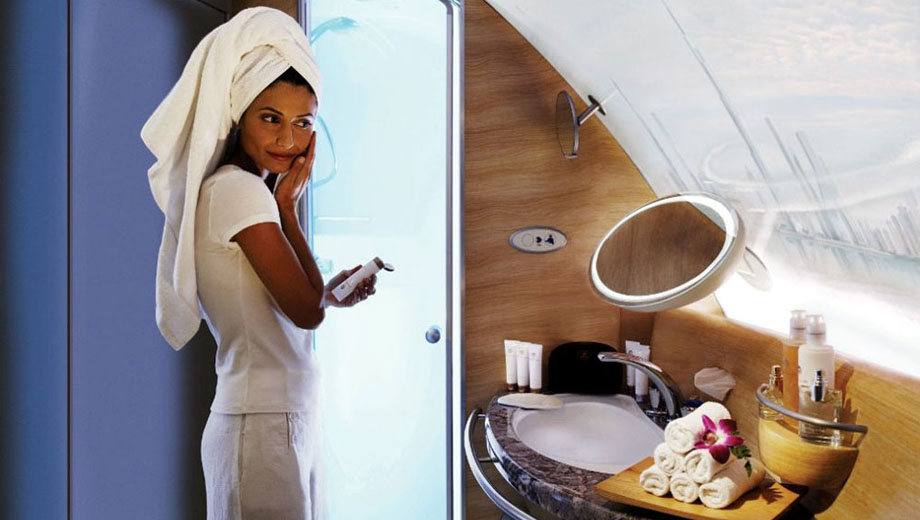 On every Emirates A380, there are 2 spacious shower suites, so there is 1 shower suite for every 7 passengers on First Class. Passengers have to book a time slot to use the shower. This is to ensure that every passenger has quality experience, as the showers are cleaned each time it is used. Each person can use the shower suite for around 30 minutes, and have 5 minutes' worth of hot water for the shower.
Cabin-wise, Emirates is also the first to introduce fully-enclosed First Class Suites on the B777.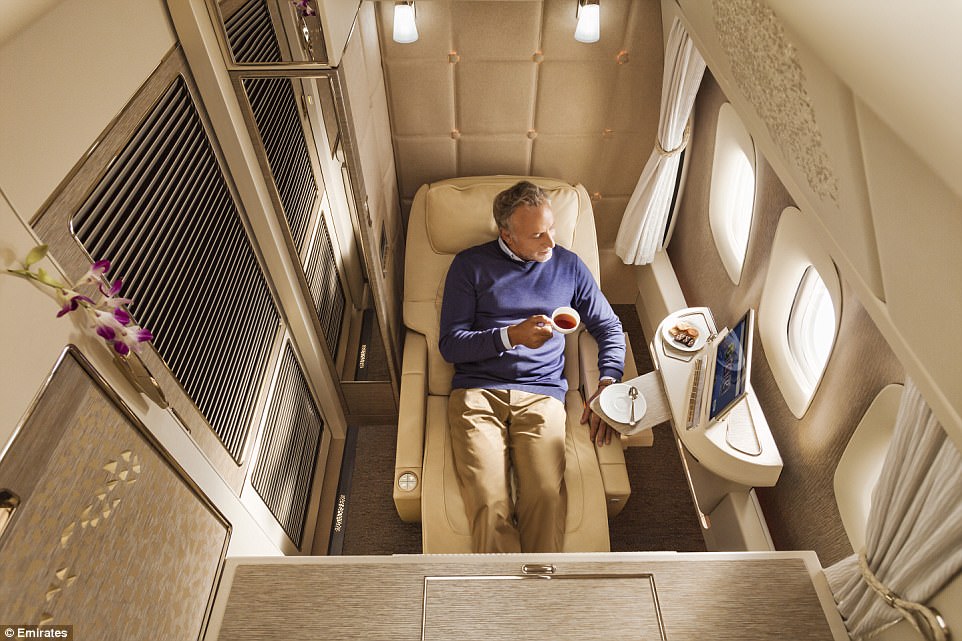 These fully-enclosed cabins measure 40 square foot and offer the utmost privacy with 32 inch TV screens, and private dining set up. Passengers also have full control of lighting and temperature. And those who are booked in middle suites (middle seat equivalent of the First Class cabin) can enjoy virtual windows with HD projections.
Four years ago, Mercedes Benz invited the Emirates' design team at a design workshop in Wouburn Abbey in the UK.
As car and aircraft designers, both brands face similar limitations and parameters when trying to deliver comfort and function within confined spaces, and meeting safety standards as well.
Top Gear's Jeremy Clarkson introduces Emirates' First Class Studio:
Etihad Airways
Etihad Airways is the national carrier of the UAE with its head office and hub in Abu Dhabi.  And if you want to book the most luxurious way to fly commercially at the moment, you cannot possibly go higher than Etihad Airways' The Residence.
The Residence is an apt name for this product, because a passenger gets not one but a three-room suite in the sky.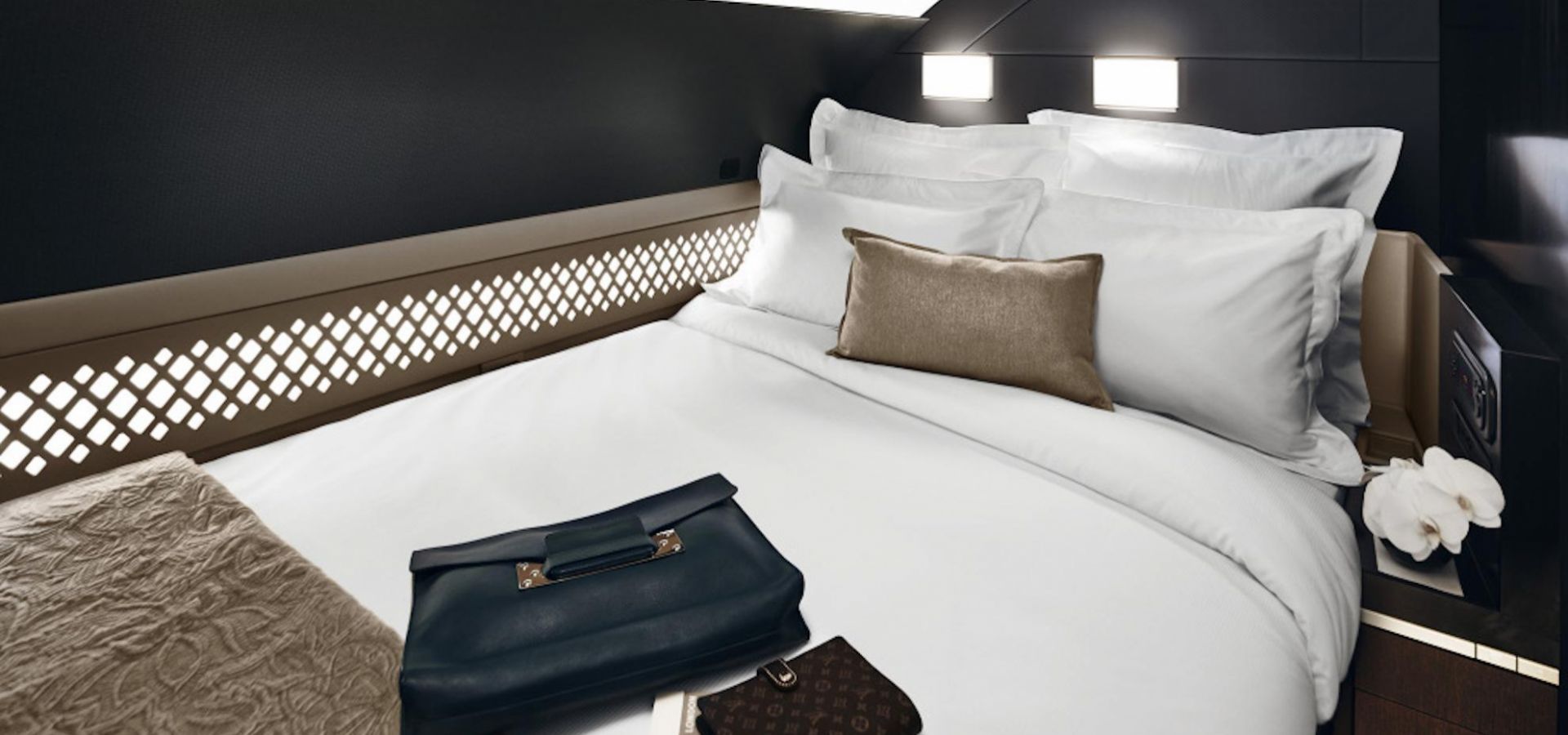 When you book, for instance, a USD 29,000 one-way The Residence ticket from New York to Abu Dhabi, you get a living room, separate double bedroom, and an ensuite shower room for the entire 13-hour flight duration. The Residence is designed to create the ultimate flying experience for two, though to be honest, if I can only have an average of 13 hours of The Residence, I would want to have it all to myself. Every minute counts in this kind of luxury!
This 'penthouse in the sky' is only available on A380 operated flights and passengers are given the red carpet treatment from the moment they book their flight. An Etihad Airways VIP Travel Concierge Service takes care of your reservation from the time you make the booking until the end of your stay at The Residence.
A luxury chauffer will also pick you up from your residence (the real-life, on-ground residence most of us are accustomed to) to the airport, where you will be led to a private check-in and lounge.
And when you're in The Residence, Etihad Airways wants to ensure that you really feel you are living grandly, and not just flying or passing through. You can say 'move over' to your usual cabin crew, because passengers are supplied with their very own Butler in The Residence.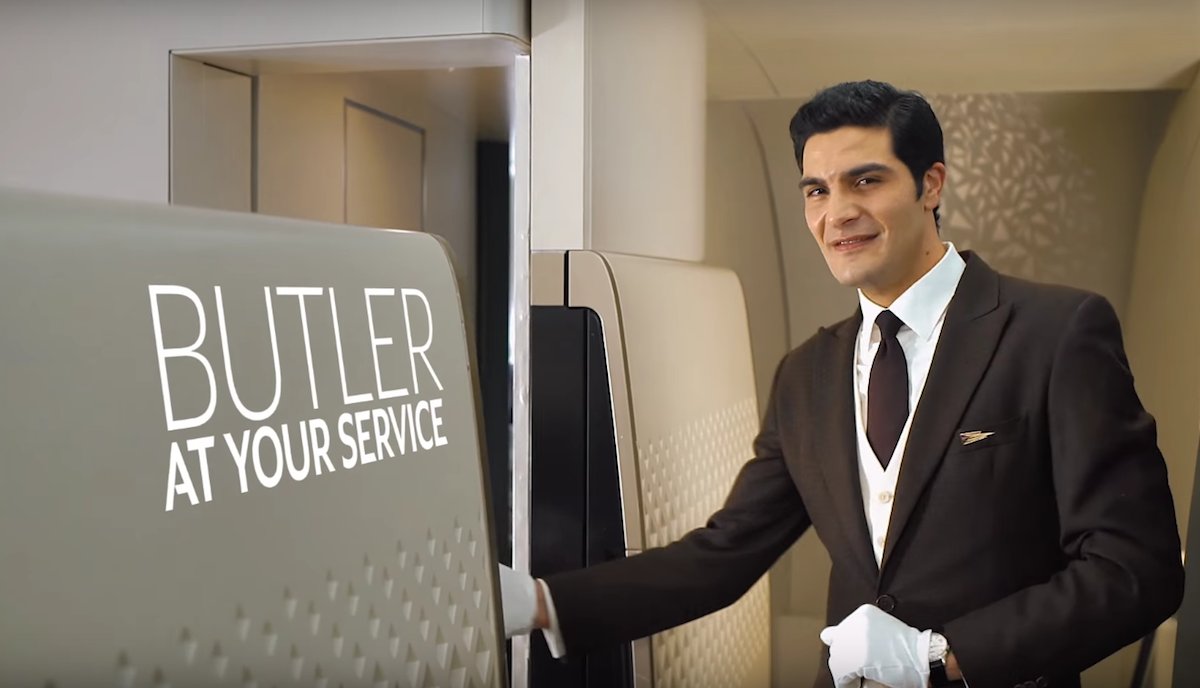 These butlers, who have undergone a specially tailored course at The University of West London and The Savoy Hotel, look after a guest of The Residence's needs not just on board but on ground as well. They take care of the most minute detail such as noting whether the guest is left or right-handed so they know which side to place a drink, down to making arrangements for a guest's post-flight appointments when they reach their destination.
Australian singer and X-Factor's Dannii Minogue takes us through Etihad Airways' The Residence:
Saudia
Also known as Saudi Arabian Airlines, Saudia is the national carrier of Saudia Arabia, with its hub and main operational base in Jeddah. In terms of airline revenue, Saudia is the third largest in the Middle East.
A member of the Skyteam Alliance, Saudia launched its First Class Suites in late 2016, featuring enclosed suites in a 1-2-1 configuration on their B777 aircraft fleet.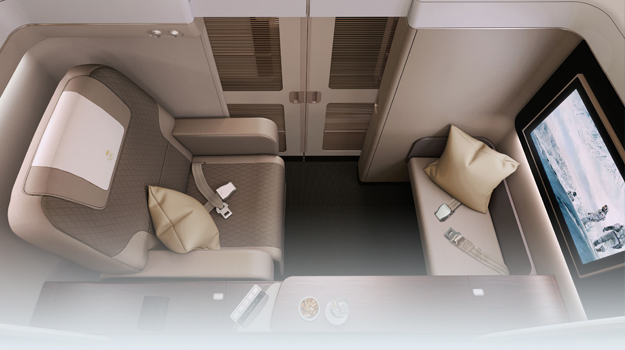 These fully enclosed private suites feature a spacious 82-inch long seats that the cabin crew can convert into full-flat beds with an additional mattress and pillow. 23-inch HD screens are fitted in every suite, and those who prefer to do work up in the air won't be disappointed with a generous 24 x 24.5 inch table, with Wi-Fi service on board.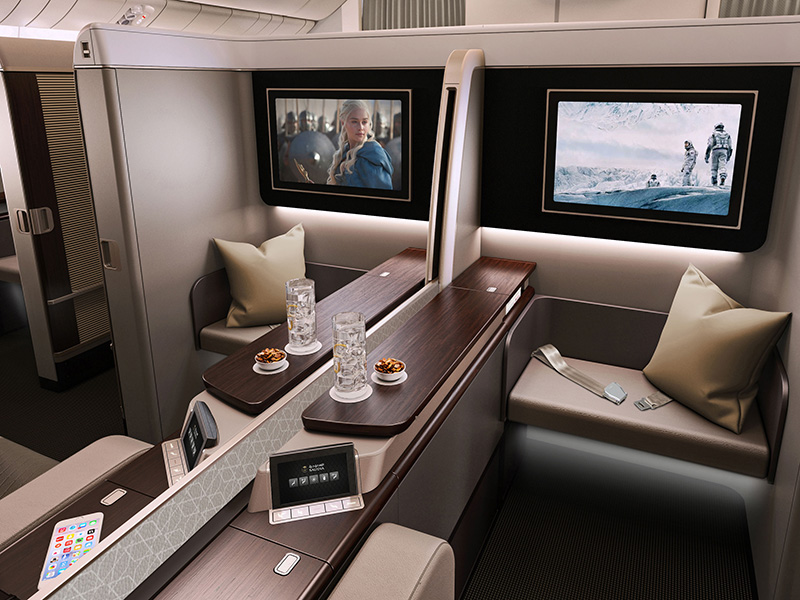 A four-course ala carte dining prepared by their chef onboard is also an exclusive service for Saudia's First Suite guests.
Here's Saudia's official video feature of their First Suite product:
—
These are just a few of the most luxurious ways you can fly via Middle Eastern carriers. As they are current pioneers in luxury commercial air travel, we can expect to continuously see breakthroughs and improvements in seats and experience throughout the next several years.
—
Have you ever flown in any of these seats and carriers? How was your experience?
—
This is the third and final article for the Middle East Luxury series leading up to Arabian Travel Market in Dubai on 22-25 April 2018. ATM is the leading international travel and tourism event unlocking business potential within the Middle East for inbound and outbound tourism professionals.
The previous luxury articles talks about the travel and spending habits of Millennials in the Middle East, and an exploration of the luxury hotel boom in the Middle East.