Last year, scientists and 'Gin'preneurs, Dr Les Ansley and his wife Professor Paula Ansley, launched the world's first elephant dung-based gin. Under the guidance of 'gin master' Roger Jorgenson they created 'Indlovu Gin'– an innovative, premium gin that uses the foraging habits of the world's largest land animals to select the botanicals used in the gin process.   At the beginning of 2019, the first bottles went on sale and are now available across South Africa and several other countries.
'Our unorthodox and unconventional gin has led us on an incredible 18-month journey from concept through to market. The idea for our gin was born from the fusion of two African experiences. The first was the enjoyment of sipping sundowner gin and tonics around a Kenyan waterhole watching the elephants drink and the second was walking through Botlierskop game reserve with a ranger who explained the foraging habits and digestion of African elephants. The guide explained that elephants digest only a small amount of what they eat and the rest is deposited on the bush floor.  One morning, a few months later, I quite literally had a lightbulb moment, connected a few elephant-sized dots and wondered whether elephant dung could be used to produce a gin.
Over the next few months, we explored whether it would be actually possible to produce a premium gin from the rich botanicals found in the dung of naturally foraging African elephants. Following some research, we also learned that elephant dung has long been believed to have medicinal properties and has been brewed as a tea for centuries by tribes throughout Africa. We were able to obtain dung from Botlierskop game reserve, start experimenting and a few months down the line, we completed our first run of Indlovu gin.  Giving back to wildlife conservation was also key to us and we donate 15% of the profits from gin sales to Africa Foundation for conservation and community empowerment projects.
We are delighted that since we have been producing Indlovu gin we have been able to donate funds to Phinda Conservation projects including anti-poaching training for rangers.  Our gin also won a double-gold at the South African Craft Gin Awards which was very exciting for us and it was hard to believe that our slightly crazy idea had been awarded such an accolade!  We were most fortunate that our story peaked the interest of the media across the world – we even featured in the New York Times.  We have 'Proudly South African' status and hope we have been able to fly a positive flag for South Africa with our unusual gin.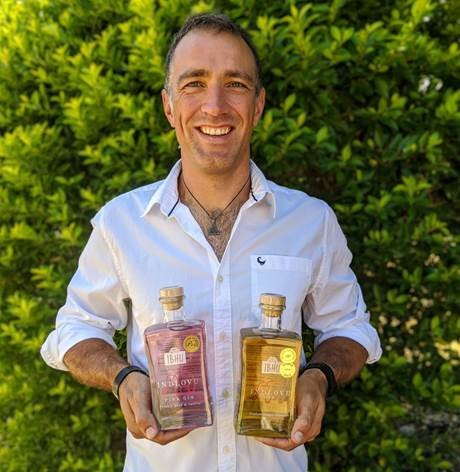 Indlovu gin has a unique wooded, earthy flavour, somewhat reminiscent of the African bush and we find that it goes very well with orange and a light tonic. We believe that a sip of our gin will take you back to sundowners in the tranquillity of the African bush!  Most certainly a gin for those with adventurous spirits'.
Paula and Les are also about to launch a further gin shortly, but a 'dung-free' version with elephants and conservation still very much in mind.  'Our new gin will be a delicious pink gin made from prickly pear – considered a delicacy by elephants who, believe it or not, are able to remove the prickles with their feet!'
Gin tastings and ordering will be available at the WTM stand K24.
www.ibhu.co.za