by Marília Borges, Research Analyst for Euromonitor International
While revenue in the tourism industry in Latin America was USD 165 billion dollars in 2017, it was down by an average 2% a year between 2012 and 2017. This is a segment that goes hand in hand with economic activity, so if the performance of the GDP slows down, the performance of tourism will slow as well.
This has to do with the disposable income of consumers and how this affects how much they are willing to spend to travel. But despite experiencing difficult times in recent years, the tourism industry in Latin America has seen some interesting movement; the arrival of players like Airbnb, for example, has revolutionized the way in which Latin American tourists choose their accommodation when planning their trips.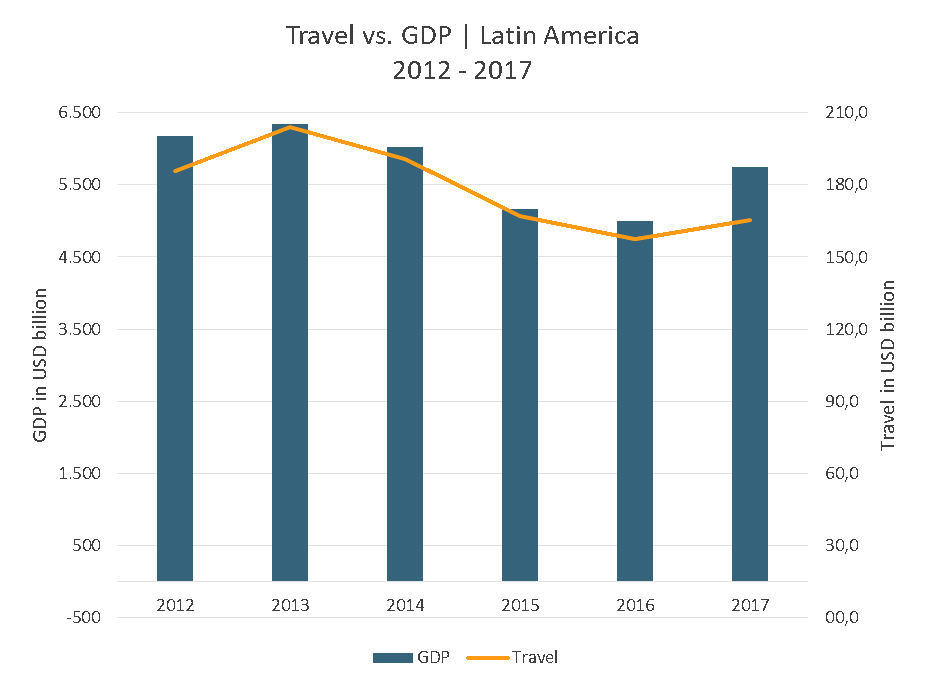 In the last five years there has been an increase in inbound tourism in the region, driven by mega-events such as the Summer Olympics in Rio de Janeiro in 2016 and the World Cup, which was also held in Brazil in 2014. Despite the average increase of 6% per year in the number of travellers arriving in Latin American destinations between 2012 and 2017, this was still not enough to keep the tourism activity thriving during this period. This is largely due to the fact that although there has been an increase in the number of foreign tourists setting foot in Latin American destinations, they have not come to spend much. The World Cup was an example of this, since many international travellers came to Brazil without knowing for certain where they were going to stay, or even for how long.
Some sectors, however, have benefited from this scenario, like the short-term rentals market, the main player of which is Airbnb. In a scenario in which foreigners are reluctant to spend, this particular category's growth rates were robust at 53% a year between 2012 and 2017, which was much more pronounced than the hotel rates, which fell by 0.5% a year. In 2017 the short-term rentals category had revenues of USD 85.5 billion.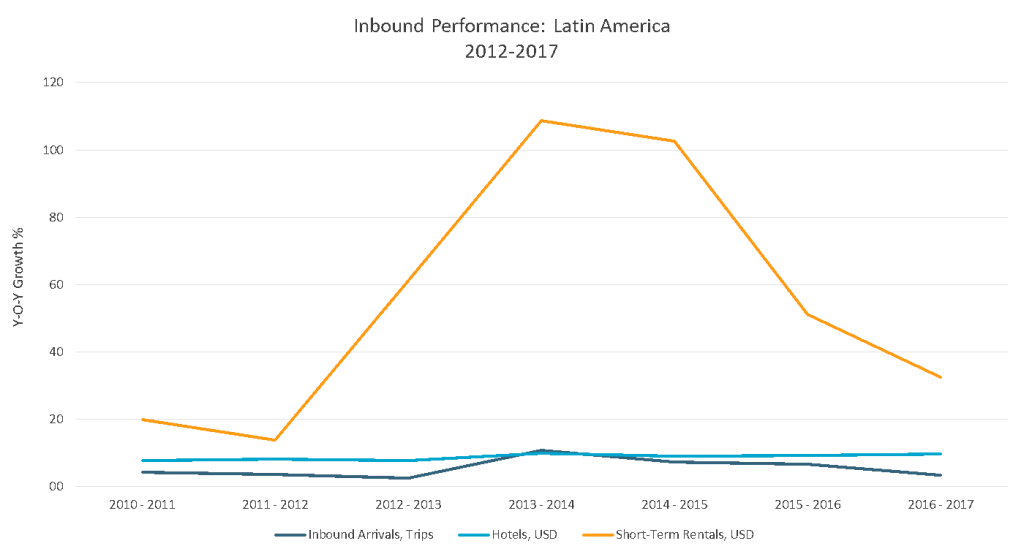 Latin America received many tourists from other regions in this period, such as North America and Europe, and they were already accustomed to using these less traditional accommodation alternatives, which helped fix them in the mentality of Latin American tourists as a valid alternative to be considered when planning a trip. This helped sustain the accelerated pace of growth in short-term rentals in the region. Airbnb's business model is also based on the premise that it is able to offer travellers a more authentic travel experience than if they were to stay in a traditional hotel.
Over the next few years, players like Airbnb are expected to continue to drive strong performance in the short-term rentals category. This movement is likely to be sustained both by the fact that consumers continue to seek more economical accommodation options and by strengthening the travel experience with touches of "what a local resident would do".
To find out more, download the Euromonitor International report that was presented at WTM Latin America 2018: https://bit.ly/2qp7KzK
About Euromonitor International
Euromonitor International is a global consumer goods and services market research and consultancy firm. With its head office in London and more than 40 years' experience, it is the leading provider of business intelligence and strategic market analysis for companies worldwide. It offers customized research solutions and annually publishes information about performance and trends in 30 industries across 80 countries, as well as adding demographic and socioeconomic data of countries and consumers.