There is growing awareness of the consequences of climate change. Last year the Pew Research Center surveyed people in 14 countries, amid the pandemic, about climate change. A median of 70% said that they were concerned about the threat of global climate change, 69% said the same about the spread of infectious diseases. The climate change issue is increasingly salient, and politicians are responding. There are promising developments with hydrogen and e-fuels, but the aviation sector is still investing in drop-in sustainable aviation fuels, which cannot be scaled up to decarbonise aviation on a sufficient scale. Planes beign built and commissioned now will still be flying post-2050, or expensively scrapped.
Just last week, US President Joe Biden asserted that this is the "decisive decade" for tackling climate change. In his opening address, he said, "Scientists tell us that this is the decisive decade – this is the decade we must make decisions that will avoid the worst consequences of the climate crisis… We must try to keep the Earth's temperature to an increase of 1.5C. The world beyond 1.5 degrees means more frequent and intense fires, floods, droughts, heatwaves and hurricanes – tearing through communities, ripping away lives and livelihoods."
The President committed the US to cut carbon emissions by 50-52% below 2005 levels by the year 2030. The EU has committed to cut CO2 emissions by 55% over 1990 levels by 2050. The UK has committed to a 78% reduction by 2035. China has pledged to peak its emissions by 2030, and achieve carbon neutrality by 2060. In 2020 the US experienced a record number of named tropical storms formed in the Atlantic, with a record 12 making landfall and its most active wildfire year on record, leaving 262 dead. There were a record-breaking 22 billion-dollar weather and climate disasters that struck the country in 2020. more
The need for action is increasingly urgent. The longer we procrastinate the more damage we shall do and the greater the cost. Sanderson and O'Neill in a paper published in Nature in June last year calculated that each year of delay in tackling climate change costs 0.5 trillion dollars per year to keep climate change below 2°C.
There is a widespread misconception that greenhouse gas emissions reduced as a result of the pandemic during 2020. . The continuous data set collected at Mauna Loa Observatory, Hawaii, provides annual, monthly and daily data. None of it gives cause for comfort. For all the talk we have not dented the growth in greenhouse gas emissions, their data demonstrates it is accelerating.

These costs are no longer theoretical. The Association of British Insurers tells us on their website that the "increased frequency and severity of major weather events means a higher number of more costly claims for insurers to deal with, globally as well as in the UK… Hurricanes Florence and Michael, which hit the US in the second half of 2018 are believed to have resulted in insured losses of more than $10 billion." Not all the losses attributable to climate change are insurable.".In January, the UN Secretary-General reported that extreme weather and climate-related hazards had killed more than 410,000 people in the past decade, the vast majority in low and lower-middle-income countries.
The rhetoric has changed gear. At the virtual summit last week, there was more of a sense of urgency. The rhetoric is stronger and the US is back at the table urging others also to act. China and the US jointly committed to "working together and with other Parties to strengthen implementation of the Paris Agreement" and they have committed to "Cooperation on addressing emissions from international civil aviation and maritime activities."
National governments will reduce most of tourism's contributions to greenhouse gas emissions through action on electricity generation, buildings, and ground transportation. On Earth Day last week, we pointed out that aviation is pursuing a Business as Usual strategy. Since COP3 in 1997, CO2 emissions from aviation have almost doubled and currently match the 129 lowest emitting countries' total emissions. WTM, as part of its Platform for Change, has published Time for Effective Action to Remove Greenhouse Gas Emissions from Aviation.
The Achille's heel of our sector is aviation. 81% of aviation emissions come from passenger travel; and 19% from freight. From passenger aviation, 60% of emissions come from international travel, and 40% from domestic. The failure of the aviation industry to decarbonise endangers the future of travel and tourism for the outbound industry, travellers and holidaymakers. And most seriously, for those destinations dependent upon aviation for tourism, their essential source of foreign exchange.
The emissions efficiency of aviation has shown remarkable improvement since 1950 through advances in design and technology, larger aircraft sizes and increased passenger load factors. Aviation's contribution to climate change – 3.5% of warming, or 2.5% of CO2 emissions, But as other sectors decarbonise, aviation will become a larger proportion of emissions.
In March 2020, the respected German consultancy Roland Berger forecast that if other industries decarbonise in line with current projections, aviation could account for up to 24% of global emissions by 2050 unless there is a significant technological shift.
This graph shows greenhouse gas emissions by sector for the UK from 1990-2016, the most recent data available. Only agriculture, buildings, transport, electricity and heat, emit more greenhouse gases than aviation and shipping.
Three scientists, Dyke, Knorr and Watson, have just published on the consequences of procrastination, recounting the series of "too good to be true" false dawns and the rise of net-zero. They point out that we need to move to a net negative target by 2050, emissions are cumulative and we will passs the 1.5°C target.  "Within a few decades, we will need to transform our civilisation from one that currently pumps out 40 billion tons of carbon dioxide into the atmosphere each year, to one that produces a net removal of tens of billions."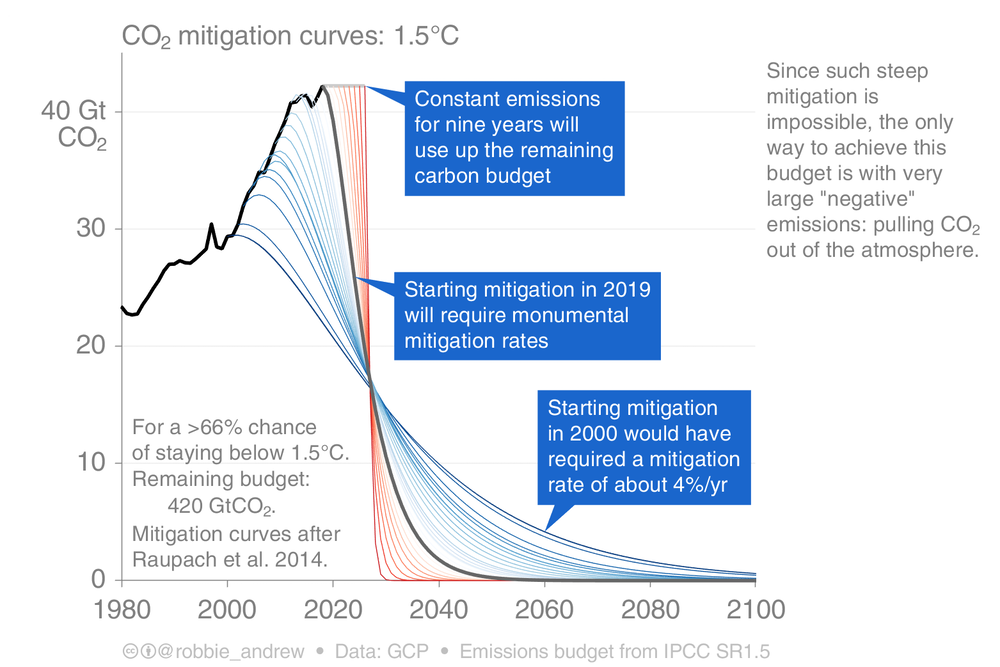 Their conclusion is unpalatable
"The time has come to voice our fears and be honest with wider society. Current net-zero policies will not keep warming to within 1.5°C because they were never intended to. They were and still are driven by a need to protect business as usual, not the climate. If we want to keep people safe then large and sustained cuts to carbon emissions need to happen now. That is the very simple acid test that must be applied to all climate policies. The time for wishful thinking is over."
We need effective action and we need it now.
Ritchie H (2020) Climate change and flying: what share of global CO2 emissions come from aviation?
Want to receive the latest Responsible Tourism news? Sign up to our newsletter and opt in for updates about this category.
Nominations for the Responsible Tourism awards are now open, and this time they're global. They're free to enter, and the deadline is 31 August 2021. Categories include: Decarbonising Travel & Tourism, Sustaining Employees and Communities through the Pandemic, Destinations Building Back Better Post-COVID, Increasing Diversity in Tourism: How inclusive is our industry?, reducing Plastic Waste in the Environment and Growing the Local Economic Benefit.