One in four new jobs in Kerala is reported to be in tourism. The state in Southern India, which remains largely unravaged by modern industry, has near universal literacy. It's a state where left and right alternate in power, where infant mortality is low, life expectancy high and the male-female ratio healthy: a vibrant political life with high levels of participation in electoral politics and civic society.
Popular with domestic tourists and with Europeans, many of whom become repeat visitors, Kerala prefers to attract, and therefore targets, "alert independent travellers". Travellers who seek experiences of the landscape, wildlife and the Malayalee culture – a land where nowhere is far from the sea, openness and hospitality come naturally. There are Chinese fishing nets, mosques, Syrian and Catholic Christian churches and a rich Hindu temple life where festivals bring communities together and feed a vibrant spirituality in "God's own country."
It may feel this close to paradise for the traveller but Kerala is still a society in transition, with a high suicide rate and concern about levels of alcohol consumption evidenced in the brief, but disruptive, prohibition of last year. Tourism is important to the Keralan economy and to Keralans. Millions of them work abroad, many of them in hospitality. Without tourism, millions more would need to leave Kerala to work abroad and remit money home.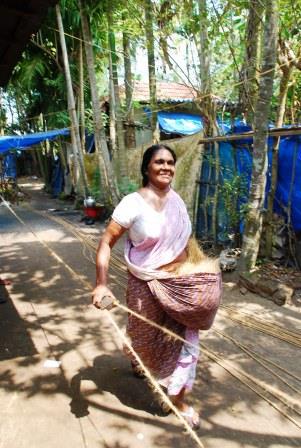 The Responsible Tourism movement in Kerala has focussed on local economic development, on the creation of employment and enterprise opportunities – particularly in rural communities where many toil in agriculture and rural crafts. Tourism can make a difference to their lives and it could still do more. Working with Rupesh Kumar and the Kerala Institute of Travel and Tourism Studies (KITTS), we are conducting a 6,000 household survey to determine just how important tourism is to the rural community of Kumarakom. In Kerala there are more than 160 self-help and producer groups, with 1,800 members, many selling to tourism businesses. Likewise, many small enterprises and sole traders also sell to tourism businesses and tourists. No one knows the cash value of tourism to the community, but with KITTS and the help of Rupesh and his team we shall find out.
Tourism can benefit local communities; hotels can benefit their neighbours by sourcing their food and cotton goods locally. But tourism can do more than that – it can create shared value.
In Vaikom the female coir workers are presently striking for higher wages. They spin and braid coconut "hair" into string. They earn 150 rupees per day, just less than £2. Yet where they are included in a local village life excursion sold through the hotels the same woman will earn 150 rupees in 30 minutes.
This is shared value: value that would not have existed without partnership between the formal industry and local communities. The women secure additional income, while losing nothing of their traditional livelihood, the hotel has a richer offer for its guests, one which is commissionable and which contributes, as part of broader programme, to extending length of stay.
This is the industry taking responsibility to create shared value, good for the businesses and their neighbours.