Simon Press, Senior Exhibition Director World Travel Market, toasted the ten years of Responsible Tourism at WTM and thanked all those who have become part of the WTM Responsible Tourism community and made it such a success. Simon also congratulated all the Gold and Silver winners in the World Responsible Tourism Awards, pointing out that there is lots of very good practice to be shared. This year's Responsible Tourism programme, over all three days of the show, is the biggest ever with 25 events, on topics from disintermediation, and the consequences for sustainability ,to wildlife. All of the panels and the Awards will be available on line in the next few weeks.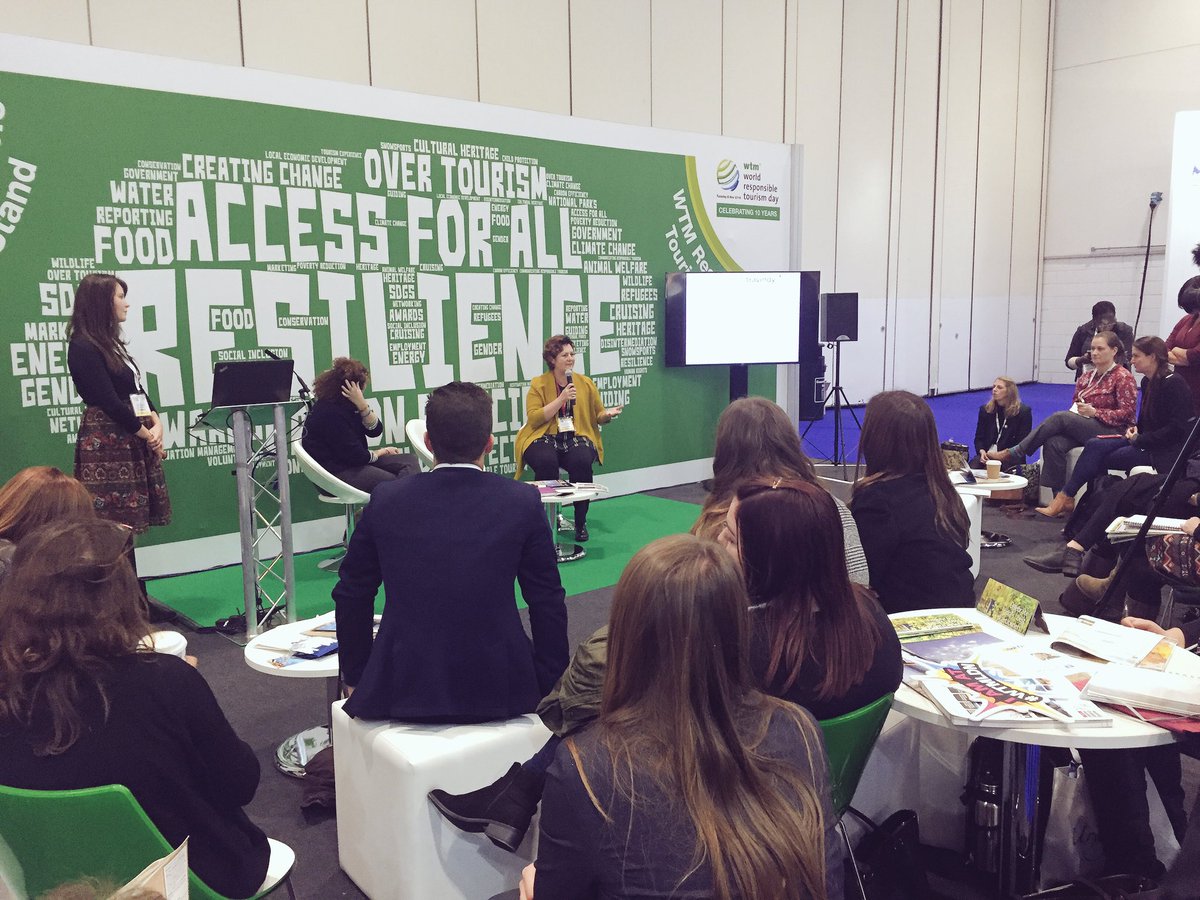 New this year was a programme of conversations on the Responsible Tourism stand in the Africa section – these conversations attracted between 30 and 70 people to talk with each other about topics from  reporting and volunteer travel to how best to create and run host – guest encounters. Encounters which are good for local people, and great experiences for the tourists. The word respect has recurred across the Responsible Tourism sessions. It is a core value and principle in realising the Responsible Tourism ambition of using tourism to make great places to live in and great places to visit – in that order.
The emerging issues, to which we shall return next year, are tourism and indigenous people, the challenge of resilience and "overtourism". Resilience becomes more important as we run up against the limits to growth both environmentally and socially. The issue of overtourism is being recognised from Iceland to India and from Barcelona to Venice. Doug Lansky gave a 15 minute key note on the challenges and some of the responses on Tuesday. On the Responsible Tourism stand the Secretary Tourism, India, Mr Vinod Zutshi  said that "We have to study carrying capacity of destinations and ensure there is not too much tourism for a destination to bear." The DG of Iceland Tourism has "We can't just endlessly receive more and more people at any particular tourist site and live under the assumption that we are offering the type of experience that people have paid for." Overtourism affects competitiveness as well as causing annoyance and generating protests by local people.
The WTM's industry report revealed that 75% of industry executives polled by WTM said that they favoured tourism caps in popular destinations like Disney resorts, Barcelona, Venice and Machu Picchu – up from 65% in 2015. In 2017, the UN's International of Sustainable Development through Tourism, overtourism will be a pressing issue in many destinations.
More at WTM, in Cape Town, Dubai and Sao Paulo next year.