Phocuswright has been tracking the shift of global travel bookings from offline to digital for over 20 years. Today, while only about half of travel is booked online in the U.S. and Europe, and far less in Asia Pacific (APAC), Latin America, the Middle East and Eastern Europe, just about every traveler is doing something trip-related online. More than 8 out of 10 travelers across key global markets are searching, shopping and/or booking travel online or through mobile devices. While online travel growth rates vary significantly per market, many emerging markets are still experiencing double-digit growth rates. Digital travel is travel.
In terms of mobile, APAC is far outpacing the U.S. and Europe when it comes to mobile share of the online travel market. By 2020, nearly two-thirds of online travel gross bookings will be transacted through mobile devices in APAC, compared with 25-30% in the U.S. and Europe. China leads the way, and the world, in mobile bookings as a share of online travel gross bookings. To put it into perspective, China's mobile gross bookings alone would be the third-largest market in APAC. Digital travel is travel.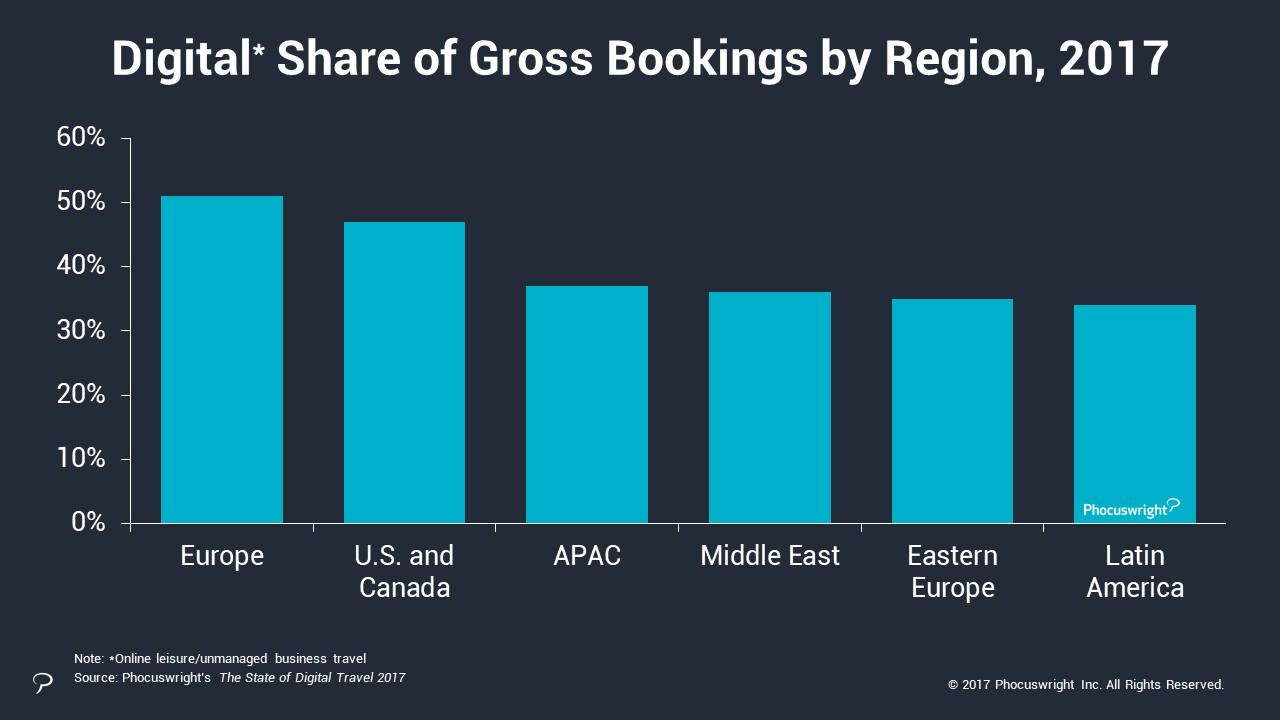 So how does the Middle East stack up? Phocuswright just released its Middle East Online Travel Overview Third Edition, which tracks the size of the market and key trends that are impacting the travel environment across nine Middle Eastern markets. Offline channels continue to represent more than two-thirds of the market in the region as personal relationships and mistrust of online payment methods still influence booking decisions. However, digital is playing an increasing role as the younger, tech-savvy population embraces online and mobile transactions, pushing the online growth rate into the middle teens, where Phocuswright estimates it will remain for the next three to five years. Currently, the majority of the online travel market is transacted through desktop, however, mobile bookings are projected to jump nearly 45% in 2018. Digital travel is travel.
Middle East travel companies must adapt their strategies as online and mobile continue to gain significance. In addition to top-of-the-funnel online campaigns that are designed to increase awareness, Middle East marketers are also turning to paid social media advertising, using blog posts and videos to target loyalty club members. YouTube's popularity is exploding, particularly on mobile devices. Online travel intermediaries, including online travel agencies and metasearch companies, are increasingly effective channels for airline and hotel suppliers to acquire customers. Digital travel is travel.
How does your digital travel strategy stack up? Phocuswright continues to track which companies are gaining advantages in this increasingly digital marketplace through research and events. Join Phocuswright's Middle East experts on Tuesday, 24 April (10:30), in Arabian Travel Market's Travel Tech Theatre to learn more.
Guest Author
Pete Comeau is responsible for overall strategic leadership of Phocuswright's full suite of products and services as senior vice president, sales and marketing. He oversees all aspects of Phocuswright's commercial activities including product, sales and service, and marketing. He also plays a key role in product development and business development strategy for Phocuswright research and events globally. Mr. Comeau has worked in the travel and hospitality industry for over 20 years, most recently as a relationship manager at Orbitz Worldwide in Chicago, where he assisted in growing and managing accounts for the white label division. Prior to Orbitz, Pete was the sales manager at Moguls Mountain Travel, a ski tour wholesaler in Boulder, Colorado. He helped design, implement and maintain four reservation systems during his tenure and managed and mentored a team of successful sales agents. Based in the Denver, Colorado area, Pete holds an M.B.A. from Daniels College of Business and graduated magna cum laude from Bowdoin College with a degree in government and economics.