Search Engine Optimisation – or SEO as it's more commonly known – is one of the most important digital marketing fundamentals to get right.
Why? Because the majority of online sessions that result in bookings on travel websites begin at Google. Not at Facebook, Twitter, Instagram, etc…
SEO can save you money, especially if your business relies heavily on bookings from OTA's like Booking.com, Hotels.com, Agoda, etc?  End result: most of your customers never even land on your website and you end up paying the OTA's upward of 12.5% of your revenue. That's a huge chunk to give away.
Wouldn't it be great if we could just get a portion of our traffic, bookings and revenue via our own websites?
SEO can do just that.
And don't even get me started on social media. So many tourism business owners spend time and money on social media marketing, with very little bookings in return for their efforts.
Sure, social media has its place, but it's certainly not at the top of the list of source channels that drive bookings for the majority of established e-commerce travel websites:
Organic traffic represents ~50% of bookings for this online travel company. Social is way down the list.
If SEO is not currently at the top of your list of traffic and booking sources, then these fundamentals and tips should help you to increase your direct bookings, reduce the commission you pay to OTA's and reduce the money you pay to Google.
Sound good?Let's have a look at five SEO tactics for your tourism website.
#1 Get your "Google setup" right
Google provides many free, powerful, and easy (when you know how) to use tools to measure your website's performance, discover problems with your website and often tell you exactly how to fix these problems. The average business owner, marketing managers (and many webmasters) just don't know where to look or have never bothered to setup the tools.
Here's the checklist of Google tools to use to put your website in good stead for SEO success:
Google Analytics – Measures (almost) everything that happens on your website. Information is power. Get empowered. Not sure where to start? Or you have the basics and you want to learn more? Head to https://analytics.google.com/analytics/academy/
Google Search Console – Packed with incredible insights, Search Console (or Webmaster Tools as it used to be called) will tell you what is wrong with your site, where to find the issues and how to fix them. It covers, HTML errors, mobile-friendliness, link issues, crawlability and much much more.
Google My Business – This feature of Google has finally matured. It was called Google Local, then Google Places, Then Google+ Business listings — which led to much confusion on how to get your business listed with Google. But things are much simpler now – and if you follow best practice for setting up your Google business listing, expect a boost in rankings (and phone calls and visitors to your front door).
Adding your business to Google My Business will gain your brand a huge portion of the screen real-estate for searching relating to your brand.
Pro tip: Accommodation owners and hotels are rightfully obsessed with TripAdvisor reviews, but it's HUGELY VALUABLE to earn Google Reviews (part of Google My Business). If you earn enough reviews, you can quickly find yourself right at the top of highly competitive search terms in what Google calls the "3 box":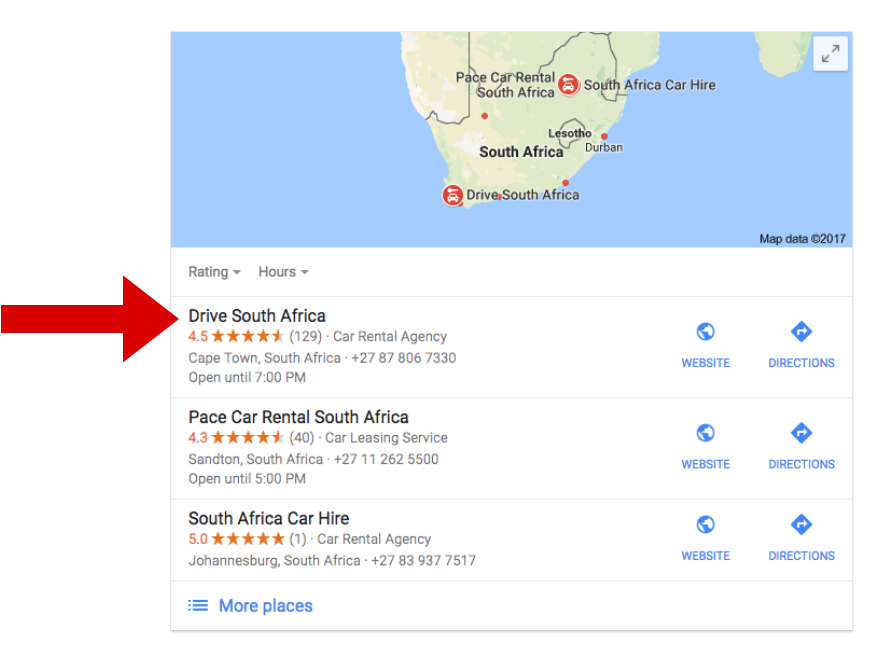 Get enough Google reviews and you can earn yourself a spot in Google coveted "3 box"
#2 Get your website's technical setup right
The two most important things to get right when it comes to your site's technical setup, is to ensure you're using a well known, well supported Content Management System (CMS) that allows you to control the SEO features of your website.
Well known CMS's like WordPress, Joomla and Drupal are good choices (however it's still up to you and your webmaster to implement all of the SEO features into your website).
There are also tourism-centric CMS's like Springnest – which make it super-easy for smaller guest-houses, hotels, tour operators and travel agents' to take control of their SEO needs, with an intuitive and easy-to-use interface.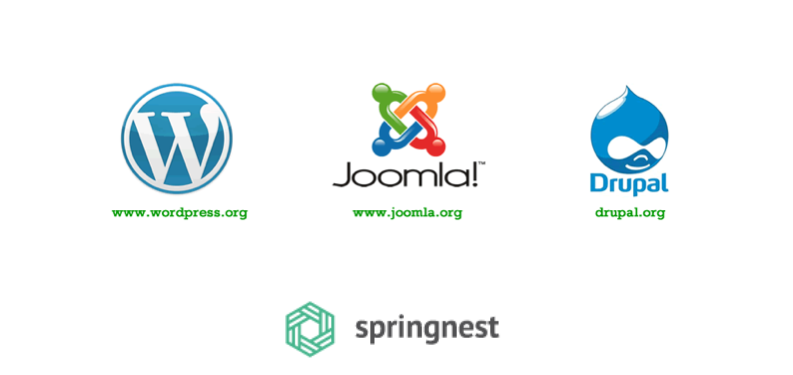 Some popular CMSs that give you the power to control your SEO fundamentals
And if your CMS is not on the list, then check out this handy SEO-friendly CMS checklist by Aleyda Solis. If the terms are too technical for you, then send it onto your webmaster to determine if your weird and wonderful CMS gives you the control you need to have a good SEO foundation for your website.
#3 Use the right keywords – and use them in the right places
So once you've got your Google setup correct and your website is running on a SEO-friendly CMS, it's time to look at the keywords on your website.
Where to place keywords on your website?
There are few rules of thumb when placing keywords on a web page:
Be focussed – on any given page, focus on one particular phrase (or closely related set of keywords and phrases)
Use natural language – don't "over stuff" the keyword. If you read your copy out loud and it sounds unnatural then it's probably not going to work for Google (nor for real people visiting your website either!)
Use synonyms freely – car hire, car rental, rent a car, rentals cars. All fine to use these on the same page. In fact Google's advanced machine learning and language algorithms knows these are synonyms and may even reward you for using them interchangeably.
Use them in the right places in your HTML code – This excellent visual below by Link Assistant gives you (and your webmaster / web developer) a simple guide on where your keywords should appear within your HTML: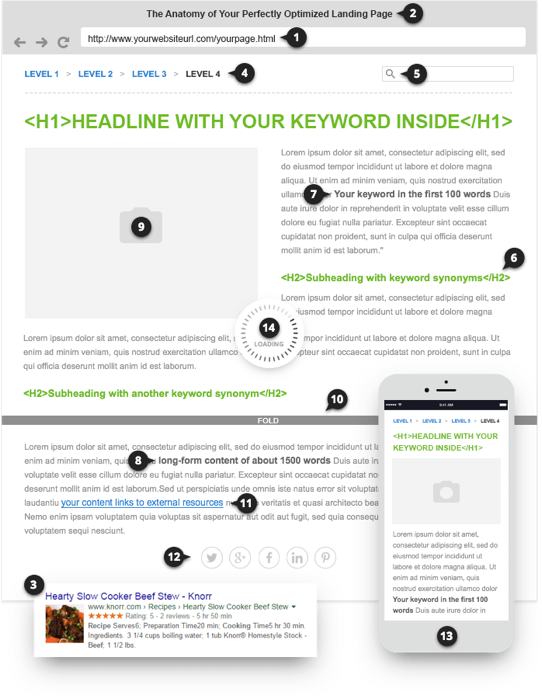 User your keywords freely throughout the various areas of a web page. Not just at the top or bottom, or title or headings. They should appear everywhere, naturally.
How to choose the right keywords for your website?
When selecting keywords for your website, you should cover two types:
Brand keywords – I.e. your brand name and any derivatives, abbreviations — and perhaps even some of your partner-brands if it makes sense to do so (Example: ABC Car Rental)
Generic keywords – words that describe your service — and these should be combined with your geographic scope if you offer your service in multiple destinations. (For example: "Car hire", "car hire Cape Town", "car hire Cape Town airport", "Car hire South Africa")
Don't stop there. Use free online tools like Google's Adwords Keyword Planner or Keyword.io to dig deeper and uncover keywords and phrases that you might not have thought of. (for example: you might not have thought of synonym like "car rental" or popular searches like "cheap car hire cape town" or "compare car hire prices".
The possible keywords are seemingly endless, but it's essential that you take the time to review the data that these tools return so you can create pages on your website that target these phrases.
Bottom line: If the keywords that people are using do not exist on your website (or area poorly placed on your website), it's very hard for Google to know to return your website when people search for that term.
#4 Get links to your website
Links have long been the cornerstone of how Google ranks websites in their search results.
Google interprets links to your website like votes of confidence in the world's biggest digital popularity contest.
It's not only about the sheer number of links you have pointing to your site. It's also the relevance and authority that those links carry.
For example: A link from CNN.com or BBC.co.uk's travel section to your tourism website will be interpreted by Google as a fairly relevant and highly authoritative link, compared to say a link from your friend's blog about cute cat pictures.
When it comes to links, focus on:
Quantity
Quality
Relevance
Location
Before we focus on how to earn many good, quality, travel-relevant and location-relevant links, how do we get a sense of our website's current link position?
Three great free sources:
Pro tip: Use Majestic and Moz's toolbar to see the links your competitors have. Maybe you can contact those websites and earn similar links!?

Moz's SEO Toolbar is a handy way to get a quick overview of a website and web page's "link score" using their Domain Authority and Page Authority metrics respectively.
Pro warning: Don't take any link building shortcuts. Get to know Google guidelines about linking otherwise you stand the risk of being penalised and this happening to your organic search traffic:
Google has penalised thousands of websites (essentially removing them from any search results) for violating their link guidelines. Not all penalised sites manage to recover like this prominent South African travel website.
#5 Build great content on your site – and collaborate with relevant websites
The last — and possibly most important ONGOING — piece of the SEO puzzle is content creation.
And not just any content, we're talking about content that adds value. In a fantastic blog post titled How to Rank by the creators of the Moz SEO Toolbar, Cyrus Shepard simply states that "Content without value is spam".
Focus on content that either inspires people to travel, or informs them how to travel better.
Think beyond your specific product / hotel / experience. Think about your region. Also, think about the questions that could pop into your customers minds prior to traveling or perhaps while they're staying in your lodge (for example), and create content that addresses those questions.
What content format?
It doesn't really matter what format you use. It can be blog posts, videos, photo (or photo stories). It could be tools, calculators and apps. Any content format is fine. As long as it adds value to users.
Who should create the content?
It could be written by your marketing team, your staff on the ground, or better yet — get user generated content from past customers. As long as the content is authentic and adds value.
Purpose of creating your awesome value-adding content?
The purpose (and benefit) of creating good content that adds real value is twofold:
You attract more relevant visitors to your website, which results in bookings
You attract links to your website, which leads to higher rankings (as described earlier), which results in more bookings
Three great examples of good content marketing in online travel:
Travelstart blog – the Travelstart blog has been running for 4-5 years, consistently delivering good posts that inspire and inform. According to MajesticSEO, the blog has attracted 67% of all links to the website. 11 Blog posts have earned links from more than 20 websites each. Their top performing blog post has 51 links. That's more than most websites have in total.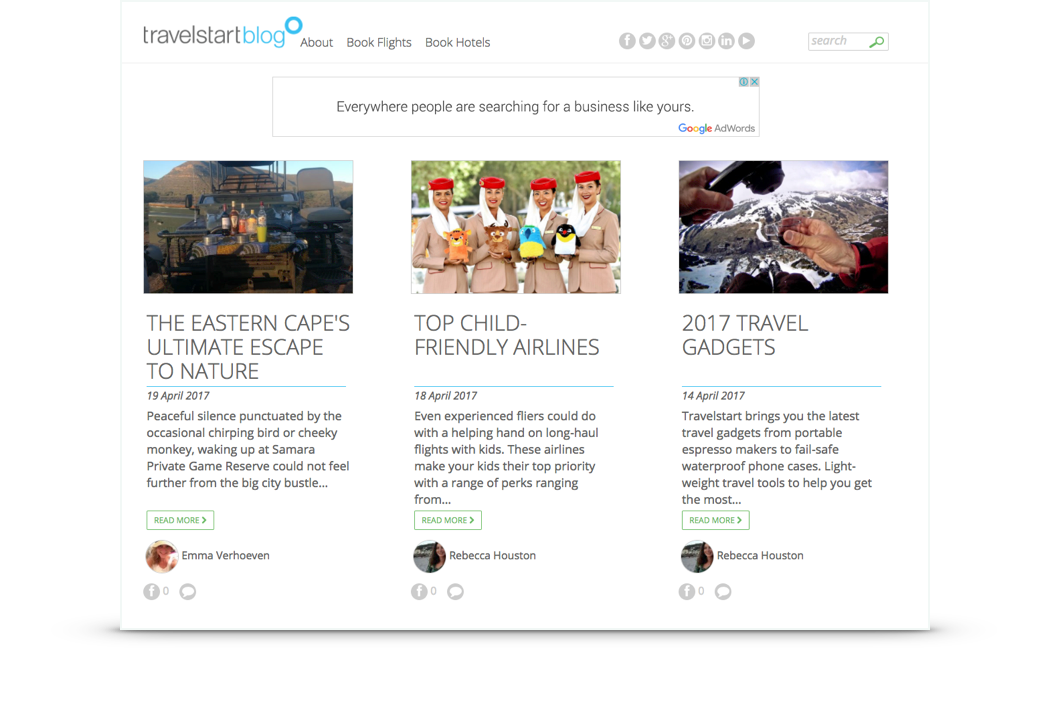 Travelstart's blog has earned them hundreds of links, whilst inspiring travellers at the same time.
Loews Hotels has used user generated content to add value to their website visitors. Their social media team monitor Instagram carefully to see when guests post pictures of guests enjoy themselves at their hotels and resorts.
They then contact the guests, asking if the hotel chain may use the photo on the homepage of the hotel group's website. Most say yes, and the result is a very authentic, compelling (and not to mention cost-effective) way of keeping the homepage content fresh.
Also – guests whose photos are featured, typically brag about it to their friends resulting in positive word-of-mouth via social media.
Loews Hotels and Resorts use user generated content to keep their site fresh and show appreciation to their guests
Drive South Africa – a South Africa car rental company has created online tools to help their road-tripping customers. They've developed a toll-roads cost calculator (a Google Maps integration), a fuel cost calculator, and a tool that helps travellers know what documents they need to have on them when arriving (or departing) from South Africa with children.
By addressing customers' basic needs the travel company attracts customers they never would have otherwise, and earned dozens of links from travel forums, news websites, and even from competitors who've found their tools useful.
Drive South Africa's Child Visa Checklist app helps customers while earning links from relevant travel website
In conclusion…
Don't ignore the value of SEO to boost profitability of your travel business.
Firstly: get your Google setup correct and optimise the technical setup of your SEO-friendly CMS. Then move onto selecting the right keywords and placing them correctly on your website. Lastly, get to know your link profile and develop content that adds value and results in more links pointing to your website.
For more info about SEO Tactics for the Tourism Industry you can view Andre Van Kets' presentation on the topic, as presented at WTM Africa's travel-tech conference held in Cape Town, South Africa on 21 April 2017.