Tourism and the hospitality industry are often criticised for creating local quality service employment. There are three major reasons for this. People tend to waiters and room attendants as the primary staff group – they don't see coach drivers, guides and GMs as representative of the industry in the same way. Second, cultural attitudes to service vary – I've never met a subservient French waiter, Maître d', or sommelier. Third, and perhaps the main reason is that the 'guests' are wealthier than the 'hosts', as in most service industries the clients are generally wealthier than those providing service. This is true whether the tourists are domestic or international. This inequality is starkest when holiday makers, with leisure and money to travel with are in hotels and resorts in countries and areas with significantly lower standards of living.
There is another view, the industry has been poor at making the positive case. Of course not all employment in tourism and hospitality can be viewed positively. There are issues of poor wages, modern slavery, excessive hours, poor terms and conditions, lack of union recognition, equal opportunity and high staff turnover.
However, there is good practice in the industry. The tourism and hospitality industries remain remarkably open, many reach GM or Board level having started in entry level jobs. Others who make it to front office or who excel in bar or restaurant service are "poached" to work in finance or sales because of their social and hospitality skills. We don't talk enough about the progression which advantages so many in the industry. The sector provides entry level jobs for young people and part-time work for people who, for a variety of reasons, do not want full time work.  We don't talk enough about that.
There are many parts of the world, many of them in Europe and North America, where a tourism job is sought after either as a career or for the additional income it can provide
The purpose of the World Responsible Tourism Awards is to inspire, educate and challenge. Therefore, this year one of the categories is Best for Employment. We are looking for tourism businesses that create places to work which are supportive, fair and empowering – and look beyond meeting legal minimum requirements. This category is for organisations for whom the belief and practice of fair wages and decent working conditions are fundamental. These organisations also celebrate the skills of local people, employ local staff and offer training and progression opportunities.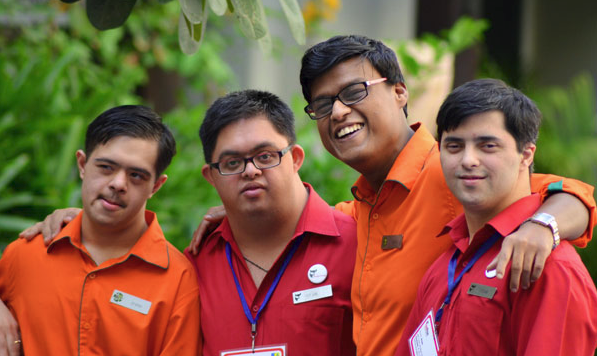 In 2016, Lemon Tree Hotels won Gold. They stand out as leaders in responsible employment because they have wholly committed to barrier free employment. They are ensuring that the people employed throughout the organisation, front of house and behind the scenes, are from groups of people who, in India, are often otherwise marginalised. Lemon Tree Hotels believe that it has a responsibility to ensure that people with physical, mental, emotional and indeed financial needs are introduced into mainstream employment and well supported throughout. They have removed the barriers that prevent many people from working in tourism.
Their CSR Mission is clear: "We have focused our efforts on creating a socially inclusive work environment which seeks to bring in people of different backgrounds, abilities and ethnicities and offer them work as a unified team with a common goal."
There are five categories in this year's World Responsible Tourism Awards: