The World War II slogan "Keep Calm and Carry On" regained popularity in the UK's popular culture in the years after the economic crisis. After the Brexit vote, government leaders and lodging industry experts called for exactly that: calm. Soon after the outcome of the UK referendum on EU membership was announced on 24 June, however, news trickled in of construction projects being halted and potential deals collapsing. The result led to some short-term kneejerk reactions, but since then things have calmed down as the long-term consequences of the move remain unclear. Here we set out some of the future opportunities and challenges of Brexit for the UK lodging industry.
Brexit: Is it good or bad?
Simply put, Brexit is a mixed bag for the UK. On the one hand, Brexit has resulted in much uncertainty about the UK's future. After the vote announcement there was a lot of uncertainty, and it is likely to peak again when Theresa May triggers Article 50 next year. Uncertainty will most definitely lead to a reduction in business deals, and subsequent declines in business travel, as well as leisure travellers holding off from booking their holidays. Furthermore, Brexit is expected to have an impact on international trade and GDP growth, with stagnating and declining growth expected to result in people slimming down their travel expenses. These declines will lead to reductions in occupancy rates and the lowering of room rates. This means less funding available for hotel owners in a time when investment is hardest needed to keep attracting travellers.
There are also concerns about staffing costs, as many jobs in the lodging industry are low-paid, with low-educated staff. Employees for these jobs often stem from Eastern European countries, but with Brexit, migration might be capped. As this source of cheap labour could be cut off, overheads which were already under pressure after the increase of the minimum wage earlier this year, could increase even further.
However, with pound sterling registering a considerable drop in value, the UK is suddenly a more attractive destination for international travellers. While European travellers might be disenfranchised with the UK's decision, and some might look at the UK as unwelcoming to foreigners, lower prices would nevertheless attract many travellers from Europe, China and the US. Furthermore, international holidays will become more expensive to UK travellers, who are therefore more likely to stay at home and travel domestically. How long this benefit will last, however, is hard to predict.
Foreign investors looking for a bargain are also likely to look at buying up properties as exchange rates are favourable and interest rates are low. Sources mention growing interest from Russian, Asian and Middle Eastern investors in particular, although the UK hotel market already attracted considerable attention from these regions before the Brexit vote, and exchange rates are generally not at the top of mind for foreign investors.
Market dichotomy leaves mid-market hotels in need of innovation
In the past years, the lodging industry in the UK has been a dichotomous landscape, with both the luxury and budget segments performing strongly, while the mid-market segment has struggled. With short-term rentals performing strongly, budget hotels have had to innovate to distinguish from private rental competitors. The course has been clearly set by Whitbread's Premier Inn, which is the largest hotel player in the UK and is continuing to expand with 19 new hotels in 2015. At the other end of the spectrum, luxury hotels are registering healthy growth, as London in particular attracts many wealthy travellers to some of the world's most iconic luxury hotels.
Brexit is expected to further exacerbate this dichotomy, with inbound travellers likely to trade-up to luxury hotels, as the UK becomes cheaper to them, while domestic travellers will be more conscious of value for money as the UK economy slumps. This leaves mid-market hotels in a precarious position, where they will need to clearly identify their added value through increased marketing efforts and added service levels in the hotels. While this will be cost-intensive in the short-term, it could bear fruit in the longer term if the UK economy improves.
Value Sales by Lodging Segment, 2010-2020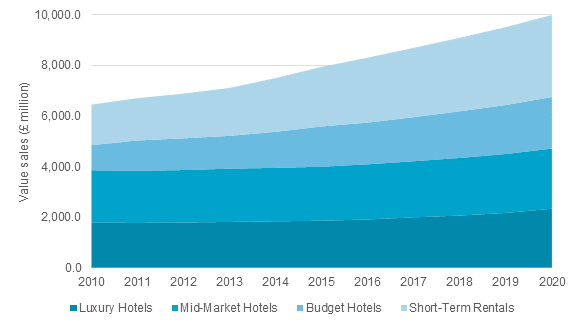 Fear of increasing chasm between London and the rest
The UK is characterised by a major gap between London and the southeast as an economic powerhouse, and the rest of the country which is struggling for growth. The unbalanced nature of the UK's economy is seen by many as a contributing factor to the higher proportion of leave voters outside major cities. The fear is that Brexit might further increase the chasm between London and the rest of the country, as London is able to attract investment on its own accord, while other areas might become less attractive as long as the uncertainty remains. Regulators will need to continue promotion of other cities around the country, and incentivise hotel companies to operate in these locations. If they do not, and allow hotel companies to pull out and stop investments in these destinations, the long-term effects on smaller cities might be grave, and the gap between London and the rest of the UK will only grow bigger.
Time for strong leadership
Uncertainty can wreak havoc in any industry, and the UK lodging industry is no exception. Although leaders are calling for calm, there will come a point where industry players, and travellers alike, want to see a clear plan and vision for the future, set out by national and local governments and industry bodies. Brexit presents many challenges, but also offers opportunities to bring stakeholders closer together, and to explore bringing age-old regulations into the 21st century. Collaboration and strong governance are now more important than ever, to ensure that the UK benefits from the changes ahead.
Euromonitor International partnering for the 11th consecutive year with World Travel Market London is pleased to reveal the emerging global travel trends identified by the WTM Global Trends Report on Tuesday 8th of November at London's ExCel Centre.
To receive your free copy of WTM Global Trends Report on November 8th, please pre-register HERE.