City Sightseeing, the company who operate the iconic Red Buses and the red harbour and canal cruises in the V&A Waterfront are delighted to congratulate one of their our own who is making a big splash in the Cape Town Harbour. 26-year-old, Avuyile Mqulo, has been welcomed as the first female skipper on the team as well as the only female skipper operating across the boating companies in the V&A Waterfront.
"City Sightseeing, has a team of exceptional ladies, from the tour and admin offices to the bus drivers and we are so proud to welcome our first female skipper to the team!" said Marketing Manager Mandi Jarman.
Avuyile has recently received her SAMSA qualifications and has taken up her position on board as one of the licensed skippers of the City Sightseeing harbour tours. As the captain of her own cruise boat, she has the responsibility of giving sightseers the best possible experience on the water. She has been trained to not only captain a vessel but navigate harbour waters and tend to passengers.
Avuyile says she was inspired to take on the training thanks to the encouragement of her colleagues. Now she navigates the V&A harbour and canals and locals and tourists aboard her boat and showing them the sights around the harbour, from the great ships to the playful seals.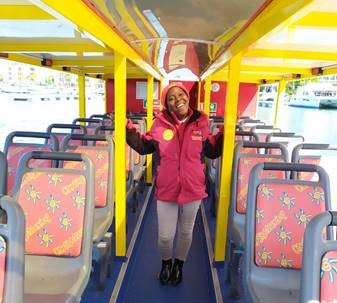 Cruise with City Sightseeing
Join City Sightseeing at the V&A Waterfront for an exceptional tour around the harbour with Avuyile and her fellow skippers aboard our iconic red harbour cruisers. Bring your family and friends and hop on the boat to take up a seat, the harbour waves lightly lapping at the side of the barge.
Your Captain will point out the harbours most famous sights and landmarks, including the Clock Tower, the SAS Somerset Boom Vessel, and the V&A Waterfront's famous swing bridge. Keep your eyes out for the harbour's resident performers; the Cape Fur Seals love to show off their water dances when they're not catching some much-needed z's in the sun.
You can also catch one of the canal cruises, the best way to get from the Waterfront to the CBD. Sit back for a leisurely, winding cruise along the canals as your skipper ferries you from the V&A Waterfront to the CTICC. You can hop off the boat to visit the Battery Park or one of the hotels that dot the canals, making it the best way to visit the V&A Waterfront during your stay in Cape Town.
Earn your sea legs and buy your 1 Day combo Canal and Harbour Cruise ticket online for exclusive discounts and hassle-free sightseeing. It's the best way to see Cape Town's historic working harbour.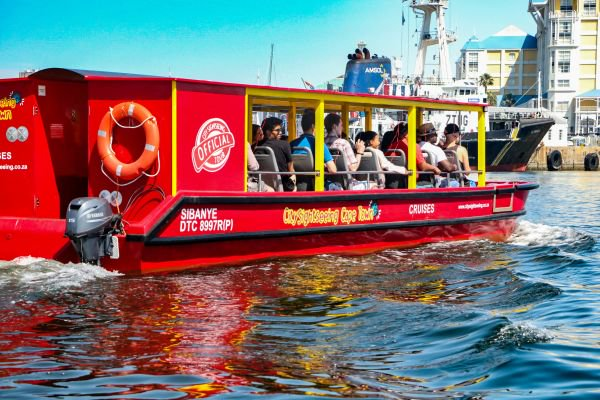 For media enquiries, please contact Mandi Jarman on +27 (0)72 256 5531 or mandi@citysightseeing.co.za
Facebook: https://www.facebook.com/CitySightseeingSouthAfrica
Twitter: https://twitter.com/CapeTownRedBus
Instagram: https://instagram.com/citysightseeingsa/
YouTube: https://www.youtube.com/user/CitySightseeingSA