An initiative of ADVB and SKÅL Internacional São Paulo, the event recognises and awards cities that invest in the tourist industry
 WTM Latin America, the world's leading event for the travel industry in Latin America, announces the renewal of its support for the 2018 edition of the Top Tourist Destinations Award, an initiative of ADVB (Association of Sales and Marketing Directors of Brazil) and SKÅL Internacional São Paulo.
The meeting, which sealed the renewal of the partnership, took place last Wednesday (5/9), and was attended by Luciane Leite, director of WTM Latin America. "Taking the beautiful destinations and attractions we have in Brazil to the world is part of our strategy and nothing is more important than supporting initiatives that foster and publicise the strength and potential we have in our country. These partners were present at the last edition of our show where they had an exclusive space and they were a success. I'm happy to renew this partnership that is so promising", the executive stressed.
Tribute was paid to Luciane by CEOs Aristides Cury of SKÅL Internacional São Paulo and Latif Abrão Jr. of the ADVB, along with other authorities and executives who were present. "The award recognizes and values the cities of the State of São Paulo that believe that tourism is a true generator of wealth and the self-esteem of its population. Having WTM Latin America as a partner once again underlines the importance and relevance of this initiative for a sector that's as relevant as tourism," says Cury.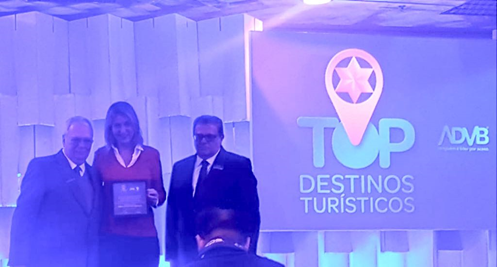 Latif Abrão Jr. believes there is still a lot of room to explore and comprehensively and consistently divulge the potential that exists in Brazil. "Being at WTM Latin America enables us to present and reinforce Brazilian tourism with opinion makers and players in the world market. These are three intense days of networking and exhibiting that only events such as WTM Latin America allow us to do," he emphasized.
The awards
Voting for the first edition of the Top Tourist Destinations Award took place between July and November, 2017, when 400 cities in São Paulo were nominated by residents and tourists. Of these, 117 met the minimum mark needed for classification. The recognition event took place in January this year, when 39 municipalities gained visibility by taking part in the event; the winners were announced in 13 categories: social, cultural and religious tourism, study and exchange, sports, fishing, nautical, adventure, sun and sand, business and events, rural, health and ecotourism.
www.topdestinosturisticos.com.br/
WTM Latin America is scheduled to take place in São Paulo, April 2-4, 2019, at Expo Center Norte.