The meeting is part of the agenda of the Tourism Workshop that ProColombia is carrying out, between October 24 and October 26, in the city of São Paulo
WTM Latin America, the leading global event for Latin America's travel industry, brought together more than 30 Colombian businessmen at Reed Exhibitions' head office in the city of São Paulo on Wednesday. The meeting, which was headed up by Luciane Leite, WTM Latin America's director which was jointly organized with ProColombia – an entity responsible for promoting international tourism and foreign investment -, is part of the roadshow agenda.
"These agendas allow us to present and reinforce the event's benefits to exhibitors and sharers. We already have a worldwide presence that is recognized by the main players in the market and we are already a reference in the Latin America region", stresses Luciane, and adds "Our main objective is to generate business and we spare no effort to ensure that we provided these businessmen with the best place and time in order for them to achieve their results in an efficient way".
Among those present there were executives from independent hotels and hotel chains, internal destinations in Colombia, tour operators and bureaus along with others. Luciane had the opportunity to present a summary of the Hosted Buyers Program as well as to talk about supporting entities and associations, the coverage of content which is worked on throughout the year, the participation of Corporate Tourism and the presence of the MICE segment permeating the entire event, in addition to the travel agents, the facilities provided inside the event, technological platform and the event's disclosure in the press as well as that of its exhibitors, via Media Partners and Hosted Medias. To provide more information regarding the benefits, Bianca Pizzolito, WTM Latin America's Sales Manager, gave details of the different formats in terms of participation and sponsorship in the event.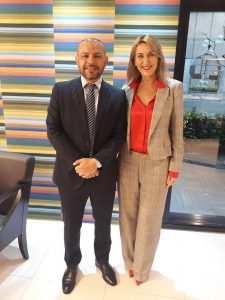 "Our main objective is to promote WTM Latin America's significance as a global business platform in the tourism sector. We believe that this meeting will enable an even more effective participation in next year's event", declared Alejandro Pelaez ProColombia Brazil's Director.
Pelaez also went on to say that that the agenda will carry on until October 26th a number of other meetings as well as business roundtables with businessmen from the sector from various Brazilian states.
WTM Latin America is already en route to its 7th edition, which is scheduled to take place between April 2nd and April 4th and six months before the event, Luciane Leite maintains a very busy agenda with numerous meetings, leadership encounters, roadshows and national and international trips.