Exhibitors, buyers, partners and members of the media from around the world have hailed the success of this year's hybrid WTM London and Travel Forward.
The annual co-located events took place in person at ExCeL London on 1-3 November and in virtual
format on 8-9 November.
Show organisers have received positive feedback and many congratulatory comments from those who attended the events – and exhibitors are already booking for next year's show (7-9 November 2022).
Exhibitors from more than 100 countries attended the physical events, which together formed the biggest travel trade shows to take place after the pandemic.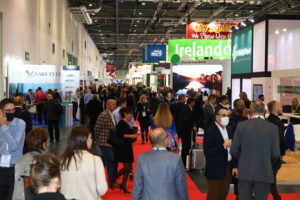 Emperia, the app developed in-house by WTM London's parent company RX (Reed Exhibitions) which helps exhibitors gather and convert new leads, saw an increase of 24% in adoption compared to 2019, enabling exhibitors to track ROO and ROI on their attendance to RX shows.
There were 36 new exhibitors at WTM London, along with up to 4,000 buyers from more than 140 countries attended the show in person.
An impressive 110 expert speakers took part in more than 50 sessions and debates over the three days of the physical shows, offering valuable insights about rebuilding, innovation and sustainability.
Media representatives came from across the globe looking for tourism trends and new destinations.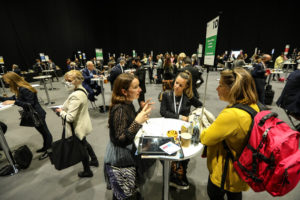 Buyers were able to kick-start their business dealings on the first two mornings of WTM with the ever-popular speed networking sessions.
One of the buyers, Filippos Venetopoulos, CEO Variety Cruises, said:
"We thoroughly enjoyed being back at WTM connecting with the travel community and looking ahead at what the future holds.
 "It was a very well organized exhibition reminding us that we can safely return to travel and experience and share ideas collectively.
"The sustainability and adventure boards were in-depth educational presentations and we look forward to joining again next year. WTM ties in greatly with our vision of sustainable small ship cruises that connect our guests with the communities we visit."
Patience Lawson from Zion Born Travel, Nigeria said:
 "The speed Networking session was amazing, meeting and speaking
with different people. It was great to be back, meeting new suppliers.
 "I look forward to next year already because I know it will be even better than this year, even though I was surprised at the turn out to have seen so many people after they knocked down. WTM London is where businesses feel safe to connect."
The exhibition floors hosted the most senior executives and buyers from around the world, along with tourism ministers from more than 30 countries, including UK, Greece, Saudi Arabia, Bulgaria, Cuba, South Africa and Israel.
The sheer determination of exhibitors and buyers to attend was demonstrated by the remarkably strong showing from countries that only came off the UK's red list on 1 November, such as Peru, Panama and Colombia.
The British government only confirmed the removal of all remaining countries from the red list for international travel on 28 October, just days before WTM London began on 1 November.
Luciana Kramer, Sales Manager at leisure segment PROMTUR PANAMÁ, added:
"WTM has always been important for Panama's tourism industry and we were able to reconnect with trade contacts old and new, and tell the world about our unique location, rainforests, wildlife and beaches along the coastlines of the Caribbean and the Pacific – all within driving distance of a cosmopolitan city.
 "It was invaluable for our stand sharers to attend too – hotels, resorts and tour companies – to help gain global exposure for their brands as we recover together from the pandemic.
 "We would not have missed the opportunity to be part of the first major travel trade show since the start of the crisis."
Exhibitors from the UK and Ireland were able to showcase their products at WTM to a broad audience from the domestic market as well as international buyers and media.
They were as varied as trade body UKinbound, tourist board Tourism Ireland, attraction Warner Bros. Studio Tour London – The Making of Harry Potter, audio guiding specialist Vox Group, and destination management company Golden Tours.
Tracey Poggio-Magnus, UK Head Media & Marketing, Gibraltar Tourist Board, said: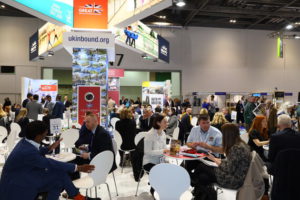 "I just wanted to send my personal congratulations to the team for a good show last week. Difficult times of course, but from Gibraltar's perspective we engaged with senior level contacts as well as making new ones. Plenty of media opportunities too. There was a good supply of industry information and commentary available. I'm sure that there's lots to dissect for the future, but all things being equal, I hope that you're happy with how things went given the current scenario."
Across the rest of the WTM exhibition halls there were companies and tourist boards from a wide and diverse range of destinations such as Indonesia, Maldives, Thailand, Malaysia, Japan, Korea, Taiwan, Mauritius, Tokyo, Sri Lanka, Nepal, India, Saudi Arabia, Qatar, Abu Dhabi, Sharjah, Ras Al Khaimah, Ajman, Fujairah, Kingdom of Bahrain, Jordan, Egypt, Morocco, South Africa, Kenya, New York, Florida, Las Vegas, Barbados, the Bahamas, Cuba, Peru, Colombia, Argentina, Jamaica and Panama.
There was also an impressive line-up of high-profile sponsors, including Saudi Tourism Authority (STA) as Premier Partner; Greece (media centre); Qatar (badges and lanyards); BBC (Ministers' Summit moderator); and Sherbet (official taxi provider).
Fahd Hamidaddin, Chief Executive of the Saudi Tourism Authority, said during the Saudi Summit that the destination has very ambitious targets and aims to achieve 100 million visits a year by the end of 2030 and described WTM London as a giant, with the STA standing on its shoulders to tell the world about its attractions, giga projects and 'Sustainability First' strategy.
Travel Forward – the travel technology event co-located with WTM London – is now in its fourth year and welcomed exhibitors and major brands including Sabre, Amadeus and Mastercard, alongside specialists such as Blastness, Cendyn, Ecommpay, Lemax, Kantox, Nitro Travel Solutions, Rategain, Tourplan, CodeGen, Travel Compositor, Giata, Travelgenix.io, Igoroom, Open Destination and Roommatik.
For Travel Forward, sponsors and partners included Sabre (Theatre); World Tourism Forum Lucerne (Start-Up Competition Partner) and Amadeus (Start-Up Track Sponsor).
Marta Zielinska, Sales Manager at TourPlan, exhibitor at Travel Forward, said:
"We had taken part WTM/TF for many years so it was really exciting to have the opportunity to be back to face to face meetings with the global travel community.
 "We were very happy with the support and assistance we got from Reed's Team. The Virtual Show was a good experience as well. Technology didn't disappoint and the concierge team was brilliant.
"Everything worked really smoothly. We had a number of interesting and promising conversations with potential clients and valuable chats with existing partners so overall WTM/TF 2021 was a really good event for us. It was also great to see how resilient our industry is. We are planning to be back in 2022".
Kalina Nikolova, Head of Sales, GIATA GmbH said:
 "WTM 2021 was a huge success for the GIATA team. It was nice to catch up with old friends who we haven't seen for 2 years and meet new partners in person.
"The week in London was filled with productive conversations as well as sharing significant insights in the field of travel technology on the subject of restarting tourism.
"We are grateful to the teams of WTM London for everything over the past few days."
Innovations for 2021 saw the development of SmartSpace on the WTM London and Travel Forward exhibition floor, which has already generated 20% of the main stand holders being designed and built in-house.
Planning has already begun now for WTM London and Travel Forward 2022 (7-9 November) which both promise to be even bigger and better than this year's events.
Preparations are also beginning for London Travel Week 2022, a week-long festival of events for travel professionals and enthusiasts ahead of the start of WTM London.
Simon Press, WTM London and Travel Forward Exhibition Director, said: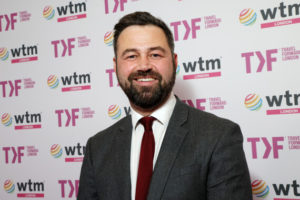 "We were delighted that all our detailed planning and hard work paid off with such a successful show – our first hybrid event.
"Delegates told us how important and valuable it was for them to return to face-to-face networking – but for those unable to reconnect in-person, WTM & TF Virtual offered the ideal alternative solution and an even wider global audience.
 "The amazing positive feedback we have received will help us with planning for 2022 when even more trade professionals will be able to build on the significant progress we have all made during these 2021 events.
"We're sure our events have put the industry firmly on the path to a sustainable and robust recovery."
ENDS –
WTM London, the leading global event for the travel industry, is the must-attend three-day exhibition for the worldwide travel and tourism industry. Around 50,000 senior travel industry professionals, government ministers and international media visit ExCeL London every November, generating over £3.71 billion in travel industry contracts.
Next live event: Monday 7 to 9 November 2022 at ExCel London
Travel Forward London is the leading travel technology event, co-located with WTM London. Travel Forward is renowned for showcasing the next-generation technologies for the travel, tourism and hospitality industry.
Next live event: Monday 7 to 9 November 2022 at ExCel London
London Travel Week, brought to you by WTM London, is the one-stop-shop for event hosts and visitors to be able to shape the next 12 months of travel together. The festival of events supports the global travel and tourism industry through capturing invaluable news and enhancing industry connections.
Next event: Friday 4 November – Friday 11 November 2022 – Around London
https://londontravelweek.wtm.com/
WTM Latin America takes place annually in São Paulo and attracts around 19,000 tourism professionals during a three-day event. The show offers qualified content, as well as networking and business opportunities. In its ninth edition – the first 100% virtual – WTM Latin America followed its focus on effective business generation and reached the milestone of 4,200 meetings held between buyers, travel agents and exhibitors.
Next event: Tuesday 5 to Thursday 7 April 2022 – Expo Center Norte, SP, Brazil
WTM Africa launched in 2014 in Cape Town, South Africa. More than 6,000 travel industry professionals attend Africa's leading inbound and outbound travel and tourism market. WTM Africa delivers a proven mix of hosted buyers, media, pre-scheduled appointments, on-site networking, evening functions and invited travel trade visitors.
Next event: Monday 11 to Wednesday 13 April 2022 – Cape Town International Convention Centre, Cape Town http://africa.wtm.com/
Arabian Travel Market (ATM), now on its 29th year, is the leading, international travel and tourism event in the Middle East for inbound and outbound tourism professionals. ATM 2021 showcased over 1,300 exhibiting companies from 62 countries across nine halls at Dubai World Trade Centre, with visitors from more than 140 countries over the four days. Arabian Travel Market is part of Arabian Travel Week. #IdeasArriveHere
Next in-person event: Sunday 8 to Wednesday 11 May 2022, Dubai World Trade Centre, Dubai https://www.wtm.com/atm/en-gb.html
Arabian Travel Week is a festival of events taking place within and alongside Arabian Travel Market 2022. Providing a renewed focus for the Middle East's travel and tourism sector, it includes ATM Virtual, ILTM Arabia, Arival Dubai, Influencers' events and activations, as well as Travel Forward. It also features the ATM Buyer Forums, ATM Speed Networking Events as well as a series of country summits.
https://www.wtm.com/arabian-travel-week/en-gb.html
WTM Global Hub, is the new WTM Portfolio online portal created to connect and support travel industry professionals around the world. The resource hub offers the latest guidance and knowledge to help exhibitors, buyers and others in the travel industry face the challenges of the global coronavirus pandemic. WTM Portfolio is tapping into its global network of experts to create content for the hub. https://hub.wtm.com/
About RX (Reed Exhibitions)
RX is in the business of building businesses for individuals, communities and organisations. We elevate the power of face to face events by combining data and digital products to help customers learn about markets, source products and complete transactions at over 400 events in 22 countries across 43 industry sectors. RX is passionate about making a positive impact on society and is fully committed to creating an inclusive work environment for all our people. RX is part of RELX, a global provider of information-based analytics and decision tools for professional and business customers. www.rxglobal.com
RELX About RELX
RELX is a global provider of information-based analytics and decision tools for professional and business customers. The Group serves customers in more than 180 countries and has offices in about 40 countries. It employs over 33,000 people, of whom almost half are in North America. The shares of RELX PLC, the parent company, are traded on the London, Amsterdam and New York Stock Exchanges using the following ticker symbols: London: REL; Amsterdam: REN; New York: RELX. The market capitalisation is approximately £33bn, €39bn, $47bn.*
*Note: Current market capitalisation can be found at http://www.relx.com/investors