Turkey's had a rough ride in the past couple  of years, but the omens are good for 2018.  Gavin Haines tracks the return of key markets
After a tumultuous few years, Turkey's beleaguered tourist industry appears to be bouncing back. According to figures obtained by Euromonitor, the country welcomed 31.6 million inbound arrivals last year, up 24% on 2016.
Confidence in the destination had been severely shaken following a series of terrorist attacks, a failed military coup and high-profile political disputes with Russia, Germany and the US. President Erdogan's increasingly authoritarian stance has also raised concern among the international community.
All of which had a huge impact on the country's tourist industry. According to Euromonitor, inbound arrivals crashed to 25.6 million in 2016 – down from 36.8 million in 2014 – prompting the government to offer loans to struggling hotels and expand fuel subsidies for airlines.
The government also boosted security in the country, particularly at borders.
"We had some issues with our country's security, but we have addressed this with additional security procedures," says Irfan Onal, director at the Ministry of Culture and Tourism's London office. "The Turkish authorities are doing everything to make tourists feel safe and secure."
Inbound arrivals up
Euromonitor's figures suggest such measures are having the desired effect, with inbound arrivals soaring again in 2017. The biggest year-on-year increase came from Russia, which accounted for 3.5 million arrivals last year, compared to just 867,000 in 2016 when Turkey was dealing with the political fallout from shooting down a Russian fighter jet near the Syrian border.
Holidaymakers from the UK and Germany – two of Turkey's biggest markets – also appear to be returning to the country, albeit slowly. According to Euromonitor, arrivals from the two nations increased by 11% and 13% respectively in 2017; similar increases were recorded from France and the Netherlands.
The Ministry of Culture and Tourism told WTM Insights that it expects a record-breaking 38 million tourists to visit the country in 2018, although the World Travel and Tourism Council (WTTC) struck a more cautious tone.
"There are no obvious reasons to think that it won't get better this year," said Rochelle Turner, research director at WTTC. "But in that region there is always the possibility that something will come up."
Observers will certainly be nervous about President Erdogan's recent assault on Kurds in Syria, which defied Russia, the US and Bashar al-Assad's regime. Commentators fear his gamble could create more instability. Time will tell.
Braver souls
Some nationalities, however, appear unfazed by instability; while western tourists gave Turkey a wide berth, according to the WTTC, holidaymakers from other regions were visiting in ever greater numbers. This is supported by Euromonitor, which recorded increases in arrivals from Ukraine (64.5%) and Georgia (27%) between 2015 and 2017.
One area the country still seems to be lagging behind on is cruise tourism. This was hampered by last year's political standoff between Turkey and the US, which resulted in the two countries imposing visa restrictions on each other.
"Cruise tourism has come to a halt in the past two years," says Onal. "But we expect a significant increase now that the visa crisis with the US has  been overcome."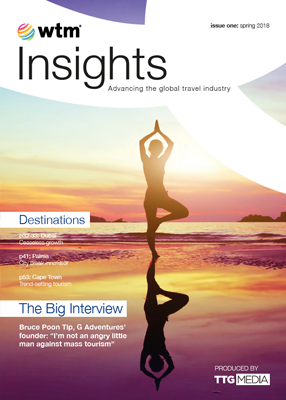 This article is from the latest edition of WTM Insights, the new quarterly magazine on global travel trends, analysis and updates from TTG Media and WTM.
Find out more about WTM Insights.