Here's the good news: air travel is back, and the global airline industry is seen to return to profitability in 2023 after a three-year slump due to the pandemic.
The International Air Transport Association (IATA) expects 4.2 billion people to travel by plane in 2023, and airlines are predicted to post a small net profit of $4.7 billion, the industry's first profit since 2019.
The not-so-good news: As a result of the so-called revenge travel, the world emitted more carbon dioxide in 2022 than in any other year on records dating to 1900.
Business publication Fortune reported that as global airline traffic increased, carbon dioxide emissions from burning oil grew 2.5%, with about half the surge resulting from the aviation sector.
Where does the Middle East sit in all this air travel action? According to a study by IATA, Middle Eastern airlines' traffic rose 317.2% in May 2022 compared to the previous year.
And in March 2023, Dubai International Airport (DXB) was named by the Official Airline Guide (OAG) as the busiest airport worldwide in terms of seats for international flights, with 4.6 million seats.
Air traffic in the Middle East is bound to get even busier. In the last 6 months, Saudi Arabia announced that it is launching at least three new airlines: RIA, Riyadh Air, and NEOM.
On top of the new airlines, Saudi Arabia's flag carrier SAUDIA recently announced that it is adding 25 new destinations and routes to its network.
And on March 14, 2023, SAUDIA and Riyadh Air announced their intent to purchase up to 121 787 Boeing Dreamliners in what will be the fifth largest commercial order by value in Boeing's history.
All these align with the forecast that the Middle East's share of the global fleet will grow over the decade from 4.9 percent in 2023 to 6 percent in 2033.
The ME3 carriers' sustainability plans and efforts
Let's focus our shift now to the three biggest commercial airlines in the Middle East: Emirates, Etihad and Qatar Airways–collectively known as the ME3 carriers.
Given that aviation accounts for 2.5% of carbon dioxide emissions globally, and the ME3 are also considered to be one of the biggest carriers in the world, it's time to take a look at what practices and plans the airlines have.
These are some of the airlines' initiatives and goals on top of the International Civil Aviation Organisation's (ICAO) 2050 net-zero CO2 goal for international aviation.
Emirates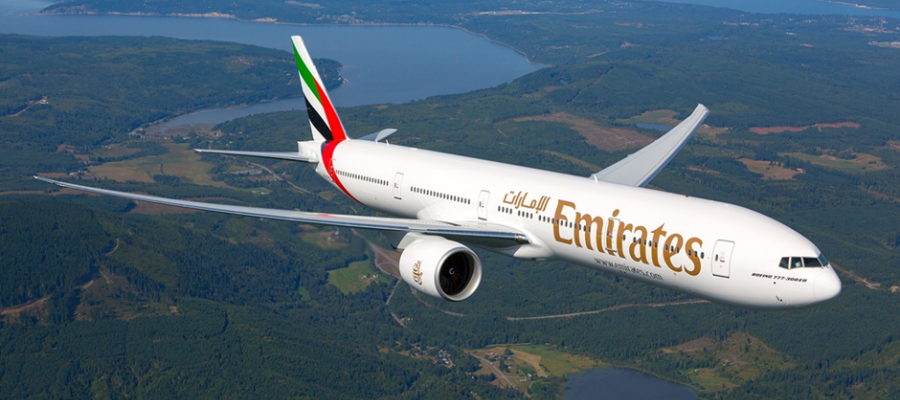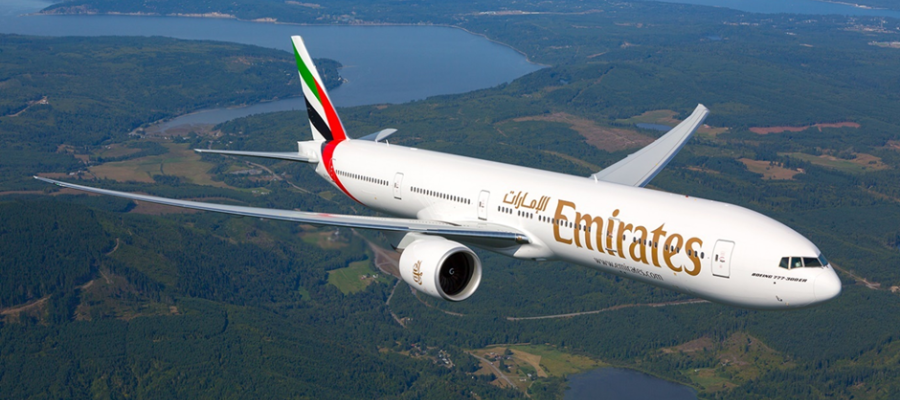 Emirates' focus is to operate a fuel-efficient fleet, and the airline says on its website that it has one of the youngest wide‑body aircraft fleets in the sky with an average age of 6.5 years.
The Dubai-based airline runs a fuel efficiency programme that implements ways to reduce unnecessary fuel burn and emissions.
Some of the programme's most significant initiatives include:
"Flex tracks", also known as flexible routing. Emirates partners with navigation service providers to create the most efficient flight plans. Examples of this include taking advantage of natural tailwinds and avoiding headwinds and weather systems. The airline has been doing this since 2003.
Emirates is also working with air management providers to develop protocols that enhance operational efficiency. One of these protocols include reducing the number of flights placed into holding patterns, increasing the availability of Free Route Airspace, and developing more efficient routings.
Employing fuel‑efficient practices while the aircraft is on the ground, such as: the use of ground power units instead of the aircraft Auxiliary Power Unit (APU), and switching one or two engines off while taxiing in after landing.
The implementation of idle reverse thrust on landing, instead of switching the engines into reverse thrust.
Aircraft weight management – Emirates continuously reviews its inflight product and cabin environment to reduce aircraft weight (and thereby fuel burn) without compromising on customer experience. Recent initiatives include the use of data analytics and in the near future of machine learning (ML) and artificial intelligence (AI) to better forecast potable water uplift in each flight.
Emirates also developed a system to wash and clean aircraft that saves energy. The airline uses an innovative foam wash technique for cleaning aircraft engines that Emirates says helps them save about 200 tonnes of carbon dioxide emissions per year across its fleet. 
The airline also uses a dry wash technique to clean its fleet. According to Emirates, the method not only saves 11 million litres of water annually, but also keeps its aircraft cleaner for longer. It reduces the aircraft's fuel consumption because of less accumulation of dirt, and reduces the number of times the aircraft has to be washed to about three times a year.
Embed video: https://youtu.be/FwPBXg8X66I
In January 2023, Emirates successfully completed a ground test on one of its General Electric GE90 engines on a Boeing 777-300ER, running the turbojet on 100% Sustainable Aviation Fuel (SAF).  Read Emirates' latest sustainability efforts, included in the airline's 2021-2022 annual report
Qatar Airways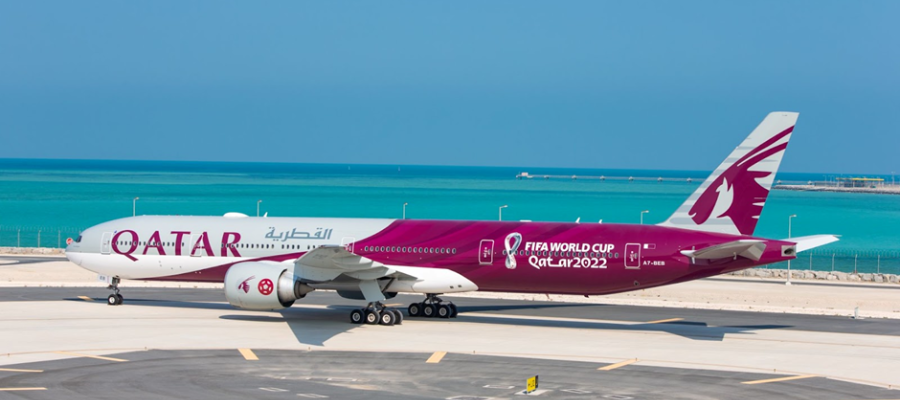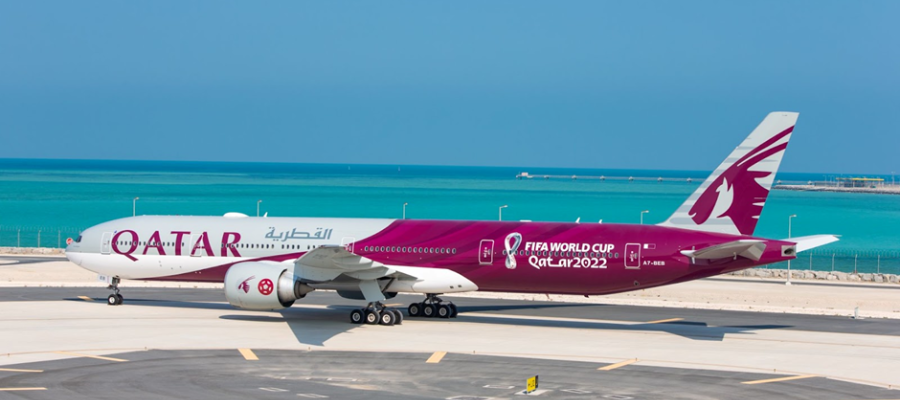 Qatar Airways' group chief executive H.E Akbar Al Baker said in the airline's latest sustainability report that sustainability is recognised as a strategy to build resilience post-pandemic.
"It is our ambition as an airline to minimise our impact on the environment, and facilitate continued global travel and commerce while limiting carbon emissions. As we work in collaboration with the aviation industry to reconnect the world, we recognise sustainability as a strategy to build resilience post COVID-19," Al Baker said.
The Doha-based airline's approach towards its sustainability efforts seem to be holistic, spreading initiatives on all aspects of operations.
On a general level, Qatar Airways offers its customers voluntary carbon offset options, donating unconsumed and safe food items on a daily basis, reducing single-use plastic on board, and using energy-saving technology.
Here are some of Qatar Airways' sustainability milestones over the past few years:
April 2019 – launched new economy onboard experience 'Quisine' to achieve a sustainable cabin, with the objective to reduce weight and waste and replace single use plastics with rotable, compostable or recyclable alternatives.
January 2020 – Qatar Aircraft Catering Company collaborated with Hifz Al Naema, a service and awareness-raising social center that aims at optimizing existing resources, to reduce overall food wastage.
November 2020 – the airline partnered with the International Air Transport Association (IATA) and ClimateCare to launch Voluntary Carbon Offset Programme for its passengers.
March 2021 – Qatar Airways partnered with PressReader to offer its passengers unlimited access to digital magazines and newspapers around the globe.
In January 2020, Qatar Airways also entered into a codeshare partnership with Deutsche Bahn (German railways), one of the largest railway operators in Europe. This arrangement is a response to the significant growing demand for travel between Germany to Qatar. The codeshare partnership provides Qatar Airways' passengers with connections to eight key cities within Deutsche Bahn network.
This is also a great response to the so-called 'flight shame' movement, where travellers are seeking greener options, such as rail or land travel in general, over taking flights.
Etihad Airways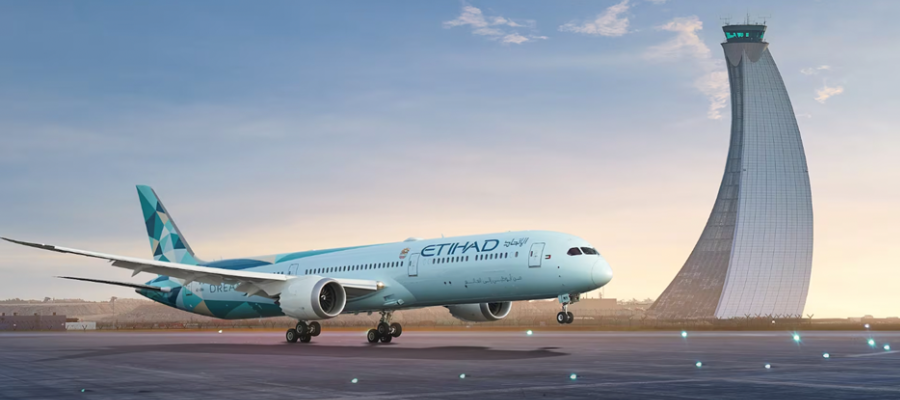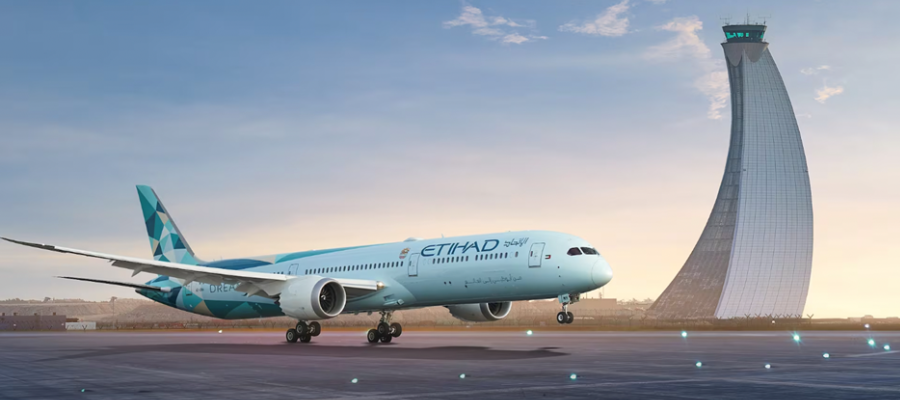 Among the ME3 carriers, Etihad Airways seems to be taking bolder approaches towards sustainable aviation. 
The Abu Dhabi-based carrier developed its Greenliner Programme which includes sustainable flights. Under the programme, Etihad optimised flight routes and flight efficiencies, using sustainable fuels and managing secondary flight emissions.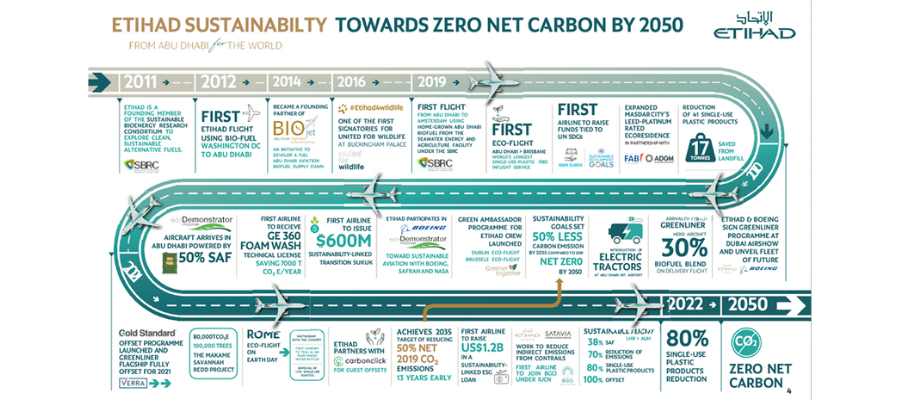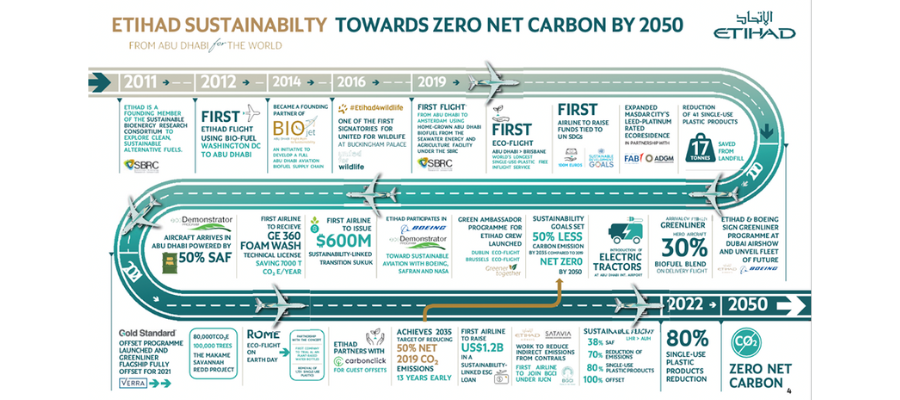 In 2019, the airline launched its first Eco flight, then conducted a series of successful flight tests, and three years later in 2021, its first sustainable flight.
In October 2022, Etihad became the first non-Japanese airline to use Sustainable Aviation Fuel (SAF) in Japan. As part of a deal with trading company ITOCHU and oil refining company NESTE, an Etihad flight took off from Narita airport using a 40% blend of SAF.
And on November 13, 2022, Etihad also flew their first net zero carbon flight from Washington to Sharm-El-Sheik for COP27, claiming 10,000kms of emission-free flight.
Using the airline's Boeing 787 "Greenliner", Etihad flew delegates of the COP27 summit in partnership with World Energy.
Etihad also encourages transparency in its sustainable efforts, encouraging people to track its net zero flights online.
In December 2022, Etihad won two prestigious sustainability awards: "Environmental Sustainability Innovation of the Year" award at CAPA Centre for Aviation's annual Environmental Sustainability Awards for Excellence in Singapore, as well as "Best Airline for Sustainability 2022" award by Business Traveler USA.
The airline's latest sustainability report can be read here.

---
Join us at World Travel Market London
The market leading travel and tourism event brings the whole world together in London.
Join us from 6–8 November 2023 at ExCeL London.
---