Holidays are where unforgettable memories are made to last a lifetime. It is also a great way to spend quality time together with family members, yourself or with friends. Life passes us by at home, so it makes sense to take a moment to stop and embrace all that a holiday can bring.
What makes a holiday destination perfect? There is no single answer but it helps if it's affordable, easy to get to, where you can sleep and eat for as little as possible as well as offering many fun things to do to keep everyone happy and of course, good weather!
If you've been wondering where to go or where to take your family for their next overseas vacation, here is 7 surprisingly affordable holiday destinations.
1. Pokhara, Nepal
Nepal boasts the tallest mountain in the world Mount Everest. It costs copious amount of money to climb it but with more than half the budget for the Everest, you can explore the beautiful city of Pokhara. It caters for backpackers, mid-tiers, luxury, solo, couple and family orientated travels. It is a paradise for nature lovers and thrill seekers with loads of activities to do. You name it, you will quite possibly find it in Pokhara. Some common ones are cycling, paragliding, hiking, mountain climbing, and trekking.
It costs 15 AED for a decent lunch (including a drink), basic dinner for two at 61AED and if you fancy dinner for two at an Italian restaurant in the expat area including appetisers, main course, wine and dessert, it will cost 76 AED. And accommodation at a three-star hotel starts at 58 AED.
Pokhara is peaceful with its laid back lifestyle. You can join yoga classes, boating, meditation, cooking classes and there are kids friendly activities too. There is something for everyone in Pokhara. Just don't miss out on eating momo, visiting the Phewa lake, Davis falls, Begnas Lake and the Mahendra cave.
Pokhara is a total package of cheap fun, food, nature and adventure. It is a good idea to look at holiday deals, as it covers a lot of what you can see and do at one price.
2. Pakse, Laos
If you like to travel off the beaten path, then go straight to the south of Laos. Forget tubing culture in Vang Vieng, and temples in Luang Prabang, Pakse is a much more scenic and low key way to enjoy this country with family.
Pakse is rich in nature, culture, traditions and tourist attractions from UNESCO heritage sites to centuries-old villages and countless waterfalls, mountains and markets. There are options to either make Pakse your base and do day trips or move down south slowly. From Pakse, bus ticket can start from 12.88 AED, motorbike hire can start from 25.76 AED for the full day, and day trip from travel agents can start from 51.51 AED.
While you are there, enjoy local delicacies such as laab at one of the many restaurants. To give an idea, comfortable sit down fancy three-course meals for two starts at 27.90 AED and cheap street food for two starts at 8 AED whereas three-star hotel for two on a double room costs 21.10 AED per night!
With that price range, it is fair to say Pakse is one of the best family holiday destinations for cheap family holidays.
It is so good there, some of the following must-sees are free to enter too. Vat Phou, Vat Phou Salao, Khone Phapheng Waterfalls, 4000 islands, Somphamith Waterfalls, Tad Fan and Tad Nyeuang waterfalls and wander along the markets for local handicrafts.
3. Penang, Malaysia
Penang is famous for its soft sandy beaches, forest walks and is fondly regarded as the food capital of Malaysia. George Town is the biggest city in Penang which brings about an eclectic mix of architecture (British, Chinese, Indian and Malay) and dining styles. The vegetarian and halal food scene is vast, with a variety of options on offer; ranging from high-end restaurants to street food.
To give you an idea, the average cost of three-course fancy dinner for two costs 54.42 AED and a cheap meal for two costs 20.05 AED. If you are a foodie, Penang is your paradise!  And to stay in a three-star hotel in Penang price starts at 79.13 AED per night.
Another awesome thing about Penang is that you can wander across a Chinese temple, turn onto next street, and find yourself at the foot of an Indian Hindu temple and walk a little further and stumble across both church and a mosque.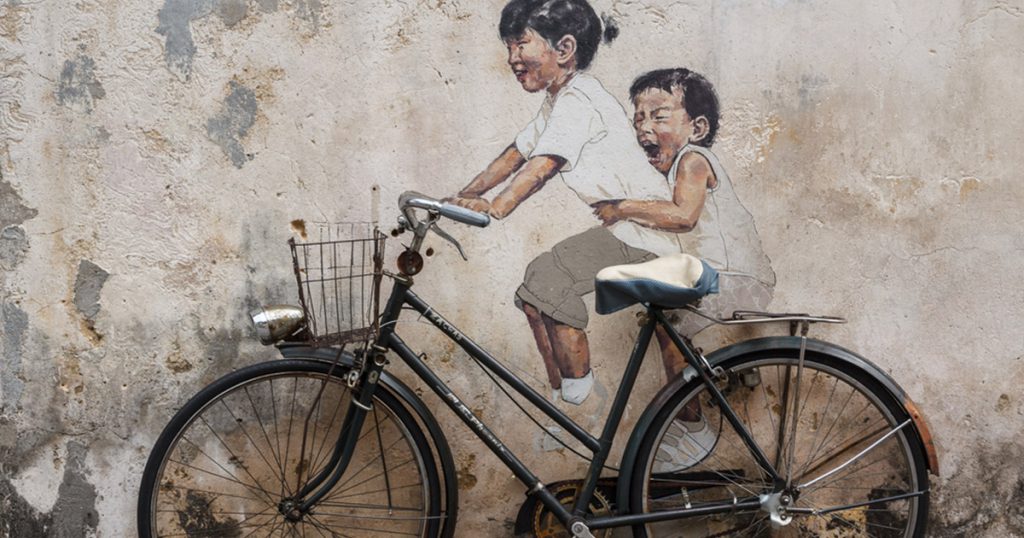 Some of the hight lights in Penang include Sun Yat-sen Museum, Heritage Houses of George Town, Pinang Peranakan Mansion,  and Chew Jetty. Penang also offers some of the best street art in South East Asia. The entire city of George Town has become a gallery for street art in recent years. The best thing about this activity, there is no charge!
There is also a beach called Batu Ferringhi beaches on the north and farther along you'll find the Penang National Park. And if you fancy seeing macaque monkeys, keep walking a paved walkway through the green forest in Penang Nation Park which leads to Monkey Beach.
Malaysia is a multi-cultural country, with over 60% of the country being Muslims. They have long been the pioneers in Muslim-friendly, cheap family holidays aall-inclusiveive packages, with a range of affordable trips available for families including last minute holidays.
4. Sri Lanka
This beautiful tropical island just off the coast of India is often referred to as "the pearl of the Indian Ocean."  It is normally recognised as purely a place for honeymoons, but in fact, it is an amazing place to go for a cheap family holiday or even group travel. It perfectly combines low prices, with the wealth of tourist attractions to see. There are a host of wildlife experiences to ensure this is one of the best family holiday destinations.
For accommodation, finding family housing in the country is easy enough, but be warned you should book well in advance as it is becoming more and more popular among families. If you are stuck for hotels, Airbnb is a fantastic option, as they have many properties in perfect locations.
While you are there, don't miss Adam's Peak, Udawalawe National Park, Bentota Beach, Independence Memorial Hall, Kelaniya Raja Maha Vihara, Dambulla Cave Temple and Polonnaruwa Ruins.
A Sri Lanka holiday can only be complete by eating its mouth-watering food. Three-course meal for two in a mid-range restaurant costs at 41.71 AED and cheap meal for two costs 12.26 AED.
5. Kochi, India
Kochi used to be called Cochin, and it is the 75th biggest city in India. India's population is only 10% Muslim, despite this; the country has the 3rd largest Islamic population in the world. This ensures that it is effortless to find Muslim-friendly food options, no matter where in India you visit. You will find that the best part for Muslims to visit is the south-west of India, where Kochi is.
It is an ideal destination for travellers who prefer to walk around or use a bicycle as most places are within a walking distance. The area is very accommodating for tourists, with cuisines of all types, tons of activities, and an array of accommodation.
Here an average three-course dinner for two costs 26.39 AED; and a cheap one course meal for two starts at 15.83 AED.
Some highlights and must-see activities in Kochi include Chinese Fishing Nets, spice markets (both free to see), exploring Mattancherry Palace (0.26 AED entrance fee), St Francis Church, watch a traditional Kathakali dance performance, learn how to cook Cochin food, experience Ayurvedic massage and relax at the Vypeen beach.
6. Bagan, Myanmar
Forget the grime building of Yangon, Bagan is the cultural capital of Myanmar. There are 2000+ temples and pagodas in Bagan so it can be an exciting experience to explore centuries-old temples and finding your favourite. If not you can always skip that part and go to local markets where you can buy almost anything, attend local festivals which are fun, watch the puppet shows, go for a trek to Inle lake which is only 2 hours away, or just relax and enjoy. It helps like most things, the food and accommodation are cheap in Bagan too.
For example, one night at a three-star hotel with nice double bed costs 84.48 AED which comes with complimentary breakfast, swimming pool and e-bike for exploring the town.
Then, a cheap lunch for two costs 29.38 AED and a nice sit-down three-course meal at a mid-range restaurant for two costs 73.46 AED. If you are worried about a kid-friendly menu, they got that covered too. Come cocktail time, happy hour deals in the bar will be waiting for you.
From world famous pagodas to old ruins, mountain hikes to delicious Burmese cuisines and affordable boutique hotels. Bagan is the place to be for cheap holidays and knows as cheap family holiday destinations. It is exciting to explore this beautiful part of the country as it hasn't been long they have opened their door to foreigners.
7. Prague, Czech Republic
Prague is one of Europe's cheaper and most picturesque cities. The cobblestone roads, palatial architecture, medieval vibes, and world-class galleries of Prague often draw comparisons to Paris, albeit on a much more economical scale.
The jewel in the Czech town is the beautiful clock tower, Vltava River both of which has no entrance fee, Prague castle (55.38 AED entrance fee), and its sublime beer (5.27 AED), with plenty of bars and brewery tours for travellers to sample the local delicacy.
When it comes to accommodation, hotels in Prague are cheaper than in other European cities. Private double room in a three-star hotel costs 121.23 AED per night which offers a terrace, bar and walking distance to old town.
The best way to experience Prague's food culture is to book one of the food tours that showcase both traditional dishes and emerging trends. But if you want to venture out on your own, expect to pay 92.29 AED for sit down comfy three-course meal in a mid-range restaurant whereas the cheap meals for two start at 40.90 AED. It is a bargain for the price in this part of the world.
Prague is the ideal place for a budget family holiday in Europe. Plan ahead and look for cheap all-inclusive holiday packages as well as last minute cheap family holiday deals.
Don't miss even more affordable holidays by attending ATM Holiday Shopper, the new travel event on 27th April at the Dubai World Trade Centre.
Book your tickets today and quote "EB50" at checkout to benefit from our early bird half price tickets! For more information visit www.atmholidayshopper.com