Holiday packages are ideal, with increasing number of travelers opting for this choice over the traditional bed and breakfast options. If you've never experienced tour packages before, don't let the naysayers discourage you – You don't know what you are missing out on until you've tried it for yourself.
Packages save money in the long term, and provide excellent value for money. This is especially the case nowadays with various packages taking into account dietary needs such as being halal friendly or vegetarian. You can sit back and relax with holiday packages because everything is organised for you.
All over the world, there are established companies offering holiday packages. Usually, the more tours you take, the more you can profit from loyalty rewards schemes, early bird discounts, and avoid annual price increases. So, it makes sense to visit travel shows offering a selection of travel deals (such as ATM Holiday Shopper) and keep an eye out for discounted travel tours. These special rates can sometimes come with inclusive benefits such as flights, and can help make your travels much more cost-effective.
In this blog, we have selected 5 different types of holiday packages that you can choose from for your next holiday:
Honeymoon Holiday Packages
When you are newly wedded, you want to find the perfect place to celebrate your marriage, which can be as equally exciting as overwhelming. Even if you have a variety of travel needs, such as being following a Halal diet; there are plenty of vacation spots to choose from. Whether you are a couple that likes adventures, is crazy for food or enjoys lounging at the beach, there is something for everyone.
Countries such as Istanbul and Cape Town offer a variety of honeymoon tour packages and travel services. At these locations, you will also find restaurants which respectfully suit all religious beliefs and diets. However, honeymoon holiday packages organised in Kashmir and Europe are often the most preferred due to the beautiful romantic scenery, delicious meals and private accommodation that come with it.
There is nothing better than spending time with your family on holiday. But things can get overwhelming when you have to plan everything for everybody. That is when family holiday packages come in. With family packages, you can rest assured that everybody will see the main highlights and have a great time. Itineraries are thoroughly researched for the fastest routes and optimal free time, so you can have more time to relax and enjoy the vacation with your family.
The tourism industry in Singapore, Fiji, and Indonesia are thriving, and family packages are often a common choice. These often include different types of activities, like visiting the cultural destinations, relaxing cruise ride, enjoying the scenic beauty of eco-touristic places, taking part in water sports like paddle boarding or surfing, and experiencing the local cuisines via food tours.
To avoid wasting time, it is best to buy family tours with established brands, ensuring a safe itinerary and pre-included activities (and optional extras) that have been tried and tested for you.
Adventure Travel Packages
This form of package is ideal for bringing people out of their comfort zone. Expect to be engaged in exciting physical and cultural activities in the wild, which can be solo or with a tour group. Travelling with others also creates a great opportunity to make lifelong friends and really enhances the usual travel experience.
In recent years, adventure tourism in Nepal and China has grown phenomenally. This includes the ability to explore local wonders and trying out adventurous sports such as sky diving, ice trekking, mountain biking, rock climbing, kayaking, bungee jumping and paragliding. These countries are heaven for thrill seekers and adventurous heart. Just don't forget to include travel insurance when choosing your adventure travel package!
Cruises are a perfect alternative for those looking to get away from the busy cities, and explore beautiful seaside countries instead. This type of package has been one of the fastest growing forms of travel in recent years. As an example, Mauritius, Dubai along with Australia and New Zealand are known to offer some of the best cruise packages worldwide.
A cruise encourages visitors to fall in love with their holiday destinations, while exploring the beautiful riverside village and undisturbed sacred islands. With cruises, entertainment is plenty and your fare always includes food for breakfast, lunch and dinner – no matter your diet!
The wellness packages offer a variety of ways to help visitors rediscover their body and senses, such as learning to find the right balance in life, mastering yoga, meditating, nurturing yourself. These package are perfect to promote and embrace a healthier and less stressful lifestyle.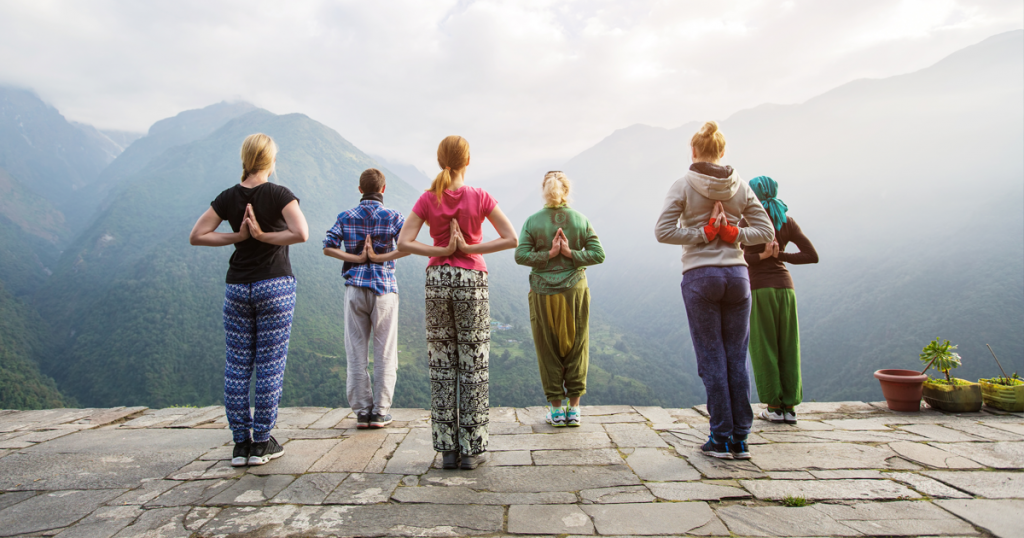 One of the favoured destinations for wellness tourism is Kerala in India. India is renowned for its centuries-old relationship with yoga and Ayurveda, something that the tourism market has now tuned in to.
Wellness retreat packages usually include everything you need in one price. All the meals, spa treatments, day trips, yoga, meditation classes and cooking sessions are therefore comprised in the packaged rate, meaning you won't need to spend a cent on add-on surprises.
Why not take a break from your busy schedule and relax with a packaged vacation? Get incredible rates on holiday packages like these, by attending ATM Holiday Shopper on 27th April in Dubai World Trade Centre.
Book your ticket today using code "EB50" to attend the show for AED 50 only! For more info visit www.atmholidayshopper.com