One of the incredible things about living in Dubai is how well-placed residents are to explore the rest of the world. With Emirates Airlines you can reach an incredible 140+ destinations in 85 different countries. But what if you are looking for a weekend adventure closer to home, or perhaps you would like to extend your Dubai trip if you are just passing through?
You don't have to travel far from Dubai to experience fabulous food, explore historic forts, ancient temples or indulge in sheer relaxation. With a calendar full of public holidays and long weekends to choose from we've been scouting out the most popular and perhaps surprising ideas for short trips from Dubai.
Musandam Peninsular
Best for: Tranquillity and nature
It's hard to believe that the beautiful mountainous khors of the Musandam Peninsular that have helped it earn the nickname "the Norway or Arabia" sit so close to Dubai.
Situated to Dubai's north-east, it's possible to visit the Omani enclave in a day trip, however, you really need to make at least a weekend trip of it to do it justice. Some come to enjoy water sports and snorkelling, or perhaps you would prefer a dolphin spotting cruise and enjoy the placid waters around Kumzar in your own private dhow.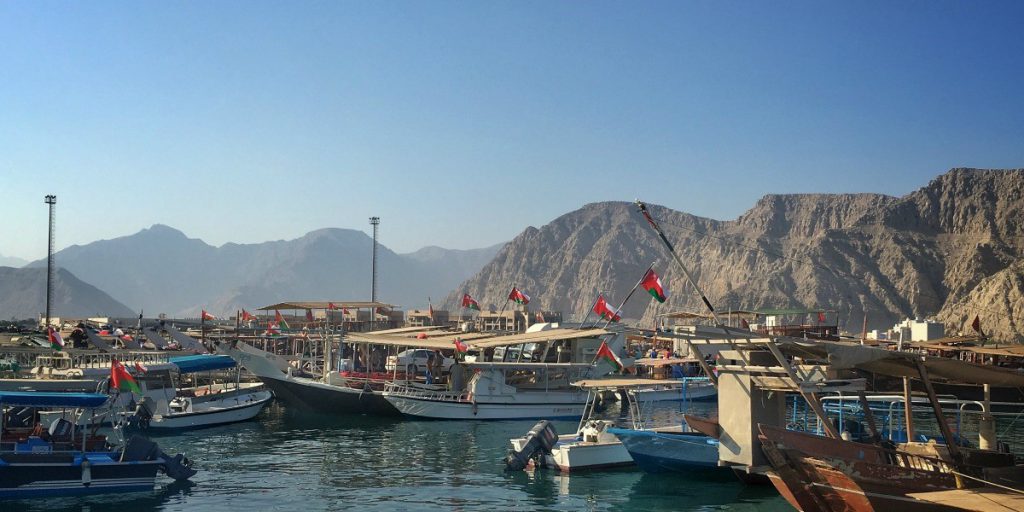 Remember although you will travel by road, you are still crossing an international border so paperwork ready!
Where to stay – try the beautiful Antana Musandam Resort in the regional capital Khasab if you love a traditionally styled Omani resort. Or for a true touch of nature, camp under the stars on your own private beach below the khors.
Muscat, Oman
Best for: Culture & relaxation
The Omani capital of Muscat nestled between the Hajar Mountains and the Gulf of Oman carries an ambience that's difficult to replicate.  Strict building codes are in place which keep even the most modern of buildings such as the Royal Opera House and the Sultan Qaboos Grand Mosque in keeping with the traditional feel of the country.
While there are plenty of beautiful sites in Muscat and a stroll along the Corniche and around Al Muttrah a must, getting there can be half the fun. It's an easy one-hour flight making it an ideal short weekend trip from Dubai, however, driving will take you across the incredibly picturesque Hajar Mountains.
If time permits, stop at Nizwa and some of the smaller villages along the way. Admire the UNESCO World Heritage Listed Aflaj Irrigation Systems, explore the Al Hoota Cave and experience one of the fabulously restored forts across the country – there's over 500 of them to explore!
Where to stay: The Shangri-La Barr al Jissah is hard to beat when it comes to all-round family entertainment, facilities and relaxation, sitting south-east of Muscat in its own private oasis.
Al Ain, Abu Dhabi
Best for: Culture, history & animal encounters
I don't believe you've truly experienced the UAE until you've spent some time in Al Ain. Home to the country's Founding Father Sheikh Zayed bin Sultan al Nahyan, the city is brimming with history and one of the easiest weekend getaways from Dubai. Al Ain Palace Museum takes you on a journey back through the Al Nahyan family history, while Qasr al Muwaiji, birthplace of His Highness Sheikh Khalifa takes a more recent look at the UAE's history.
The Al Ain Zoo is a family favourite that has been made even more engaging for all ages with the opening of the Sheikh Zayed Desert Learning Centre. As well as extensive animal exhibits and the new Al Ain Safari, the SZDLC is one of the best education facilities in the country. Five interactive galleries take you on a journey from ancient times and explain the geography of the region through to modern day issues around sustainability.
You also shouldn't miss visiting one of the city's six oases and archaeological sites that have recently been added to the UNESCO World Heritage list for their cultural significance.  There's evidence of the land's occupation dating back as far as 5000 years ago. Finish your Al Ain visit with a drive to the top of Jebel Hafeet, Abu Dhabi's highest point and on the way back down, dip your feet into the natural springs at Green Mubazzarah.
Where to stay: There are several affordable family resorts around the city with Al Ain Rotana and Danat Al Ain often featuring as favourites for families with nice pools, restaurants and flexible family-sized rooms.
Beirut, Lebanon
Best for: Foodies & history lovers
A favourite Dubai city break is heading north to the Lebanese capital Beirut. Lebanon is a relatively small country, so from a central base in Beirut you can see most of the country's main tourist attractions on easy day trips out of the capital.
Head north to Byblos, the 7000-year-old port city, stopping on the way at Jeitta Grotta with its subterranean underground caves, then take the cable car to see Our Lady of Lebanon in Harrissa. Further afield explore the Jabal Moussa Biosphere Reserve to the north, to the east the stunning UNESCO listed Baalbek Temple complex, or head south to the historic seaside towns of Tyre and Sidon on the Mediterranean.
Close into Beirut, explore the new Beirut Souks, stroll or cycle the Corniche like the locals do, then admire Raouche Rocks before heading to one of the evening dining hotspots.  Al Hamra is famed for its shawarma and falafel, and don't miss off Mar Mikhael. It might have a reputation for its night life, but head just off Armenia Street and there are plenty of small restaurants for families to enjoy too.
Where to stay: Try the Intercontinental Phoenicia Beirut, its grand foyer, waterfront views and indoor and outdoor pool options make it a family winner.  
Sri Lanka
Best for: Nature escapes & adventure
Only a 4-hour flight from Dubai will see you arrive in the Sri Lankan capital, Colombo. If you're short on time, skip the bustling city and head straight to one of the country's acclaimed national parks. Yala National Park to the south is high acclaimed and offers the opportunity to spot leopards. If your time is tight, closer to the airport you will find the Pinnawala Elephant Orphanage.
Although the south coast is popular with families for its beautiful sweeping beaches and the historic fort town of Galle, during the monsoonal summer months, you may prefer to head north and east. The rock fortress of Sigiriya, also known as Lion's Rock is one of Sri Lanka's most famous sites to explore. Or head all the way to the eastern coast and Trincomalee to enjoy the whale watching season.
Where to stay: Hiring a family-sized villa is a popular choice, but if you're in Sri Lanka on a short relaxing break why not try boutique hotel The Wallawaa, only 20 minutes from the international airport with family suites and a lush jungle setting.
Maldives
Best for: Indulgent relaxation & water sports
Seeking the ultimate family beach escape? Dubai is ideally placed for the short hop into the Indian ocean island nation of the Maldives. Images of the serene turquoise waters, soft white sand and dreamy lagoons may seem more befitting of a honeymooner's destination, but there are still plenty of fabulous options for families too.
Where to stay: If you are worried about overwater villas and over zealous toddlers, don't worry there are plenty of resorts that have been designed with the family in mind.  Receiving frequent top billing among parents is the St Regis Vommuli Resort with its private butler service, children's club and outdoor sporting options.  Other popular family resorts include Lily Beach with its all-inclusive options or Oblu Select at Salengi.
Meet leading travel companies, discover new destinations and save on your next holiday, by attending ATM Holiday Shopper on 27th April at the Dubai World Trade Centre. 
Book your early bird tickets for only AED 25, by quoting "EB50" at checkout. For more info visit www.atmholidayshopper.com