By Steve Keenan, Co-Founder, Travel Perspective
IN retrospect, the World Cup was just the beginning. When, in 2010, Qatar was named as the venue for the 2022 tournament, it gave a green light to a long-term tourism plan which is now being rolled out.
The tournament was a catalyst, a deadline to develop a blueprint including an expanded airport, new Metro and a new cruise terminal.
An Oxford Economics report says £180bn has been spent on infrastructure, partly related to the World Cup, partly to Qatar's long-term strategy, National Vision 2030.
That investment included 100 new hotels, many in Lusial, a new city on the desert coast. A short train ride from the capital Doha, Lusial was built from scratch. It is billed as a Green City, part of a sustainable development plan but which also hosts a F1 track, the biggest marina in the Gulf, artificial islands and an amusement park.
It is already Qatar's second biggest city. Members of the Institute of Travel and Tourism will be able to explore when the ITT holds its annual conference on June 5-7 at the Waldorf Astoria, another five-star Lusail hotel which opened last year.
According to consultancy firm Valustrat, 46 hotels opened in Qatar last year alone, 62% rated as five-star. More top-class hotels will open this year. By the end of 2023, there are planned to be 40,000 hotel and serviced apartment rooms in Qatar.
---
Join us at Arabian Travel Market
The market leading travel and tourism event brings the whole world together in the Middle East. Join us from 1–4 May 2023 in Dubai, UAE.
---
The 1.18m international visitors who visited for the World Cup helped occupancy rates in Q4 reach 61%. But the significant jump in room supply in 2022 and pipeline supply for 2023 is projected to slow growth – the volume of tourists is not predicted to catch up in proportion but increase gradually.
So how does Qatar plan to fill those rooms? What is the strategy post World Cup? How does it compare with developed Dubai or the tourism ambitions of neighbouring Saudi Arabia, both diversifying from fossil fuels?
A report in the South China Morning Post argues that as demand for Qatar's liquefied natural gas begins to dry up, the plan has long been to turn its patch of desert into a "gleaming tourist magnet."
Qatar wants to grow the GDP contribution of the tourism sector from 7% to 12% by 2030. It's National Tourism Strategy 2030 details plans to increase visitor numbers threefold to six million and increase spending by three to four times.
It starts here.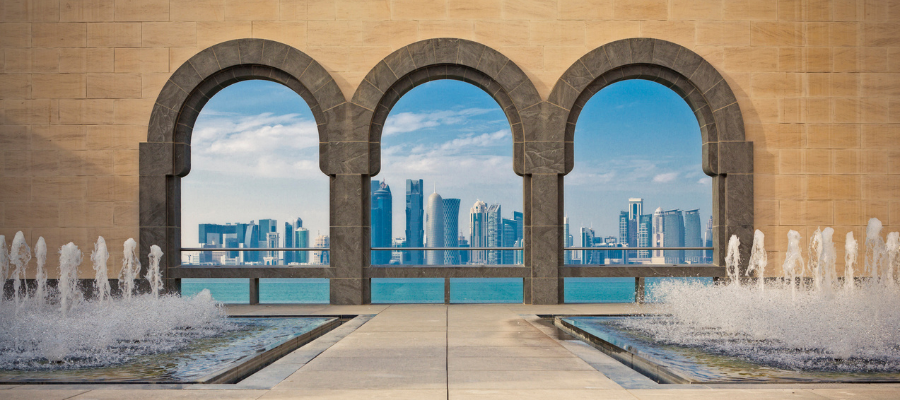 Says Berthold Trenkel, Chief Operating Officer at Qatar Tourism: "We're optimistic about the impact of the World Cup. It's an amplifier, an accelerator. It allows us to showcase the destination to the world."
Qatar has long learned how to gain 'soft' influence through football. David Beckham is an ambassador who has promoted stopover trips in Qatar. Italian legend Andrea Pirlo is also onboard. Qatar Sports Investment bought France's top team, Paris Saint Germain, a decade ago and is looking to buy Manchester United.
"In the short term at least, it doesn't make financial sense to host a football World Cup – but some things are bigger than money," says Qatar-based broadcaster Al Jazeera. "Hosting a World Cup is an exercise in the projection of soft power. It gives the world a window into that country, showing how new infrastructure makes it a good place in which to invest or to do business."
However, sport remains a tourism asset. Qatar has approached Rugby Australia, offering to host a Test in the 2025 British and Irish Lions tour. The state will host the 2023 Asian Cup in June. Qatar is seen as a hub, with 80% of the world's population within a six-hour flight.
Other sectors are targeted. Issa bin Mohammed Al Mohannadi, chairman of Qatar Tourism Authority, told the Oxford Business Group: "First, we want to continue to build on our strength as a meetings, incentives, conferences and events destination. Second is developing the country as a family fun and recreation destination to cater to regional visitors.
"The final positioning is an authentic experience that serves everyone, including Arab and non-Arab visitors. The Museum of Islamic Art, Souq Waqif (the old market in Doha), and Katara (Cultural Village) cannot be franchised, they are genuinely Qatari. Our goal is to position Qatar on the world tourism map as a preferred destination for various segments."
There are intriguing segments. Qatar's 350-mile coast lends itself to resort developments, while yacht cruising and chartering is in demand. Hundreds of whale sharks congregate from May to August to breed off the north-east coast – and boat tours to the area are allowed this year for the first time.
---
Get the latest travel insights delivered straight to you
Sign up to receive the WTM newsletter and get updates direct to your inbox.
---
Meanwhile, 58 cruise ships are expected in the current 2022-2023 season, which runs from December to April. More than 200,000 visitors are expected to pass through the new cruise terminal within walking distance of downtown Doha.
Maryam Saoud, head of Tourism Product Support at Qatar Tourism, said: "Our cruise sector is less than a decade old, yet it has grown tremendously and now contributes an important pillar to our tourism strategy. We're seeing continued, increasing preference for Qatar as a destination for both regular cruise calls and cruises with turnaround calls."
Qatar has identified 15 key country markets, mainly in Europe but also India, China and Australia. Last summer, Qatar Tourism opened an office in Iran: there are direct flights to Doha from Tehran, Mashhad, Shiraz and Isfahan. Iranian citizens do not need visas.
Target marketing is also in evidence, with COO Berthold Trenkel a keen advocate of data. Formerly COO at Dubai Tourism, he also spent 11 years at Carlson Wagon-Lits and says he "thrives" on the intersection of operations and IT.
One 2022 marketing campaign used CGI characters built around customer segments such as active holidays, short breaks, adventure and sport. Said Trenkel: "We created one character for each story and walk you through a personalized itinerary and recommendations. Tourism is all about what you can do, what you can see, and how it will make you feel when you visit the destination."
Dutch hotel company CitizenM is also moving into the metaverse having bought a virtual space in a game called the Sandbox. Here, it will connect with players, explore marketing opportunities and even raise funds to build a real-world property.
The list of metaverse examples for travel and tourism is endless, with Barbados opening a new virtual embassy, South Korea launching a metaverse replica of its capital city, Seoul, and the island of Tuvalu in the South Pacific building a digital version of itself to preserve its history as it faces erasure due to climate change. "As our land disappears we have no choice but to become the world's first digital nation," Tuvalu's Foreign Minister Simon Kofe told the COP27 climate summit last year. With the country's land, ocean and culture its most precious assets, no matter what happens in the physical world, they will be protected in the cloud, he added.
From staff training to virtual guest experiences to digital twins, these, and many more examples of useful applications for the metaverse will be discussed at this year's Arabian Travel Market, taking place at Dubai World Trade Centre from May 1 to 4.
Experts in this field will debate The Future of Travel and Tourism in the Metaverse, looking at how it can play a key role in advancing the industry and how stakeholders can be part of this new world. The session will be moderated by Karl Escritt, the CEO of Like Digital & Partners, an expert in delivering digital transformation projects for world-leading brands including Atlantis the Palm, One&Only, Vodafone, McLaren, British Airways, The Macallan and Majid Al Futtaim.
He will be joined by Emanual Erden, Web3 and Metaverse Consultant at exclusible, with expertise in creating metaverse products for luxury brands including Fortune 500 companies, as well as digital twins for destinations; Gauthier Guillaume, Founder and CEO at GG&Grace International and GraceVirtualReality (GVR), creator of virtual reality tools for the hospitality sector with a mission to "revolutionise the guest experience" through VR and AR innovations; and Joël Kremer, Partner, Moyosa Media, which builds 3D spaces, from showrooms to galleries for retail, the automotive industry and cultural attractions.
This panel session will discuss what the metaverse is, and what it isn't; the pros, the cons, and the possibilities; and why some travel and tourism entities are reticent to jump on the bandwagon.
Whether you are on board or sitting on the fence, it's worth noting that metaverse platforms grew by 15 million users year-over-year in Q3 2023 to 520 million monthly active users (MAUs), according to a report from the analyst firm Metaversed.
As Mckinsey & Company highlights in its Value Creation in the Metaverse report, "with its potential to generate up to $5 trillion in value by 2030, the metaverse is too big for companies to ignore".
Don't miss out on our world-leading events
We bring travel and tourism professionals together, from around the world at our events. Discover the closest one to you and join the WTM community.
---
"The whole strategy was backed up by a big piece of research trying to understand all the core markets and the relevant customer segments that are important for the Middle East and a match for Qatar.
"We have a lot of stakeholders, whether it's the Minister of Finance, or the Prime Minister's office, asking about the investments we make in marketing. We have to prove these investments make sense. With tourism, no one sees an advert and jumps on a plane to visit a destination. You're building up ideas on a bucket list. Then, with time, you'll go for it."