Sri Lanka's tourism industry is prospering, fuelled by a diversification of its visitor markets. Dave Richardson explains
Nearly a decade on from the end of its civil war, Sri Lanka is experiencing strong tourism growth with the prospect of a threefold increase in international visitors between 2012 and 2022.
The Indian Ocean island state has always appealed because of the range of attractions in a small area, without the need to travel long distances between the capital, Colombo, and its beach and highland resorts. Cultural tourism is a major draw but sports, events, health and business tourism are also becoming important sectors.
Figures collated by market research firm Euromonitor International indicate that Sri Lanka welcomed just over one million inbound visitors in 2012, rising to 2.2 million in 2017. The forecast is for more than three million by 2022, with the country being well placed to attract the fast-growing Indian and Chinese markets.
These were the top visitor markets in 2017 with 431,000 and 285,000 respectively, followed by the UK and Germany. SriLankan Airlines has expanded in Asia-Pacific with more flights to the Maldives opening up twin-centre holiday options.
"Sri Lanka is also considered to be an affordable tourist destination compared with other destinations such as the Maldives and Singapore, which are promoted as premium tourist destinations," says the Travel in Sri Lanka report, published by Euromonitor in October 2017.
"With the growth of hotels and resorts such as Shangri-La and Movenpick in Colombo, luxury sustainable hotel Tri Lanka, and a rise in foreign investment, there has been an increase in people visiting for business purposes. The growing Mice (meetings, incentives, conferences and exhibitions) sector has further fuelled business tourism."
Euromonitor notes that investment in hotels, Colombo airport and the road network has happened alongside measures to protect the environment, with development concentrated around 50 tourist zones.
Data and analytics company GlobalData is also positive about Sri Lanka, while adding a couple of concerns.
Sean Hyett, tourism associate analyst at GlobalData, says: "Social media has been a major factor in influencing people to go to Sri Lanka, as online posts showing the country's idyllic beaches and natural landscape have acted as a hugely impactful viral marketing tool.
"2018 looks to be a good year, but a few factors could hinder its potential. The government is increasingly concerned about the rising number of complaints about exploitation and harassment of foreign tourists, so has committed to strengthening its tourist police force to tackle this issue. Additionally, the president's decision to reinstate a ban on women buying alcohol and limiting bar opening hours could hinder growth in arrivals. The ban was initially lifted at the request of the tourist industry, and by reinstating it the country risks putting off Western travellers."
Experiential travel boom
Younger, more active travellers are a prime target for the Sri Lanka Tourism Promotion Bureau, which is also targeting cruise visitors and niches such as health and wellness tourism. It has also expanded its promotional activities in regions including Eastern Europe and the Middle East.
Dushan Wickramasuriya, director of public relations, explains: "The older and middle-aged tourists are interested in visiting historic sites and exploring culture, while the younger generation is into adventure tourism such as trekking, hiking, surfing and water rafting."
This diversification is reflected by major hotel operator Jetwing, whose latest property is eco-luxury resort Jetwing Surf in Pottuvil Point.
The group's marketing manager, Prasanna Welangoda, says: "Traditionally, our strongest markets have been from the UK and Europe. They still show consistent performance, but are now being outshone by markets such as India and China.
"Sri Lanka has long been established as a beach destination, but we're now being discovered for the variety of experiences such as wellness tourism, particularly Ayurveda treatments. This is a segment with immense potential along with Mice, adventure and wildlife travel."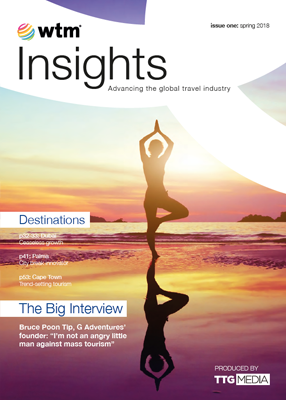 This article is from the latest edition of WTM Insights, the new quarterly magazine on global travel trends, analysis and updates from TTG Media and WTM.