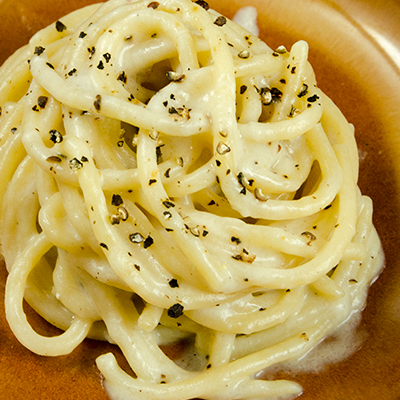 After a long day of stunning sights, unusual sounds, interesting smells, and at least 100 certainly never-before snapped pictures of the Leaning Tower of Pisa, we ended up for a late lunch at a café just off the Corso Italia, in Pisa. I ordered Pici Cacio e Pepe, a pasta dish renowned throughout central Italy. I swirled the creamy, peppery goodness around my fork and placed the parcel in my salivating mouth. I could hardly wait. Heaven. It tasted just like I imagined. The fat pasta was unique to us, meaning that we probably couldn't find it at home, so we bought some to take back with us. Once home, we replicated the dish as best we could, using an authentic Italian recipe and the Italian pasta. It just didn't taste the same. We had taken such pain to ensure authentic replication, yet the taste didn't come close to what we remembered. We wondered why, and then we realized, it's because the sense of place was missing.
I thought back to other similar situations I experienced with food and drink. The same thing happened with a bottle of Megas Oenos wine that we enjoyed at a lovely outdoor restaurant on the Greek island of Mykonos. I found the same wine on a menu at a restaurant in New York City. We weren't impressed. The same thing with fresh strawberry juice blended at a juice stand on the streets of Ipanema Beach in Rio de Janeiro. The version we made at home didn't begin to taste like its Brazilian cousin.
A sense of place simply cannot be replicated. Reasons why the pasta dish above didn't taste the same at home is because several items were missing from the equation, namely the Tuscan temperature, humidity, pollen and breeze; local water the pasta was boiled in; historic architecture surrounding us; and the Italian language and music we heard all around us. Such is the experience in situ – where these things are experienced natively. A winemaker refers to the terroir of grapes; in many ways, we're talking about the terroir for food. Winemakers use terroir in producing and promoting their wines. Destination marketers should be doing something similar with their local foods and beverages, and food/drink business owners should take note as well.
The good news for destination marketers and food/drink business owners is that authenticity is extremely hard to replicate, meaning people must travel to get a "real taste" of something. Consider the quaint Austrian village of Hallstatt. A version was replicated in the town Luoyang, Boluo County, in China. While the Chinese version is purportedly quite well done, it's just not the same. For starters, the villagers in Luoyang won't be speaking the Austrian dialect of German.
Once I enjoyed an Italian meal at a high-end hotel restaurant in Seoul, Korea. All the ingredients had been flown in from Italy and the chef, who was Korean, was trained in Italy. If you closed your eyes while eating, you would swear that you were being served authentic Italian food in Italy. That misperception would be corrected quickly, when your ears picked up the Korean language being spoken by diners at adjacent tables. Kudos to the hotel for replicating the authenticity of the Italian food. However, there was nothing that could be done to replicate the authenticity of the Italian experience.
The same applies to travelers taking their expectations with them. We've all heard stories about British travelers in Spain who want their fish and chips and pint of ale, or German travelers who want their sausage. Why travel and seek out the same food that you can get at home? This argument does not work in favour of the chains, many of which are doing a much better job today to buy local and replicate authentic dishes for the masses. Still, why would one travel to Singapore and seek out a Starbucks coffee? At the very least, the traveler should try a bubble iced coffee drink from the regional Coffee Bean & Tea Leaf chain (or even better, from a local stand in a hawker centre).
One cause of this behavior is fear. We fear the unknown. Imagine that you're in Moscow. You're desperate for a coffee and you just found a café where the coffee smells fantastic. Unfortunately, the menu is written entirely in Cyrillic characters. You have no idea what's what, and no one speaks your language so you leave. In the distance, you see the familiar Starbucks or Costa logo and you make a beeline. Why? Because you were scared to try something different, of making the wrong choice and of being disappointed. Destination marketers have a challenge to help the local food and beverage business owners see the experience through the eyes of a visitor. In this situation, a simple mention written in other languages at the bottom of the Cyrillic menu stating that a printed menu is available in 5 other languages would go a long way to helping a visitor feel more comfortable and even adventurous to spend money in their establishment.
Another reason why people don't try new things is apathy. It's simply easier to go with what you know. So you're back in Moscow. You walk out of your hotel and instead of saying to yourself "I'm going to go find a great little Russian café," you ask yourself, "I wonder if there's a Costa Coffee here in Moscow?"  Again, the onus is on destination marketers to find a way to get travelers to start thinking about local food and drink, rather than what they are used to. For example, banner advertising upon arrival in the airport, or while waiting at baggage claim, can start visitors thinking outside the box.
The challenge is to get visitors information in a language they read. In both examples above, a printed menu in multiple languages or banner advertising in English (the international language of travel), will help, but it only goes part of the way to finding a solution. Ultimately, the visitor should be using a smartphone app with information available in multiple languages to help them to discover new food and beverage experiences. That app should be faithfully represented in website form for when travellers research information in advance of their trip.
Authenticity is the number one type of food experience that visitors prefer, according to data from the 2013 and 2016 editions of the Food Travel Monitor published by the World Food Travel Association.  Authenticity is just one of a total 13 available PsychoCulinary profiles, which are like behaviours and preferences exhibited by food lovers. This behaviour has now been distilled down thanks to evidence-based science. Why publicize 180 different types of cuisines in your destination? Visitors aren't going to travel to India to eat French food, or to Japan to eat American food. Of course, we also like to eat different types of cuisines but from the perspective of marketing to visitors, the "authenticity" and "local" PsychoCulinary preferences are what gets noticed, remembered and talked about.
The notion of celebrating a sense of place through local food and drink was first discussed in 2001 in a white paper published by Erik Wolf, who later founded the World Food Travel Association (WFTA). The WFTA's mission is to create economic opportunities where food and beverage meet travel and hospitality. Learn more about food tourism and how to do it right at www.WhatIsFoodTourism.org. Be sure to attend the food tourism session at World Travel Market London, taking place on Tuesday, 7 November, 10:30 – 12:30 in Platinum Suite 3. Remember, #EatWellTravelBetter!