Once an afterthought to a holiday, food is now central to the experience and tourist boards are realising this, Charlotte Cullinan finds.
Food tourism is booming, and savvy operators and marketers are increasingly tapping into it to boost customer spend and transform the way travellers think about destinations.
The World Food Travel Association (WFTA) defines food tourism as: "The pursuit and enjoyment of unique and memorable food and drink experiences, both far and near."
WFTA founder and executive director Erik Wolf says good food and drink can have a huge impact on holidays, but stresses that food tourism isn't just about sit-down meals. It includes food and drink experiences and the sector caters for all budgets and interests, with food carts, farmers' markets and street vendors playing their role alongside wineries, cooking schools and high-end restaurants.
Foodies aren't all the same
Food travellers' diverse tastes were highlighted when the WFTA conducted its PsychoCulinary profiling on 3,000 travellers from 11 markets in 2016. Travellers could be assigned several food preferences, but only 18% were classified as Gourmet. In contrast, 46% were considered Authentic – who seek cuisine that follows the recipes and traditions of a region.
Wolf says the food tourism sector needs to cater more than ever to younger consumers, with WFTA research showing that 52% of millennials are "culinary travellers" who have enjoyed unique food or drink activities on a recent trip, compared to 42% of baby boomers. "Speak to them on the platforms they prefer and use the wording they respond to best," he advises.
Staying abreast of new food and beverage products and ingredients is also vital to staying relevant. He cites vegan and plant-based diets and vegetarian replacements for meats among current popular food trends, and points to the explosion in popularity of fermented foods.
The WFTA estimates that visitors spend around a quarter of their travel budget on food and drink, and Wolf says the food and beverage tourism industry can deliver tangible and measurable results: "For destinations, the main benefits are awareness, increased visitors and any paid membership offerings. For businesses, it's more sales, more jobs and brand awareness, and for governments, the benefits are employment, taxes and investment.
The Aussie experience
Numerous tourist boards have seen impressive results from carefully curated food tourism initiatives. For many, a key objective is to close the gap between the perception of their nation's food and the reality.
This was the catalyst for Tourism Australia when it launched its Restaurant Australia campaign in December 2013. Research across 15 of Australia's key markets found that among travellers who had visited, the country ranked number two for its food and wine experiences – second only to France. However, only 26% of people who had not visited Australia associated the destination with good food and wine.
Denise von Wald, Tourism Australia's regional general manager, UK and Northern Europe, explains: "It's from this disconnect that Restaurant Australia was born. We realised that Australia's stunning food scene was actually our best-kept secret – the perception of Aussie fare among non-visitors was a world away from the reality."
The global campaign is still a key pillar in Tourism Australia's international marketing. It has included a strong social media focus and elements including media partnerships and pop-up restaurants in key markets. In Australia, the campaign saw Copenhagen's world-renowned Noma restaurant relocate to Sydney for 10 weeks in 2016, and Australia hosted the World's 50 Best Restaurant Awards in April 2017 to showcase its food and wine culture to international culinary experts.
Since the launch of Restaurant Australia, the amount spent on food and wine has increased by 38% from AUS$4.2 billion in 2013 to AUS$5.8 billion in 2017, and one in five dollars spent by international visitors now goes towards food and wine experiences. The campaign has been credited with driving international awareness and interest in Australia and boosting media coverage – with the Restaurant Awards alone generating more than 4,500 media articles, with an audience reach of more than 5.5 billion.
Von Wald adds: "Restaurant Australia has helped the world wake up to the unmatched wining and dining experiences Australia has to offer. The response from industry, media and consumers, both during the campaign and since, has been phenomenal."
A taste of Ireland
In Ireland, food and beverages account for 35% of overall visitor spend, equal to €2 billion a year. The National Tourism Development Authority, Failte Ireland, has a dedicated food and drink development strategy operational until 2023.
Food tourism officer Sinead Hennessy explains: "Food and beverage consumption is an intrinsic part of the tourist experience. The aim is to increase the availability and quality of the food and beverage offering so that all visitors to Ireland, regardless of motivation and budget, can happen upon great food and drink experiences with an authentic local story."
Creating a story around the country's cuisine has been key for Failte Ireland. Businesses are able to access a free comprehensive online toolkit, including suggested copy to develop a personal food story that ties into Ireland's broader food narrative, plus case studies, images
and videos.
There are also Food Champions and Food Ambassadors programmes, which celebrate grass roots and high-profile food heroes respectively, while the Taste of Place scheme helps high-density visitor attractions and heritage sites increase food and drink quality, making it an intrinsic part of the experience.
Hennessy says these initiatives and numerous others have helped create a national food and drink movement across Ireland.
"There is a growing sense of pride in our food offering and this translates across the experiences on the ground," she explains. "Today visitors will discover a renewed appreciation for the natural ingredients available from our local landscape and a modern Irish cuisine that stretches far beyond the old stereotypes of potatoes and corned beef."
Signature food and drink
Certain food and drinks are often the cornerstone of an area's identity, and nowhere is this truer than in Kentucky, famous for producing 95% of the world's bourbon. The Kentucky Department of Tourism's commissioner Kristen Branscum explains: "Bourbon is more than a drink or a tourism attraction, bourbon is a way of life in Kentucky."
Visitors can learn about America's only native spirit by touring one of many Kentucky distilleries boasting visitor experiences ranging from food pairing classes to cooking with bourbon and private barrel selections. These are promoted as part of the tourist board's regular marketing and advertising mix.
However, Branscum stresses it's not just Kentucky's signature spirit that impresses guests' taste buds, as its rich culinary culture in each region is often "an unexpected, hidden gem".
To promote its culinary offering, the Department of Tourism has declared 2018 to be "The Year of Kentucky Food" and it is promoting everything from traditional American southern fare to street food and fine dining. Branscum says that showcasing the stories and centuries-old traditions behind the dishes is key to helping the state's culinary offering stand out from its neighbours.
In May, visitors were encouraged to sample nine signature regional meals in a State Park restaurant, and a food visitors' guide has been created.
Adventures in eating
Food tourism can also drive impressive business for operators, from specialists such as Eating Europe Tours (see expert opinion panel) to Intrepid Travel, the world's largest small-group adventure tour company.
Intrepid Travel launched Real Food Adventures in 2013, one of the most successful new themed trip ranges in the operator's 29-year history, with a steady 20% growth in passenger numbers each year. In 2017, more than 2,400 customers enjoyed a Real Food Adventure, and in just over five years the range of itineraries has increased from five to 25. The most popular are to India and Sri Lanka.
Food and brand product manager Cara Brown says food has always been "core to the DNA of the Intrepid Travel experience", but says popular culture has helped drive demand: "The surge of culinary travel-based TV shows, food magazines and food and travel blogs over the last decade has in turn generated a segment of travellers seeking a style of travel in which cuisine takes centre stage. These travellers want to taste first-hand the flavours they have read, seen and heard so much about."
Brown says the tours' average customer is 39 years old and female. However, she adds: "Food, like travel or music, has no age barriers and can be enjoyed by all. Feedback from our food tours is above company average as our groups have two things in common when they meet – their love for travel and their passion for food."
Technology is making it easier to meet like-minded food-lovers when travelling and gain an authentic experience of local cuisine. Social dining platform Eatwith connects travellers via its website or app with one of 25,000 hosts in 130 countries. Customers can choose from experiences including a dinner party in a Parisian chef's home, a food tour through London, or a cooking class in Tokyo. The host sets their own price, with Eatwith taking a 20% commission on top.
Previously known as VizEat, Eatwith was founded in 2014 and chief executive and founder Jean-Michel Petit says while 48% of guests are millennials, all generations are represented at Eatwith's tables. It is a member of luxury travel network Virtuoso, and about 80% of customers stay in hotels.
Petit says technology will continue to shape the way travellers engage with food.
"Technology at its best is all about enabling real-life connections," he explains. "It has given us a way to have a greater connection and closeness with food at our fingertips and has enabled us to explore a city more authentically than ever before."
EXPERT OPINION
Why food excites today's travellers
Kenny Dunn is the founder and director of Eating Europe Tours, which offers 35 food experiences   
"Enjoying the local cuisine was always a big part of travelling, but it used to be mostly left to chance or to recommendations from the hotel or your guide book. Today, travellers are actively searching for food-related activities that will ensure they get an authentic taste of the local cuisine, because eating well on holiday is now just as important as finding comfortable accommodation. And for millennials, it's even more important.
We want every guest coming away from an Eating Europe experience feeling like they got a taste of what it is to live in that place. Storytelling is at the centre of all of our tours and activities. The food artisans are the protagonists of each story, such as Armando, the 74-year-old gelato maker who has been creating Rome's best gelato since he was 14. All the food and drink we share must relate to that local culture. It can be hard to gain access into another culture, especially when there is a language barrier, but food provides a way in.
New event for food travel pros
A new event will help food and beverage tourism professionals discover the technologies, issues, trends and policies that will shape the future of their sector.
The first Food Tourism Innovation Summit will precede this year's WTM London on November 4 at The Grange St. Paul's Hotel in London.
Delegates will hear in-depth talks from speakers including Benjamin Atlani, chief executive of Semply Digital, who will discuss the use of virtual reality in food and beverage tourism. The event will also focus on the impact of artificial intelligence and 5G.
WFTA founder Erik Wolf explains: "We wanted to offer something truly unique and visionary for our industry. The Summit is designed to inspire with new information, technologies, processes, techniques  and approaches."
worldfoodtravel.org/cpages/world-food-travel-association-events
---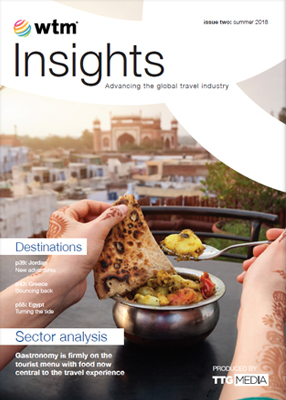 This article is from the latest edition of WTM Insights, the new quarterly magazine on global travel trends, analysis and updates from TTG Media and WTM.