I am very privileged to have received an invitation to start creating this blog that focuses on World LGBT Tourism; it could not have come at a better time. After all, I've just returned from the first International LGBTI Tourism Meeting of Andalusia on Spain's beautiful Costa del Sol, which took place between 28/11/17 and 3/12/17.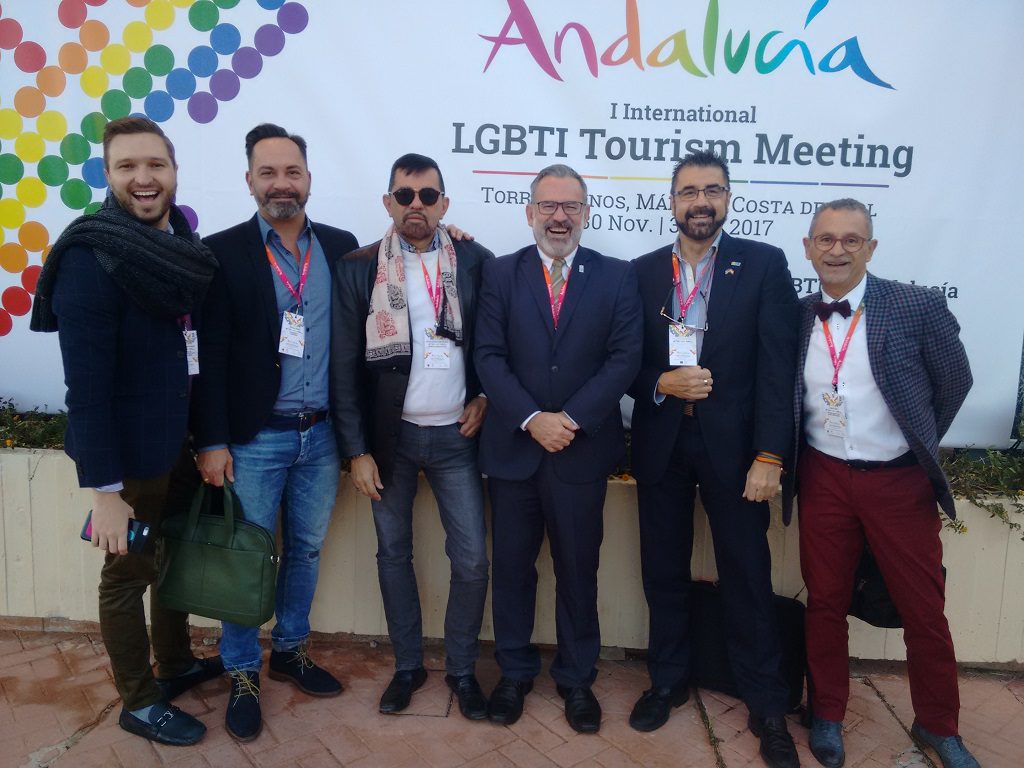 And why is it better this way? Well, because I can bring you something very real about the investments and plans of this country that loves tourism and knows just how economically and humanly significant it is. During the presentation by the mayor of Torremolinos, he made it clear how important these tourists have been to the city since 1950s/60s.
Let's start with the fact that we're talking about a critical mass of consumers: LGBT tourists, who have increasingly come out of the closet, are better informed and connected in various destinations and events, which are highly disputed by this public which loves to travel. Spain is a great example, a country that also has an active LGBT community, which makes all the difference in terms of effective legal protection.
It's worth remembering that this year Madrid received "World Pride", which packed practically the whole of the city and the surrounding areas, and there was also the LGBT Pride Parade in Barcelona. Both events showed the importance of these Parades, which were successful with the home audience and the many visiting foreign tourists. Several other cities in Spain also have their festivals, but none of them lose anything of their traditional tourism, such as visits to their museums, galleries, beaches, and historical and present-day sites.
We started this trip in Cádiz, an incredible city with a beautiful centre with its historic houses, mixed in with Spain's modern "party-animals". We visited two so-called "white towns", Vejer and Medina Sidonia , with the beautiful scenery of places rich in history. Then we went to the beautiful Jerez de la Frontera, a very important city when it comes to sherry and the wineries. It has an impeccable historical centre, full of life, top gastronomy and several lively squares. All the cities and towns here are great tips for Brazilian travel agents to offer. (Did you notice that I didn't talk about parties, nights on the town and clubbing? Well, LGBT tourists come in all shapes and sizes and are a "cross-section of world tourists").
But speaking of a "gay" destination, you can be certain that Torremolinos was not chosen as our base for nothing! First, there is the investment in the beautiful Ritual Hotel, with its huge rainbow flag on the roof. The hotel faces a beautiful beach, with its Eden "gay" club and wonderful service, menu and food; in other words, a full package for the whole day. At night, just a few blocks from the Ritual there is an area with various bars, which are 'points' for all LGBT audiences, some with shows, others with bears, electronic music and also the beautiful local music. This is a complete destination for all tastes, pockets and audiences. You can be sure that we Brazilian LGBT people are going to love it.
And if all this was not enough, there's the capital, Malaga, another city with a lot of history, from the Phoenicians to Picasso and Antonio Banderas. We were invited to get to know the art of glass-making in a very cool class we attended. We went to dinner in a centuries-old house where the decoration was based on items made from glass and its mysteries (a single item made from crystal is worth as much as the house with everything inside it!). The Malaga Glass Museum is undoubtedly one of those magical places you must include in all your clients' and friends' visits. There was a special dinner for our group of professionals from more than 20 different countries, whose work focus is also LGBT tourists, and who are now all friends. It was a magical night.
I hope you enjoyed starting with Spain:
http://www.spain.info/pt_BR/consultas/espana-para/viajes-gay-friendly.html
* LGBTQ = Lesbian, Gay, Bisexual, Transgender and Queer.
** LGBT = Lesbian, Gay, Bisexual and Transgender.
*** LGBTI = Lesbian, Gay, Bisexual, Transgender and Intersex.
The opinions expressed in this text are the author's opinion and do not necessarily reflect the position of WTM Latin America.