Virtuoso, a luxury consortium with a keen eye on global trends, gives the lowdown on the luxury market to Charlotte Cullinan
Luxury travellers will be heading to colder climes in 2018 as they seek increasingly unusual adventures, according to luxury travel agency consortium Virtuoso.
With more than 16,000 travel advisers across 45 countries, the network is a barometer of the destinations and experiences topping high-spending customers' travel wish lists around the world.
For its 2018 Luxe Report, Virtuoso surveyed 424 agents in 32 countries. David Kolner, senior vice president of global member partnerships, says members were united on what this year's must-see hotspots will be. "Cold is hot," he explains. "Customers want to sleep in an igloo in Norway, or camp to see the Northern Lights with a scientist. They're asking to visit Canada to watch polar bears, or try kayaking between icebergs. The hunt for something new, different and pristine is very real for our clients. When combined with the fact that adventure travel is trending strongly these days, Iceland becomes a very desirable and intriguing destination, as do other cold-weather spots such as Antarctica and Alaska."
Virtuoso saw bookings for Iceland increase by 29% year-on-year in 2017. Kolner says its position as the Luxe Report's top emerging destination for 2018 illustrates the evolution the luxury travel market has undergone in recent years. "There's been a real worldwide shift in luxury travel," he explains. "Five years ago the top destinations were the ones with the most luxury hotels, as it was all about the hard experience. But now Iceland is booming because of the soft experiences; there are so many amazing things to do."
While multi-generational travel featured as the report's top travel trend – a position it has retained since 2010 – Kolner says this market is evolving. "We are now seeing new hybrids of multi-generational trips, such as skip-gen travel, where the grandparents are taking the grandchildren away without their parents and sharing experiences."
Kolner says experiences are at the heart of Virtuoso's definition of luxury travel. "We don't often say that we are a luxury travel company, instead we say we are a company focused on enriching lives through human connection. Luxury travel today is about those human connections and local experiences, and sharing them with the people you love."
It's an ethos that is clearly working. Today Virtuoso is a key player in the luxury travel market, employing 265 staff across seven countries, and securing preferred relationships with 1,700 suppliers. In 2017 the group's agents generated $23.7bn in sales, up year-on-year from $21.2bn.
Membership numbers increased by 17% last year to 800 locations, with all regions seeing consistent growth. Kolner explains the network is still looking to expand, particularly in the Gulf states, and in its core EMEA markets of the UK, France, Germany, Switzerland and Spain.
New faces, fresh ideas
While Kolner believes that visiting a travel adviser is "truly a worldwide phenomenon", he says there has been a "major evolution" in how they cater to clients. "We're not just seeing traditional bricks-and-mortar agents joining us, but lifestyle and concierge companies too, which are working on a worldwide basis," he explains.
He says the physical presence of members has changed dramatically. "They often don't look like a travel agent used to. We held a contest last year for the best agency, and the winner was Select Collection in Stockholm. Their office has art, amazing furniture and a spa. Travel advisers may not look or sound like they did 30 years ago, but they are absolutely still there, and it's fun to see how businesses are offering luxury travel in new ways."
Virtuoso is an enthusiastic advocate for technology and is keen to help develop the next game-changing ideas. Since 2015 it has run the Virtuoso Incubator, which allows travel technology developers to test products with the network's advisers. Last year, more than 100 advisers in eight different countries trialled tools including CRM technology, a social network for travellers, and a virtual reality platform. This year's programme attracted 45 applications and up to 10 will be tested by members, with the winners announced in March.
Boost to business
Kolner says that while the programme assists travel technology specialists,
it also boosts members' businesses. "We want to use technology as a tool to help improve service delivery for clients. In five years' time travel advisers will be using technology a lot more, from how they interact with clients to how they present materials with itinerary management applications."
Kolner also hopes the Incubator will help generate interest from investors. "We want to attract investment from technology firms. The GPSs invest in the market, but especially in consumer-facing travel technology there is a lot of room for improvement. We're really proud of the Incubator, as technology won't remove the need for travel advisers, it will help them. It's a really fun and exciting time to be a travel adviser."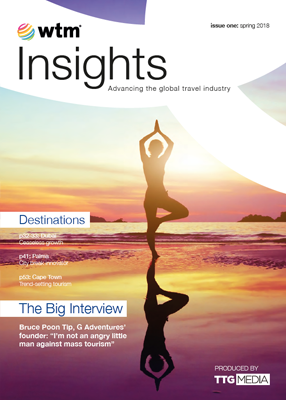 This article is from the latest edition of WTM Insights, the new quarterly magazine on global travel trends, analysis and updates from TTG Media and WTM.
Find out more about WTM Insights.