The convergence between tourism and climate change appears strikingly paradoxical. On one hand, tourism is highly dependent on climate, as climate determines the conditions possible for tourism activities available within a destination.
On the other hand, climate change impacts, such as extreme temperatures or sea level rise, threaten the very existence of tourism. These impacts pose severe risks for many components of the tourism supply chain, such as the availability of water and food and disruption to transport.
It is also plausible that these impacts will severely affect destination image, rendering traditionally popular holiday destinations considerably less appealing to tourists, who may choose to visit other destinations. This phenomenon highlights the high adaptive capacity of tourists in the face of climate change, compared to the lower level of adaptive capacity of destinations. While tourists can easily choose to visit a different destination less ravaged by climate change impacts, destinations may face greater difficulties in managing the devastating impacts of climate change.
A recent report published by the European Union examined the potential impact of climate change on tourism demand in European regions through to the year 2100. The report used ten climate models and four potential warming levels (1.5°C, 2°C, 3°C, and 4°C). The highest emission scenario indicated that tourism in coastal regions would be most significantly impacted by climate change; southern coastal regions are anticipated to lose up to 10% of summer tourists compared to the present, especially in warmer climate scenarios. It is hardly coincidental that cooler regions, such as Ireland, Sweden and the United Kingdom are projected to gain an increase of 5% in tourist numbers. Seasonal shifts in tourism were also evident; the report findings projected that tourism demand within the European Union would increase during the traditional shoulder season from March to May and September to November.
---
Join us at World Travel Market London
The market leading travel and tourism event brings the whole world together in London.
Join us from 6–8 November 2023 at ExCeL London.
---
Optimistically, environmental sustainability and decarbonization are now acknowledged as critical challenges for the tourism sector. The below image from Sustainable Travel International outlines the carbon footprint of global tourism.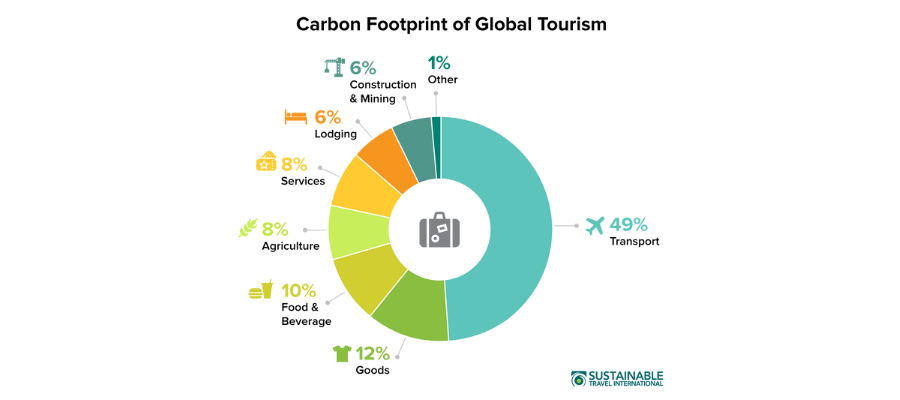 Image Source: Sustainable Travel International
What is immediately significant from the graphic is the significant component of transport-related emissions within tourism. As is well documented, many of these emissions are attributed to the carbon-heavy aviation sector. While sustainable aviation fuels represent an opportunity to decarbonize this sector, the development of these fuels is on a small-scale and is unlikely to have any significant impact on reducing emissions soon. Bearing this in mind, destinations can seek to decouple their tourism offer from aviation by reducing dependencies on long-haul markets and encouraging domestic tourism. Where possible, destinations can also encourage more environmentally friendly forms of transportation, such as rail travel. Other strategies likely to contribute to decarbonization across the other aspects of the tourism sector include encouraging the development of local supply chains or supporting the accommodation sector to become more environmentally sustainable. Similarly, tourists can contribute to the tourism sector's sustainability efforts by avoiding air travel or cruises, engaging in the slow travel and choosing environmentally sustainable accommodation options.
Optimistically, many tourism destinations are implementing ambitious strategies to develop environmental sustainability. The Balearic Islands have recently implemented a new law which promotes climate change mitigation, requiring every tourism accommodation service to implement a circular economy action plan. It is hoped that this intervention will greatly contribute to the decarbonization of the tourism service sector. However, it must be noted that the Balearic Islands, like other destinations, are largely dependent on aviation for visitor access. Given the small size of the islands, it is plausible that the destination has limited capacities to attract large cohorts of domestic visitors. However, the Balearic Islands' proactive efforts to promote decarbonization are certainly ambitious and hopefully will pay dividends in emissions reduction levels. The Maldives, an important tourism destination which is astutely using digital innovations to contribute to climate adaptation interventions. These interventions, which help to facilitate initiatives such as coral reef and biodiversity monitoring, are hoped to greatly develop the islands' resilience to climate change.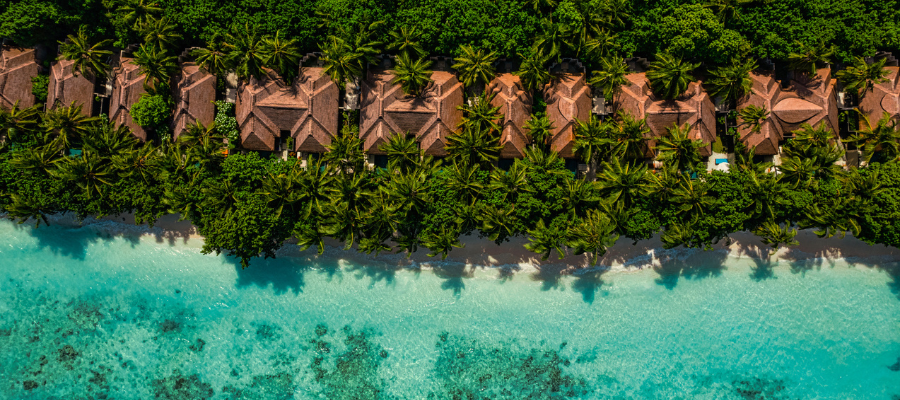 The Maldives
In the meantime, other destinations are harnessing their foresight intelligence and, cognisant of the threats posed by climate change, are actively diversifying their tourism offer. Faced with the reality of increasing temperatures resulting in a scarcity of snow, various ski destinations are now beginning to promote other tourism activities, such as hiking and trail running events. It is conceivable that this climate change induced change in tourism offer will contribute to promoting year-round tourism, instead of a seasonal model.
Overall, climate change impacts are generating severe ramifications for many tourism destinations. Destination leadership must reflect on these challenges and address the threats posed by climate change, taking into account the realistic extent of the co-existence between climate change and tourism in years to come.
---
---
Don't miss out on our world-leading events
We bring travel and tourism professionals together, from around the world at our events. Discover the closest one to you and join the WTM community.
---