This week the Pacific Asia Travel Association (PATA) has launched an impressively extensive resource targeting food waste in hotels. Titled with one of the better acronyms around – BUFFET (Building an Understanding For Food Excess in Tourism) the website draws together much of the latest thinking on how to approach an ever-growing issue. According to PATA, we live in a world where 842 million people do not have enough to eat, yet food waste is the third biggest contributor to climate change.
Although PATA unsurprisingly says the primary audience is hotels in the Pacific and Asia, most of the guidance could apply to businesses anywhere. Produced in collaboration with project partner Scholars of Sustenance and knowledge partner Futouris, the free online resource addresses a range of key issues including measurement, techniques to avoid producing too much food, innovative approaches to reusing uneaten food, and how to make a business case and engage staff in efforts.
There are three aspects to this resource that I was particularly pleased to see.
First, the advice follows the circular economy principles of the food waste hierarchy when approaching waste reduction. In others words, it looks to design waste out of the system. This means, the most important thing to do when reducing waste is to reduce the amount produced in the first place. Therefore BUFFET is laden with information and advice about procurement, preparation and presentation (none of which might seem at first to be directly about waste), yet there is almost nothing about the topics that one thinks of when the word waste is mentioned – disposal, or even composting.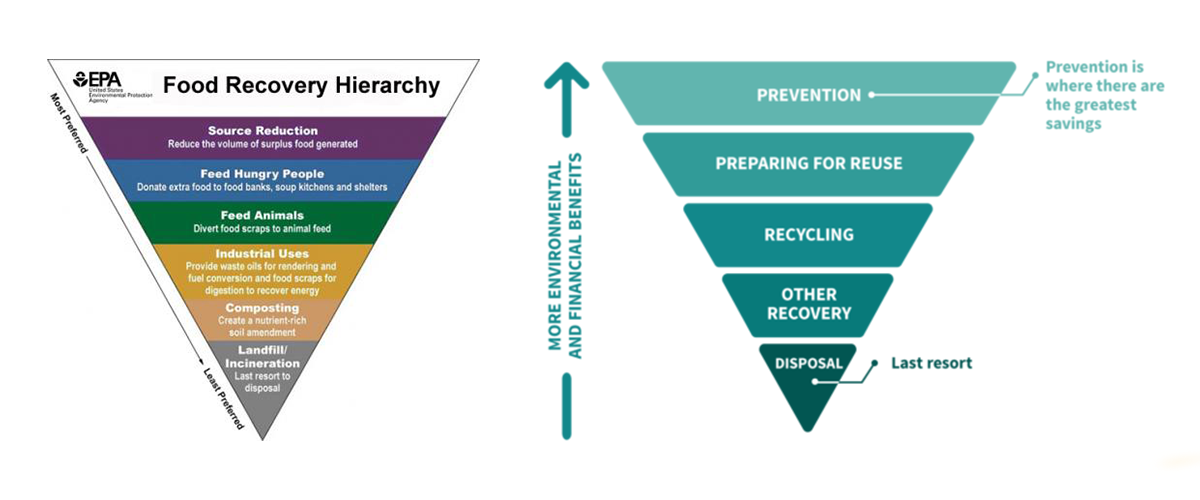 According to this hierarchical approach, the next most effective step is to what BUFFET terms 'prepare for reuse'. This means keeping food as food, so that even if guests don't consume it, it's consumed by people or animals who would benefit from the nutritional content. Where I would have gone further than PATA is in adopting the US EPA's Food Waste Hierarchy (pictured), and broken PATA's 'prepare for reuse' down into first 'Feed Humans' and secondly 'Feed Animals'. That being said, I greatly appreciated the effort that had gone into including a database of organisations working on food waste redistribution. This is focused on the regions where PATA works, but only emphasises the scope and need for the building and sharing of similar resources on a global scale.
As it is, BUFFET is a really great website, providing specifically for hotels working in the Asia Pacific region. And it makes very clear two things. First, our solutions are not to be found in isolation, but through collaboration. And secondly, that far from being a dirty word, waste is fertile ground for innovation.
What the resource doesn't yet have, and I feel could definitely be enriched further by, is many case studies or stories, which might serve as inspiration for others looking to develop solutions where they work. For example, last year I learned of two very different hospitality innovations that are both designed to address food waste, and are both replicable anywhere in the world. Yet one uses the latest in mobile tech, while the other is just as ingenious, but open to anyone with a spare fridge.
In Helsinki, the ResQ Club has created an online platform enabling locals and tourists to buy restaurants' surplus meals for a heavily discounted price. Since launching in early 2016, ResQ has signed up over 150 restaurants and hotels in the city. Elsewhere, and spreading rapidly across the world, is concept being promoted by the Solidarity Fridge Network, with examples I know of in Spain, India, Germany and the UK. In principle, it simply means putting a working fridge in a publicly accessible place, where anyone can leave or take food for free. Such a project epitomises real 'hospitality'.
The final thing that impresses me about PATA's BUFFET project is that it walks its talk. As I  mentioned at the beginning, one of PATA's partners for this project is Scholars of Sustenance, which is a Bangkok-based food rescue foundation that collects surplus food from commercial outlets and delivers it free of charge to communities in need. So far, it has delivered over 75,000 meals. Over the coming months PATA and Scholars of Sustenance will be working on a Bangkok Hotels Project collaborating with local hotels to develop case studies, implement good practices, and monitoring and evaluating the results of applying food rescue practices. I look forward to seeing, and sharing, the results.
Hotels interested in getting involved free of charge can get in touch with PATA.